Harvest Paso Robles
Few places are prettier – or more fun – than Paso Robles Wine Country during harvest season. Locals celebrate each October, when Harvest Wine Month activities unfold across the region. Throughout the month, you'll find engaging vineyard experiences ranging from sunset dinners to painting classes to grape stomping. Raise a glass at the Under the Paso Sun - Olive Harvest Retreat, savor the season during the 23rd Winemakers Dinner Under the Harvest Moon, or enjoy one of many live acts gracing local stages.

The entire month of October is Harvest Wine Month. Wineries host individual events throughout the month. Look for specialty tours, winemaker dinners, grape stomps, music events, and more. October traditionally has exceptional weather, when days are warm and nights are cool, a staple for Paso Robles Wine Country and a perfect time to take in the incredible colors, sights, and aromas of harvest. A year's hard work is rewarded with another great harvest. Come celebrate with us during Harvest Wine Month, October 1 – 31.
Harvest Wine Month (HWM) is a themed, month-long celebration that does not feature a single marquee event, but rather individual experiences at the area wineries.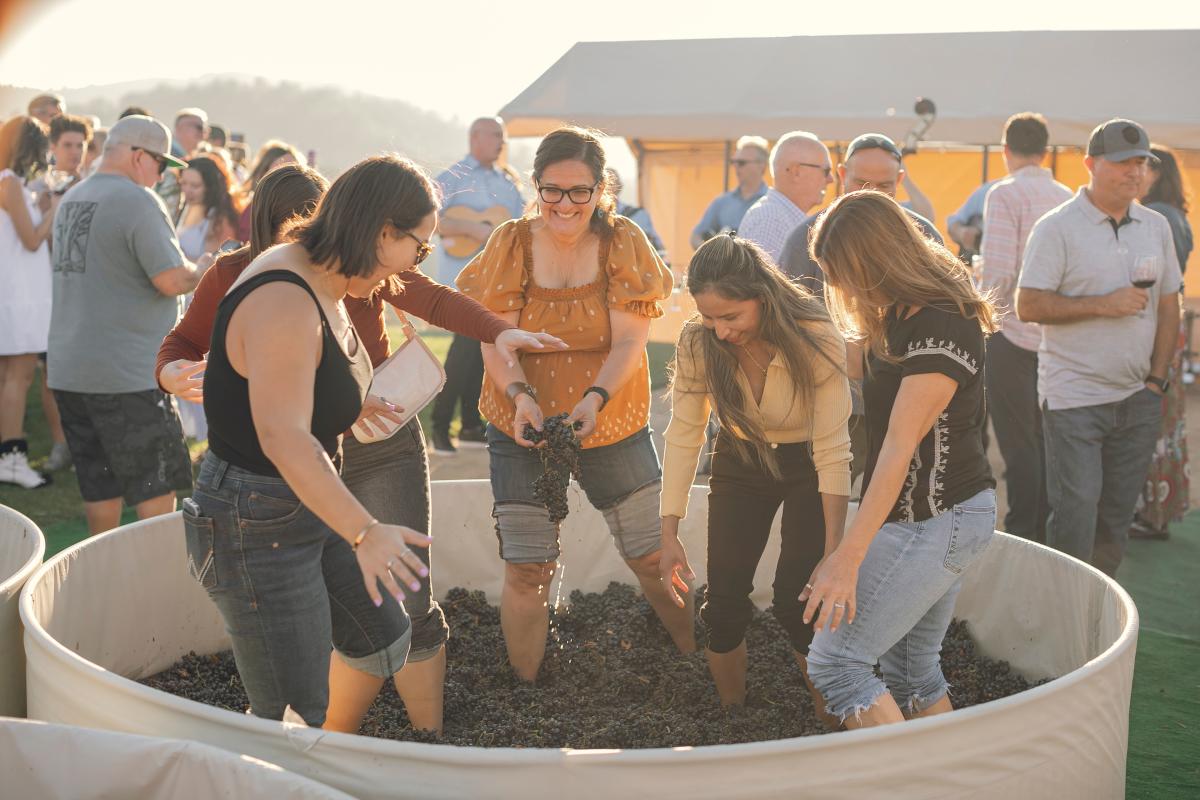 Cass Winery: A Winemaker's Dude Ranch Retreat | October 3 to 5, 2023
Spend a weekend immersed in the winemaking process, including picking, stomping, blending and beyond. Check into Cass Winery's Geneseo Inn and then kick off A Winemaker's Dude Ranch Retreat at a wine and cheese welcome reception. Tour the vineyards with Steve Case, pick and stomp grapes, pair food and wine with Sommelier Cassandra Tarantino, sit in on winemaking educational sessions, and enjoy dinners prepared by Executive Chef Charlie. You'll also take home a case of Cass wine, plus other wine weekend keepsakes.
Cass Winery: Backyard Beekeeping Retreat | October 11 and 12, 2023
Experience the buzzy hobby of beekeeping at Cass Winery, where on-site apiaries support many small-but-mighty pollinators. During the Backyard Beekeeping Retreat, Steve and Alice Cass host a welcome dinner following Friday afternoon check-in at the Geneseo Inn. You'll spend Saturday watching apiary experts at work before suiting up for hands-on beekeeping experiences. Chat with fellow participants at a farewell lunch, and head home with your own organic honey and a beekeeping book and suit to use at home.
Rava Wines Paint and Sip | October 15, 2023, from 12 to 2 p.m.
ArtSocial 805 hosts this popular wine harvest Paso Robles event at Rava Wines. Grab a glass of wine, pick up a brush, and participate in Paint and Sip, a spirited guided painting class. Once you've completed your masterpiece, wander to the vineyard lawn to enjoy complimentary live music from 2 to 5 p.m. Each painting class ticket includes the two-hour workshop, art supplies, and one glass of wine, with additional glasses available for purchase. Food and wine are available for purchase during the afternoon concert, as well.
ONX Estate Vineyard Harvest Experience | October 6 and 7, 2023
Plan an unforgettable Paso Robles harvest weekend with ONX Wines. Harvest Experience festivities start with wine samples and small plates at Taste! Craft Eatery in downtown Paso, from 6 to 8 p.m. on Friday, October 6. On Saturday, take part in a hands-on harvest experience from 9 to 11 a.m. at the ONX Estate Vineyard. Learn how winemakers select the best grapes for every blend, before collecting and stomping some of your own. The event includes continental brunch and ONX wines, and guests staying at Clark House or Briarwood Cottage enjoy transportation to the Saturday activities.
Opolo Vineyards Harvest Festival Grape Stomp & Dinner | October 21 and 22, 2023
Book your table for a spirited, two-night harvest celebration at Opolo, where the Harvest Festival Grape Stomp & Dinner menu features oysters, whole-roasted lamb, sarma, chicken, and all the sides. There are standout Opolo wines, of course, along with distillery samples, music, folk dancing and plenty of grape stomping and celebration. This vibrant event sells out every year, so plan ahead for your Paso Robles harvest weekend 2023.
Eberle Winery Harvest Sunset Supper | October 21 from 6:30 to 8:30 p.m.
Gary Eberle co-founded the Paso Robles Appellation in 1983, a few years after releasing his flagship cabernet sauvignon. Today, the Harvest Sunset Supper celebrates his team's annual accomplishments. Held on the vineyard deck, this memorable evening includes a Spanish paella feast prepared by Paso Catering Co. and live music by Five Parts Devil. The first glass of Eberle Wine is included with your ticket, and additional wines are available for purchase by the glass or the bottle.
Le Vigne Winery Harvest Festival Winemaker Dinner | October 21 from 6:30 to 9:30 p.m.
Chef Walter Filippini hosts theis annual Harvest Festival Winemaker Dinner that pairs Le Vigne wines with family-style prosciutto-wrapped shrimp, purple eggplant ravioli, beef Wellington with black truffle-Le Vigne Cabernet Sauvignon a jus, and other flavors. There's live music, too, and the tasting room welcomes guests prior to the 21-and-over event. Le Vigne club members enjoy a special discount on tickets.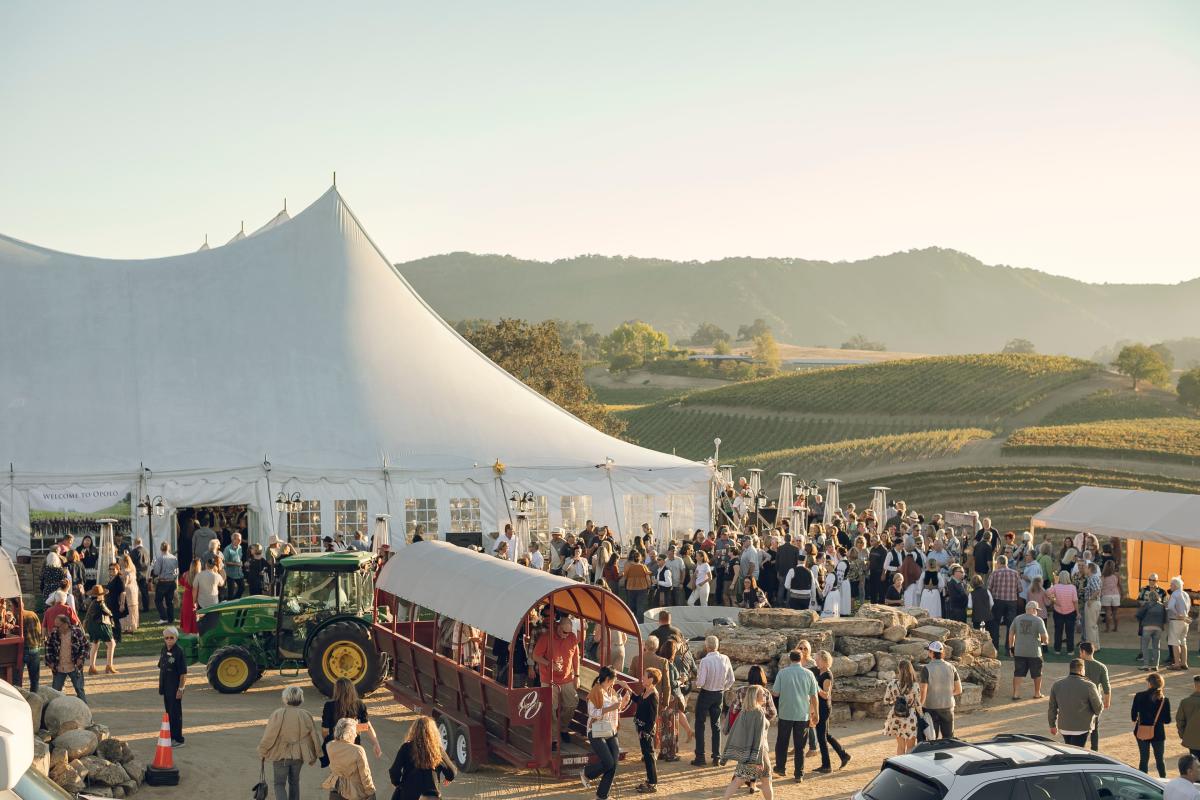 Midnight Cellars Acoustic Saturdays | Saturdays in October, from 1 to 4 p.m.
A few family trips to Northern California wine country sparked the idea for Midnight Cellars, a Paso Robles mainstay that's been producing for nearly three decades. During harvest, the team two-table sorts, ferments and barrel stores its fruit. Midnight Cellars' Acoustic Saturday Series also takes place this time of year, bringing live acoustic acts to the open-air tasting garden every Saturday in October. The 2023 schedule includes music by Nataly Lola, Kenny Taylor, Dennis and Robbie, and Tim Francis.
Midnight Cellars Twilight Sunday Concerts | Sundays in October, from 5 to 8 p.m.
Midnight Cellars owner and winemaker Rich Hartenberger grows grapes that capitalize on calcareous shale and limestone soils, creating blends with bold acidity and flavor. The brand's Willow Creek District tasting room is an especially exciting place to visit during harvest season, when Twilight Sunday Concerts set up in the tasting garden. Except food truck fare and wines by the glass, along with a bounce house and other kid-friendly activities. The October 2023 lineup features the Burning James Band, Resination, The Belmores, DV8 and Garden Party.
J. Dusi First Thursdays Summer Concerts | October 5, 2023, from 4 to 7 p.m.
Center an extended Paso Robles harvest wine weekend around the First Thursdays Summer Concerts at J. Dusi. A rotating lineup of musical artists and local restaurants show up for this dynamic event series that takes place under the trees and along the vineyards of this historic, family-run spot. Arrive early to claim a picnic table, or bring your own chairs and settle in for the show.
Castoro Cellars Lazy Locals Free Concerts | Sundays in October, from 1 to 4 p.m.
Reserve a table (one-bottle minimum purchase required) or bring a picnic blanket for this annual outdoor concert series held among the Castoro Cellars gardens and vineyards. The 2023 lineup features popular groups from near and far.
Changala Winery Creekside Concert | October 7, 2023, from 1 to 4 p.m.
Family-owned and operated Changala Winery makes its boutique wines in the Willow Creek District on the west side of Paso Robles. Single varietal selections and red blends star here, and the scenic tasting patio is the site of popular summer entertainment (with no cover charge!) that extends into harvest season. This October 7, the Willow Creek concert series welcomes Bobby Santa Cruz and the Santa Cruz Family Band. These central California favorites play a mix of blues, funk, soul and rock.
Bovino Vineyards Barn Dance | October 14, 2023, from 6 to 9 p.m. 
Experience an authentic wine country celebration this October, when Bovino Vineyards hosts its annual Barn Dance and Wine Club Pick-Up Party. Held at the historic Twist Ranch Barn, this exciting annual favorite centers on seasonal Bovino releases and the lively country tunes of Deaverville. Tickets include a glass of wine and some special samples, and there's food available for purchase, as well.
Cass Winery Barrel Room Concert | October 22, 2023, from 4 to 6 p.m.
Cass Winery hosts a monthly concert series in a hilltop venue surrounded by vineyards. The free shows feature top talent plus Cass wines, craft beer, and small plates available for purchase. Songwriter and musician Damon Castillo is the harvest season headliner, and his Damon Castillo Band plays a California-influenced mix of jazz, rock, funk and soul that includes songs from several albums and Castillo's work with Grammy-winning greats.
Live Music at Eberle Winery | Various October dates, from 1 to 4 p.m.
Visitors might know Eberle Winery for its vast wine caves – a great spot for VIP tastings – but the harvest season brings additional activity to the venue's picturesque vineyard deck. The winery hosts live music throughout the summer and into harvest season, with reservations required for special guests that draw enthusiastic crowds. In 2023, Tim Francis takes the stage on October 8, Kenny Taylor follows on October 21, and Tennessee Jim rounds out the month's schedule on October 28.
Stevie Nicks Illusion Concert at Rava Wines | October 21, 2023, from 7 to 9 p.m.
This October, Rava Wines hosts a group that's been called "the most authentic-sounding tribute to Fleetwood Mac to date." Diana Grace heads up the Stevie Nicks Illusion Concert, channeling the energy of 1970s Stevie Nicks together with band members who reflect the wide-ranging talent of this multi-Grammy-winning group. Pack a lawn chair or blanket and enjoy some classic Fleetwood Mac tunes, along with a few special surprises. There's also food and wine for purchase at this 21-and-over event.