Downtown Paso Robles
Table of Contents
Exploring Downtown Paso Robles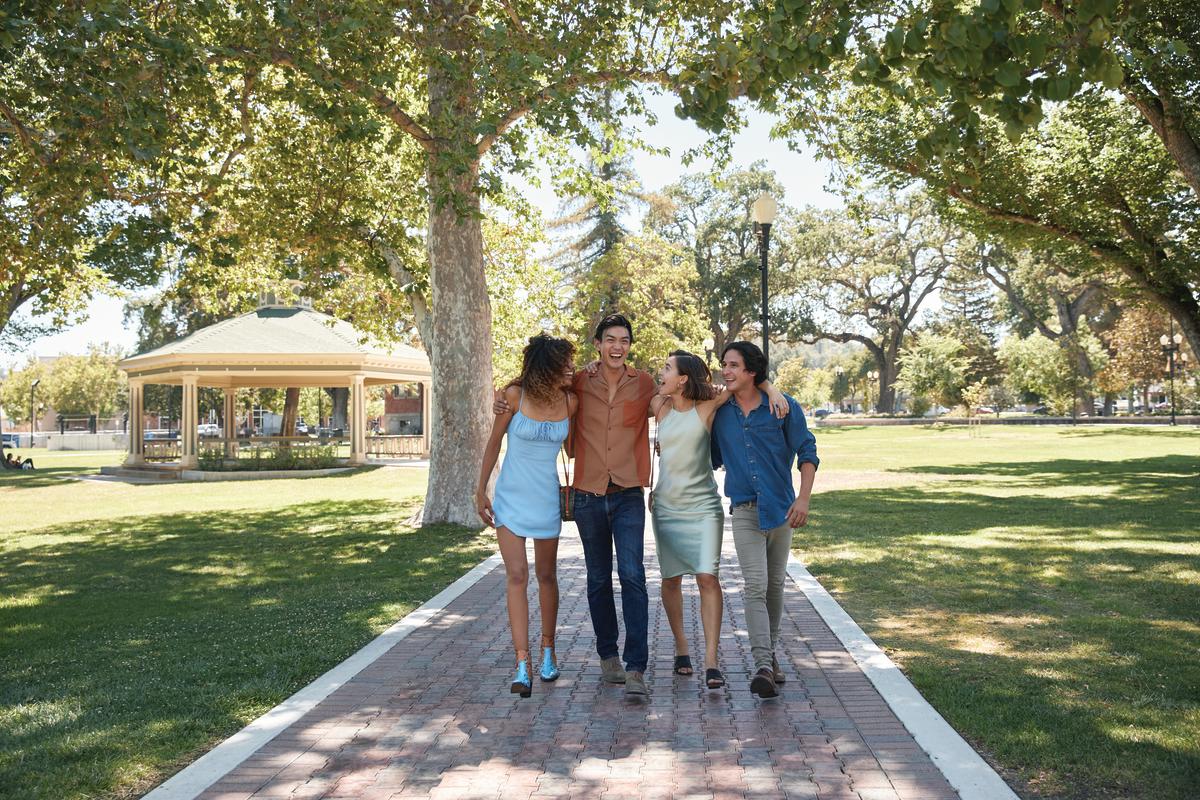 If you're looking for the central hub of Paso, you've come to the right place. Downtown Paso Robles allows you to experience all the history, wine, and charm that the area is known for - all in an easily walkable location. This gathering place is home to countless activities, allowing visitors to enjoy a little bit of everything that Paso has to offer. Stroll the Downtown City Park, wander through unique local shops and markets, embrace fun events and savor local flavors at wineries and restaurants. Here we'll provide a curated list of the must see experiences available in Downtown Paso.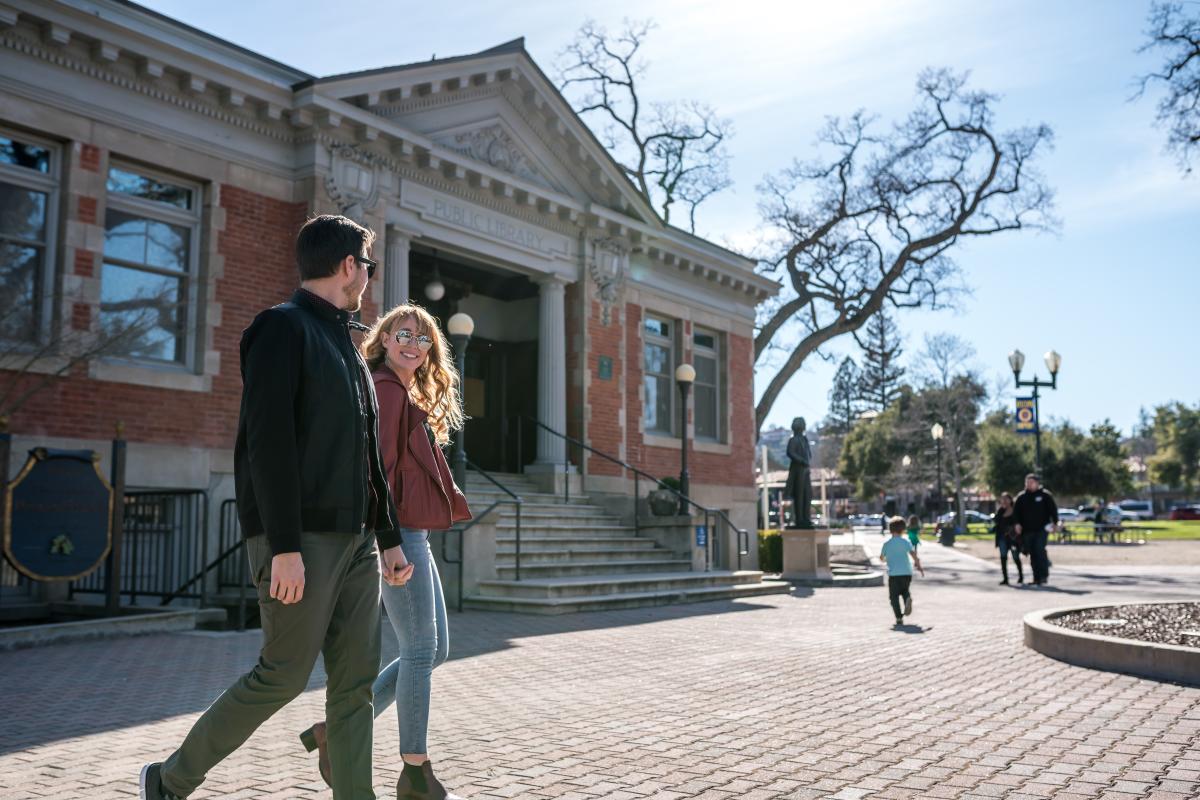 The town square is centered around the Downtown City Park, a central green space with gazebo, recently renovated children's playground, picnic tables and benches and the historically acclaimed Carnegie Library, now home to the archives and exhibits of the Paso Robles Historical Society. Throughout the day you'll see the community using the Downtown City Park for picnics, recreation or the latest festival. Home to the annual events such as the Paso Robles Wine Festival, Olive Oil Festival, Holiday Tree Lighting Ceremony, Farmer's Market, Summer Concert series and more, you'll find that the Downtown City Park is a popular community gathering place.
Initially designed around 1890 by the town founders, James & Daniel Blackburn, the Downtown City Park has historically been the 'anchor' of Downtown Paso Robles for many generations. The 5 acres of land was donated by the founders and was located across from their hotel to provide a pleasant local amenity for visitors. Today, Paso has continued to grow around this grassy epicenter - the area now boasts a charming environment complete with local restaurants, wineries and shopping.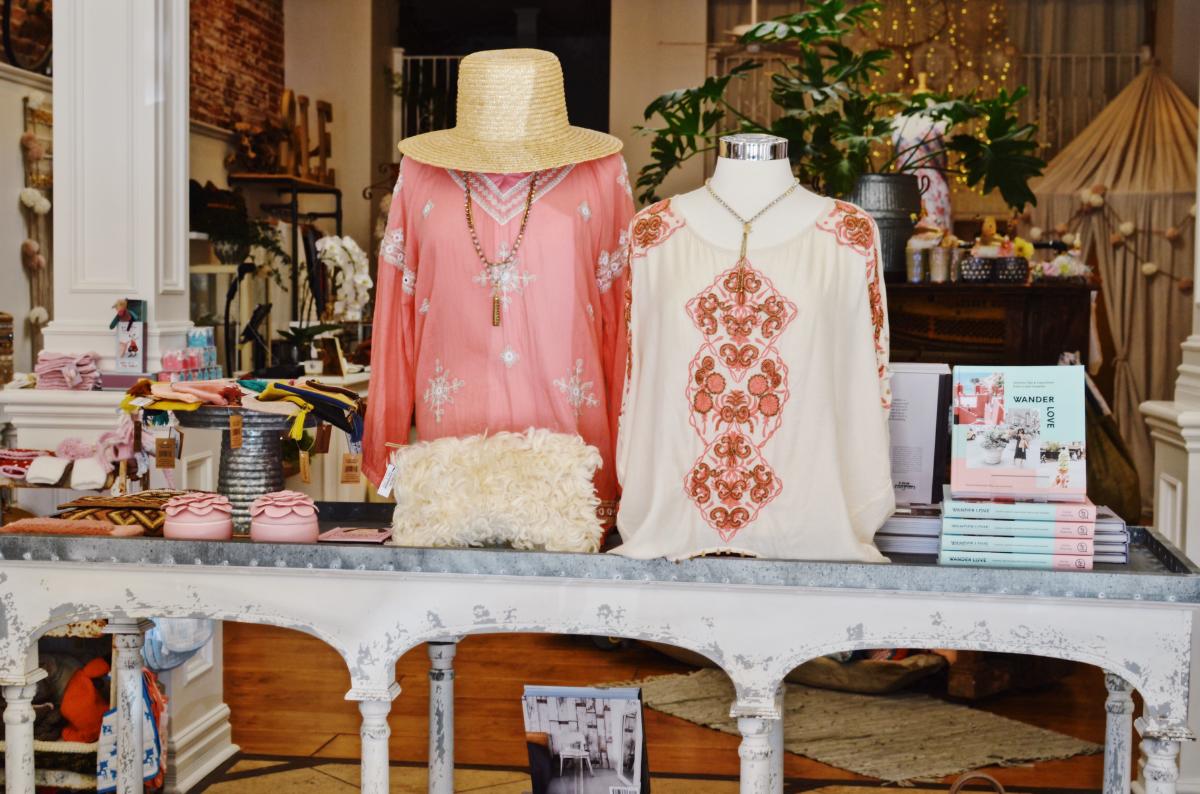 Shop 'til you drop in Paso Robles with a plethora of shopping options all just a short walk from the Downtown City Park. Here you'll find everything from clothing and gifts, to antiques and art. Explore the latest fashion trends at Bijou clothing boutique, add to your collection at the ultimate art destination, Studios in the Park, and discover countless other unique finds. What's old is new is the theme you'll find at several antique and vintage shops scattered around downtown. Spend the day antiquing at Reminisce Village of Shops where you might find something that sparks a childhood memory or uncover that perfect something for someone special. Bring home a taste of Paso from the Paso Robles General Store, home to all things "tasty, lovely and useful" — with a special focus on locally-sourced goods. With all that shopping, don't forget to stay hydrated — take a break midday to refuel with a glass of wine at one of Paso's downtown tasting rooms or wine bars!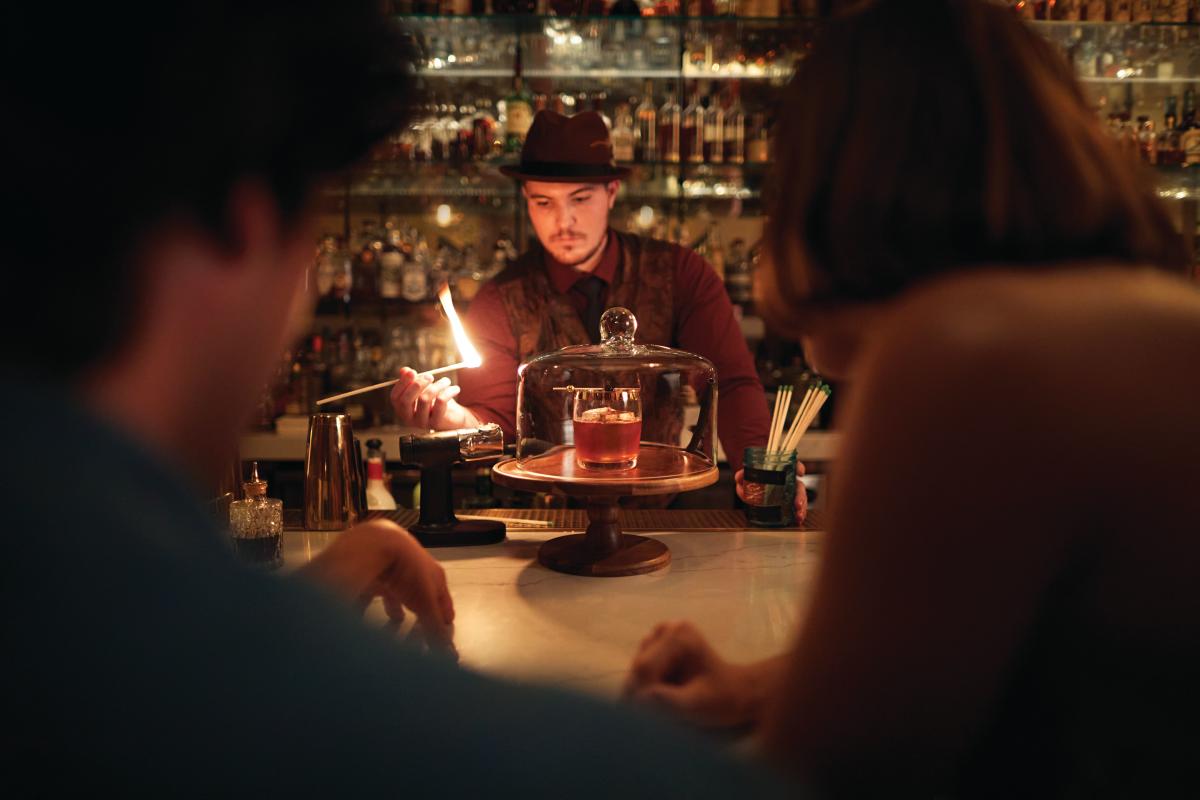 Wine Tasting 
Take a Paso Robles wine tour at Taste in the Alley, located on 1211 Spring Street. With over 400 bottles on site available for pour you'll get to taste all the best. Or stop by Paso Underground, located on 1140 Pine Street, where you'll experience a collective of 5 different winemakers and likely have one of the winemakers pouring for you! Many local wineries also have tasting rooms conveniently located downtown around the park, including Tudor Wines, Justin Vineyards & Winery, Copia Vineyards, Asuncion Ridge Vineyards, Diablo Paso Winery, LXV Winery, CaliPaso Winery, and many more. 
Craft Cocktails 
For the spirits-lovers, a late night bar crawl is in order. Start your night at The Hatch where you'll meet bartender Robin Wolf, founder of SLO Bitter Co. and winner of the Tales of the Cocktail" competition in 2019 with her highball "Night Gardens". Don't miss Eleven Twenty Two, this modern day speakeasy is an experience like no other. With a 31 person max capacity this intimate bar serves up elegance and style in a pretty little glass. Come dressed to impress in business casual, and when you enter be prepared to keep your voice down and check your cell phone at the door.
Craft Beers 
For those of you who simply want to crack a cold one, Paso is complete with an impressive craft brewery collection. Say hello to The Backyard on Thirteenth, a charming beer garden showcasing local craft breweries and hard to find ales from around the country. This outdoor gathering space is both family and dog friendly, so bring the whole family (even the four-legged ones!) Just down the road you'll find Street Side Ale House which boasts a selection of local breweries on draft including BarrelHouse Brewing Co., KiloKilo Bewing, California Coast Beer Company, Silva Brewing, Tin City, Firestone Walker Brewing Co., Bristols Cider House, and more. 
Other Great Places to Grab a Drink
The only rooftop bar in downtown Paso, Tetto Rooftop Bar, located at the top of The Piccolo hotel is not one to miss. Enjoy a modern, upscale lounge settle, a view of downtown Paso, and fun specialty cocktails. For a sip of history, visit the Pine Street Saloon — located in one of the oldest buildings in Paso, this local favorite now features live music, events and karaoke nights. All about live music? The Pour House has the ultimate relaxing and comfortable tap room for great conversation and a truly local feel. Stop for weekly live music, and 27 regularly rotating craft beers on tap.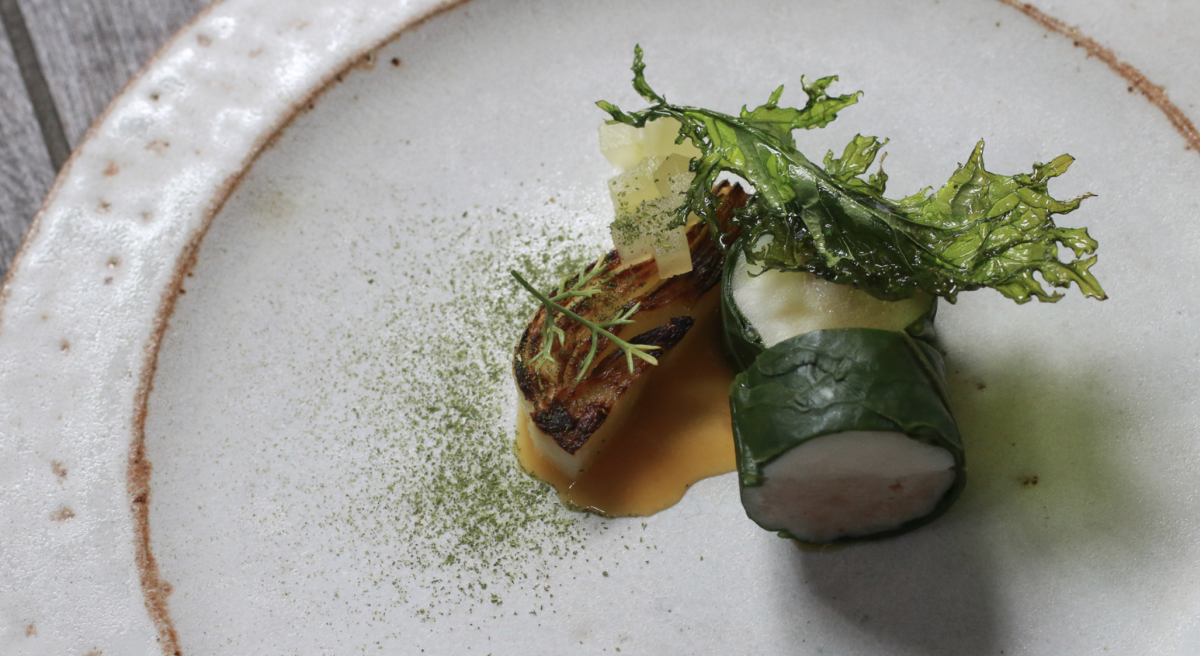 Sip and Savor
While our flourishing wine country continues to be the star of the show in Paso Robles, the local restaurant scene is right up to par. Come explore the perfect place to wine and dine - delve into a collection of delicious dining options to fulfill your quick fuel up or your five course meal. Downtown dining in Paso is home to both award-winning wines and restaurants, including Michelin star Six Test Kitchen. All within steps of the park are options for Breakfast Lunch & Dinner, Italian, Thai, Mexican, Japanese, Steakhouse, BBQ, Farm to Table Organic, French, Mediterranean - all conveniently located downtown.
Release your inner foodie and let your stomach be your guide. Start your morning right with a gourmet brunch then set off for a full day of sightseeing and shopping. Once you've worked up an appetite, stop for an ice cream break at the accredited Negranti Creamery or an award-winning olive oil tasting at PasoLivo. Pack up your favorite bottle to take home, so you can savor Paso long after you've gone (or take home a few bottles to share with family and friends!) End the evening with a luxurious dinner accompanied by your favorite wine pairings.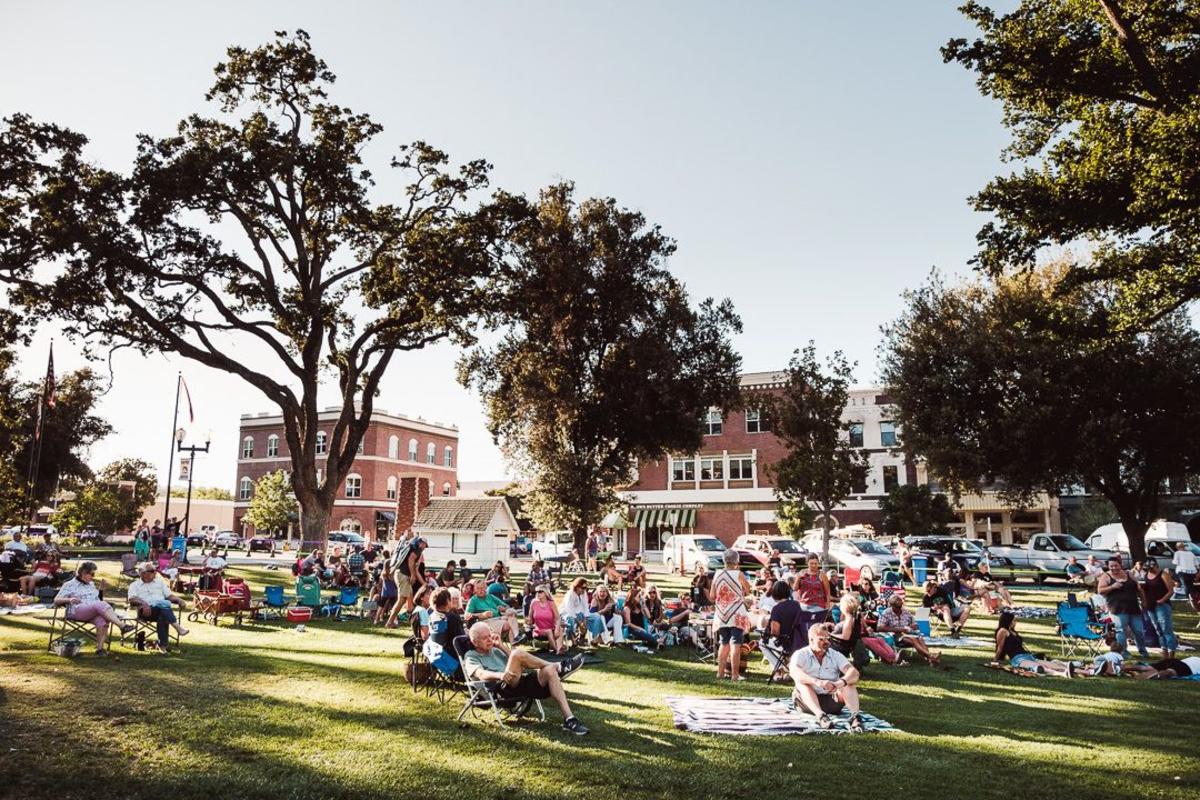 Paso Robles Wine Festival
The Paso Robles Wine Festival celebrates Paso Robles Wine Country — a land of rich heritage, rural beauty and world-class wines. Hosted by the Paso Robles Wine Country Alliance, this special wine festival is created for the wine adventurer. Weekend activities occur at more than 150 wineries and include wine experiences such as barrel tastings, artisanal food pairings, and live music. Explore Paso Robles Wine Country with four days of wine tastings, winemaker dinners, exclusive excursions, live music, and more! 
Art in the Park
Paso Robles Art in the Park is the largest and highest quality art show in the County of San Luis Obispo, and one of the most popular along the Central Coast. Occurring twice a year, in April and October, the event attracts hundreds of artists and art connoisseurs. Located in Downtown City Park, this exciting event brings together craft workers and independent artists to showcase and sell their artwork. Come discover Paso's creative side with over 130 booths, free admission and free parking.
Paso Robles Olive Oil and Lavender Festival
It's all about olives during the annual Paso Robles Olive Festival. Bring the entire family to Downtown City Park for a day dedicated to Paso Robles area olives including sampling, vendors, demonstrations and an olive dish-cooking contest. Check out the mobile olive oil press, or take a stroll through Culinary Row to entice your epicurean fancy with local artisanal, farm-fresh food, and be sure to try the olive oil ice cream!
Pioneer Day Parade 
Pioneer Day is one of Paso's greatest celebrations and oldest traditions, bringing visitors and longtime locals together for a day full of festivities, history, and beans. The first Pioneer Day was held on October 12, 1931. The goal was to provide a day of community friendship and a commemoration of the heritage of the Paso Robles area. Take a trip to old California during this action-packed day of family fun. The star of the show is of course the Pioneer Day parade. Starting at 16th and Spring Street, the parade enables visitors to step into history and view antique tractors, vintage cars, and horse-drawn wagons as marching bands, mounted equestrian groups, dancers, and floats add to the traditional flavor. Following the parade, visitors are invited to relax in the park, enjoy a delicious meal at the free bean feed, and participate in the remaining activities of the day!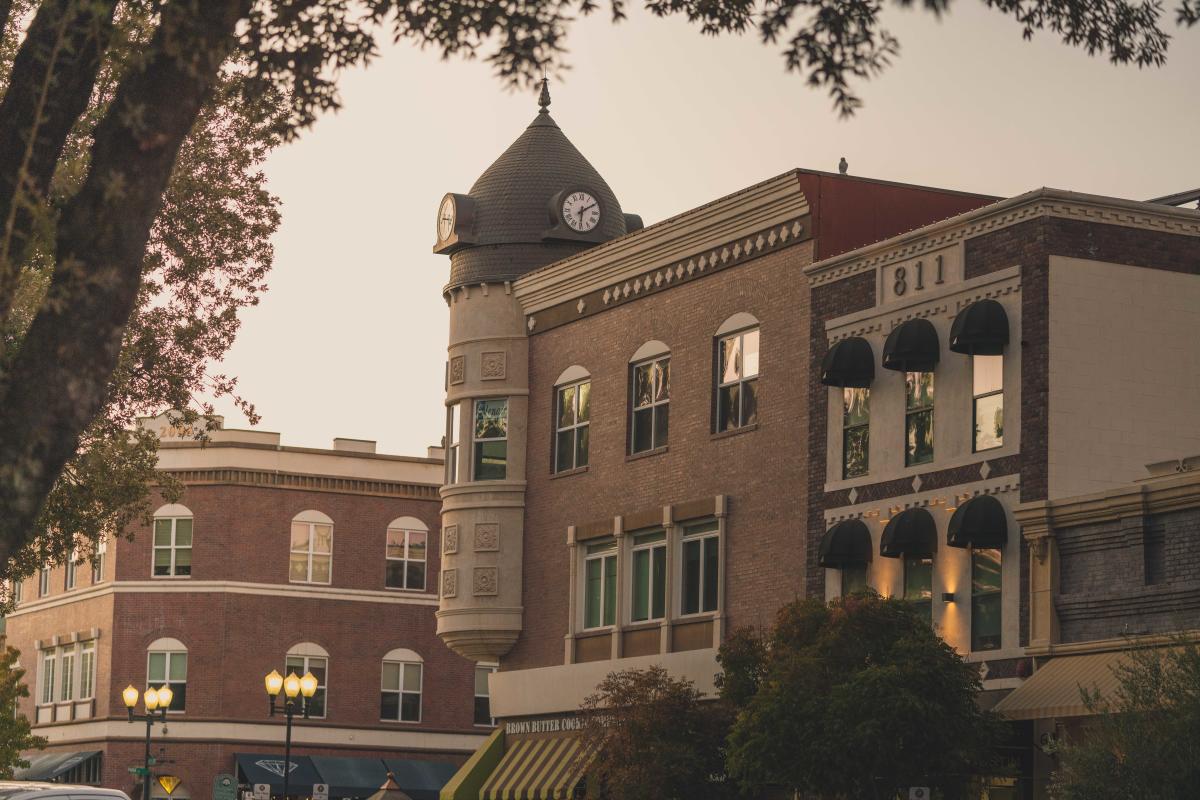 The Acorn Building
The Acorn Building — an icon of downtown Paso Robles – was originally built in 1892 and completely rebuilt in 2007 following collapse due to the San Simeon Earthquake. Located on the corner of 12th and Park Street, this historic clock tower stands directly across from the Downtown City Park and provides three-stories of office and retail space. The unique architecture at the top of the tower represents the cap of an acorn, the fruit of the oak trees that dot the hillsides and are captured in the city's official name, El Paso de Robles – the Pass of the Oaks. Today, the base of the Acorn Building holds a sweet surprise – stop by Brown Butter Cookie Company to enjoy samples of their signature shortbread cookie and taste an array of other delicious flavors.
El Paso de Robles Hotel
The El Paso de Robles Hotel, also known as the Hot Springs Hotel, is known by many as Paso Robles' Pioneer Hotel. Established in 1889, the very same year that Paso Robles was founded as a city, this historic hotel has been at the heart of Paso Robles history for over a century. In 1882 the area was famed for its "healing" hot springs and was advertised under the mantra of "El Paso de Robles Hot and Cold Sulphur Springs and the Only Natural Mud Baths in the World". The hotel welcomed many travelers who wished to experience the curative powers of the water, as it once housed a 40x80 foot pool known as the "plunge". This large indoor pool was filled with hot mineral water that fed directly from the local hot springs. Today, you can still enjoy spa rooms, however, the sulfur water was capped due to the smell. The original hotel burned down in 1940, but has since been restored and renamed The Paso Robles Inn. Today, you can experience the culture and history of Paso Robles firsthand with a stay at this local landmark. 
Historic Municipal Bath House 
Located at the corner of 11th and Pine, the Historic Municipal Bath House was constructed in 1905 to provide locals with an opportunity to share the curative powers of local hot springs. The bathhouse was designed with 24 individual rooms, half for men and half for women. The water naturally remained between 102 and 112 degrees throughout the year, without any artificial influence. For over 65 years, residents came to experience the hot sulfur water, get massages or enjoy mud baths. Today the building has been renovated and is now home to a series of retail shops including Cloak & Dagger Wines and Andrea's on Pine, a farm to table breakfast and lunch restaurant. Stop by lunch, a wine tasting and a dose of Paso Robles history.
Pine Street Saloon
One of the oldest buildings in Paso, the Pine Street Saloon transports you to the Wild West. This two story redwood building located on 1234 Pine Street, gives off a false western front and old school Paso charm. During the late 1800's and up until 1901, there were dozens of saloons and bars on Pine Street. Back in the day the building served as a stage coach stop, home to cowboys, ranchers and outlaws like Jesse and Frank James. At the time Pine Street, was also known  as "skid row" and held horse races every Saturday to entertain the town folk. Fast forward to today and the building has moved next door but maintains its rustic character. Today, you can enjoy an ice cold beer and karaoke nights with a mix of history and ghost stories. Don't miss Pioneer Day at the Pine Street Saloon – the saloon goes back to its roots, inviting cowboys to ride right up to the bar on horseback. 
Bank of Italy
Nearly a century old, the Bank of Italy is historically significant for its Renaissance revival architectural style and its early commercial influence on the small town of Paso Robles. Home to first the Bank of Italy and later the Bank of America, the building served as a prominent business location and beautiful city landmark. This three-story building was one of the tallest in Paso for many years, and is known for its unique structural design. Listed on the National Register of Historic Places since 1998, the historical building is found at the corner of Park and 13th Street, a block north of Downtown City Park and is currently home the headquarters of Daou Vineyards. 
Historic Almond Growers Building
The Historic Almond Growers Building was constructed by the Paso Robles Almond Growers Association in 1922 as a warehouse and processing plant. The design was so efficient that a small team of men could process 500 tons of nuts. The building was later referred to as "the symbol of the success of the almond industry" in the area. Today the building remains on 525 Riverside Avenue, home to Derby Wine Estates. The building has been restored to its former glory and now contains a tasting room and patio with VIP tasting options held in the tower. 
Stroll around downtown Paso Robles and discover local artisan shops, upscale clothing boutiques, gourmet food, wine markets and much more. The wide range of stores offer something for everyone's taste and budget.
Delight in world-class beers, exceptional wines, and farm-fresh culinary creations exclusive to Paso. Innovative local chefs, gifted brew masters and visionary vintners infuse Paso's maverick spirit into everything they do and create, giving you a real taste of Paso.