Downtown
Exploring Downtown Paso Robles
Downtown is the hub of Paso. It's the gathering place and home for all activities from shopping to dining to seeing a movie to visiting the library at City Hall.
The town square is centered around the Downtown City Park, a central green space with gazebo, children's playground, picnic tables and benches and the historically acclaimed Carnegie Library, now home to the archives and exhibits of the Paso Robles Historical Society. Throughout the day you'll see the community using the Downtown City Park for picnics, recreation or the latest festival. Home to the annual Paso Robles Wine Festival, Olive Oil Festival, Holiday Tree Lighting Ceremony and many more, you'll find the Downtown City Park is the central gathering place for the community.
As you stroll around the town square take time to check out the special curated retail stores. From boutique women's clothing at Bijou on the Park, Jayde, AndBe Boutique and Firefly to the shoes at Sole Tree, the ladies will be busy. Divine, Kaya and Ambiance take you down Park Street for hidden treasures. Surfs up at Kahunas and Alliance Board for all your surfing, skiing, skateboarding and active clothing needs. Looking for a unique gift or local provisions for your pantry and home? Look no further than the General Store.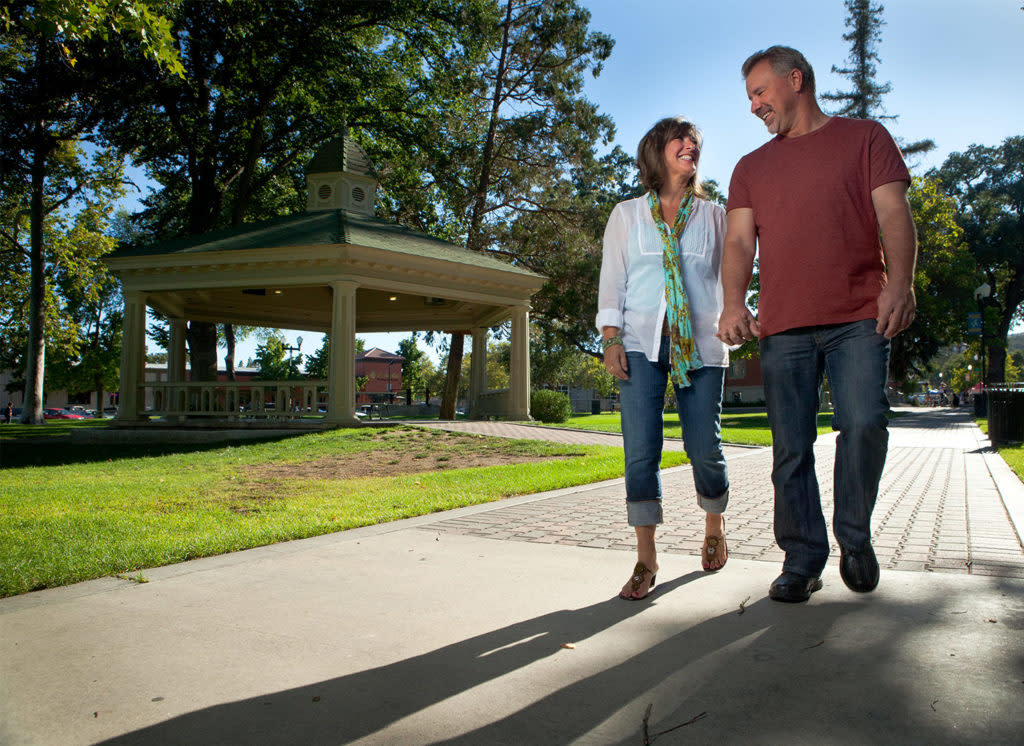 Take a stroll through the town square in downtown Paso Robles
Shopping Downtown
If books, unique journals and specially curated paper are on your list seek out downtown Paso's newest store, Notable Goods, located in the alley on Norma's Way.
What's old is new is the theme you'll find at several antique and vintage shops scattered around downtown. You might find something that sparks a childhood memory or uncover that perfect something for someone.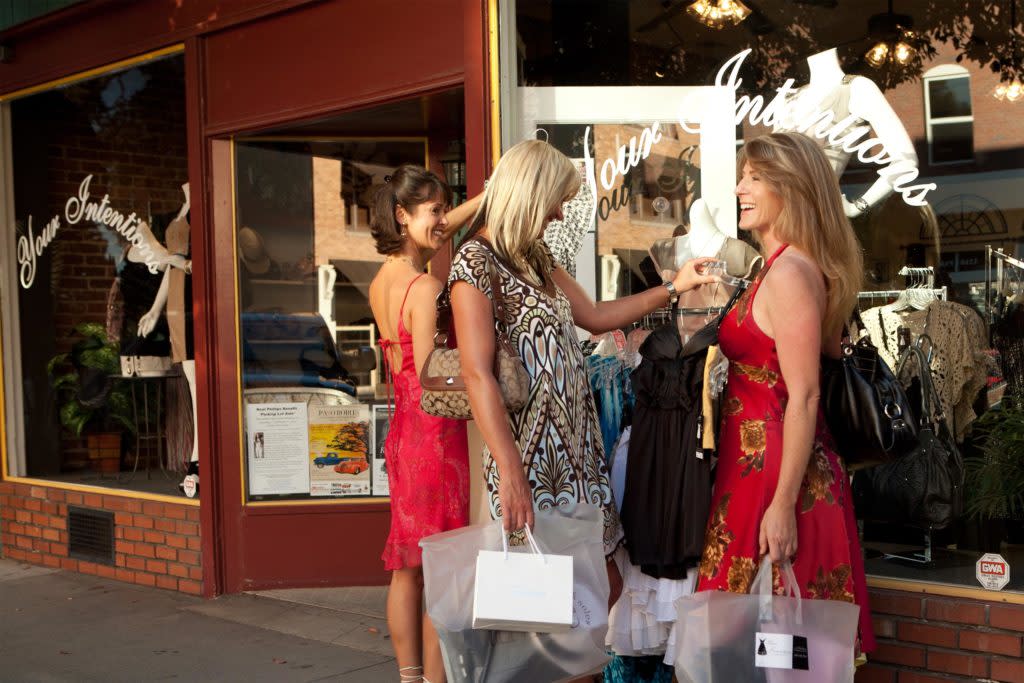 Shopping in downtown Paso Robles is a great time.
Paso Robles Art Scene
Downtown is also the focus for Paso's blossoming art scene. Anchored by Studios on the Park, a nonprofit open studios art center that features six studios, 15 working artists, four galleries and a fine craft and fine art gift shop. Studios features monthly exhibitions that kick off the first Saturday of each month with Art After Dark receptions featuring local wineries, local musicians and of course the featured artist.
You'll find art integrated throughout downtown. Art galleries are interwoven among retail shops and tasting rooms. Dale Evers Studio is a must stop where you may run into Dale himself to experience what the sculptor/designer and innovator is creating. A visually creative video art installation can be found at the newly opened JUSTIN Vineyard and Winery tasting room on the downtown square.
Public art is also beginning to take shape in Paso Robles. A newly installed art mural "Enjoy Paso" proudly and creatively captures the essence of Paso's rich history, natural beauty and agriculture heritage. You'll see signs of the local community – a tractor, wine grapes, rolling hills, cattle, the downtown Acorn Building clock tower – captured in the bold and colorful palette featuring the word PASO as you take in the mural.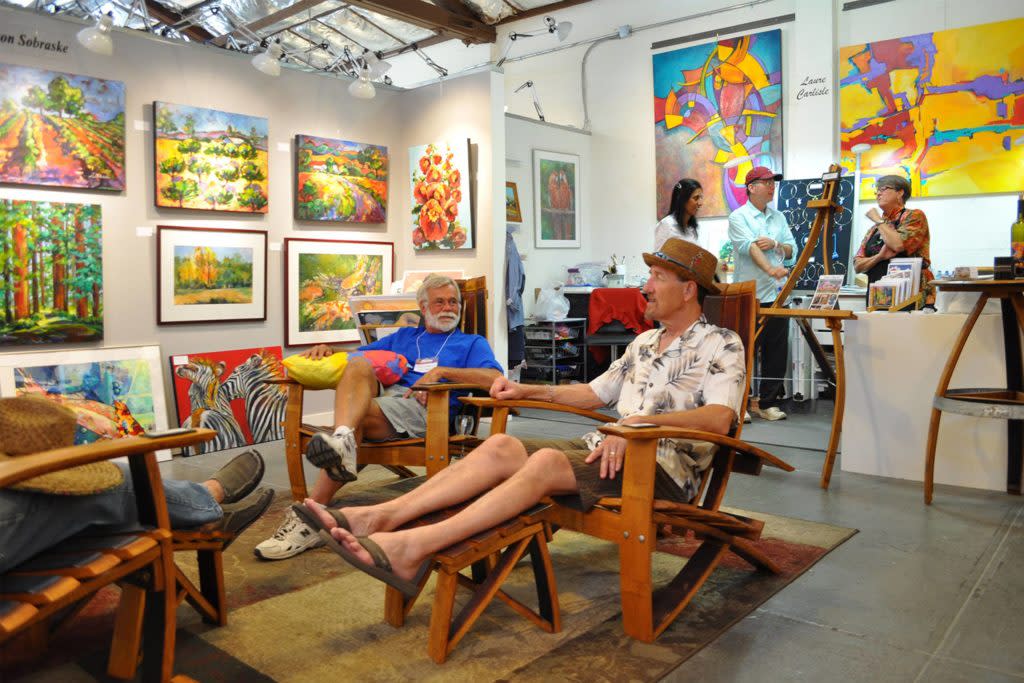 Galleries are in downtown for the art aficionado.
Downtown Buildings
The Acorn Building – an icon of downtown Paso Robles – was originally built in 1895 and completely rebuilt in 2007. Located on the corner of 12th and Park Streets it's located directly across from the Downtown City Park and provides three-stories of office and retail space. The unique architecture of the top of the tower represents the cap of an acorn, the fruit of the oak trees that dot the hillsides and are captured in the city's official name, El Paso de Robles – the Pass of the Oaks.
Brown Butter Cookies is at the base of the historic Acorn Building. Enjoy samples of their signature shortbread cookie and taste an array of flavors. Up the block is the recently opened Diablo Paso winery tasting room and around the corner on the opposite side is the new JUSTIN Vineyards & Winery tasting room. You'll find nearly 20 tasting rooms to sip and savor wines throughout downtown.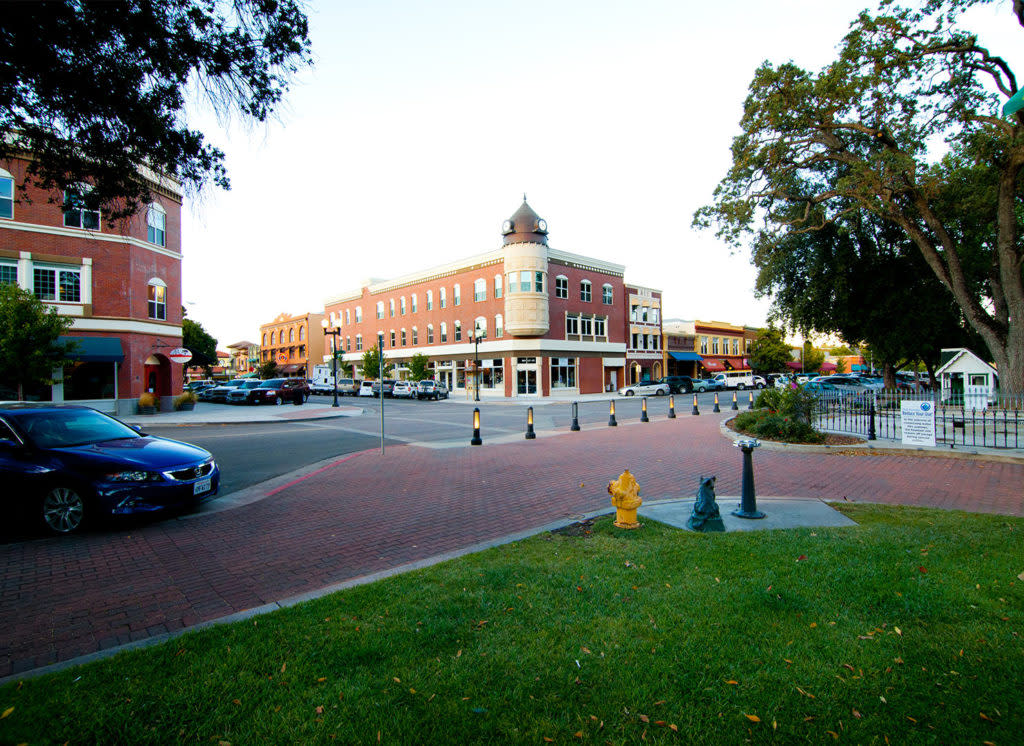 The Acorn Building in Downtown Paso Robles
A Taste of Downtown
Is craft beer more to your liking? No problem, several microbrews like Earth & Fire, Toro Creek and Silva call downtown Paso home.
For the gourmands, you can taste olive oils downtown at Pasolivo or We Olive and find several olive-based products. Looking for spices, check out Spice of Life for unique blends.
Hungry? Downtown offers a wide array of local cuisine. From California cuisine, to Italian, to South American inspired, to farm-to-table, to wine country barbeque, to French Brassiere, to gastropub, to sushi, to Thai and classic Mexican your choices are endless.
The rich history of downtown Paso Robles combined with the welcoming park and shade trees of the town square creates a vibrant downtown for visitors and creates a quality of life in Paso enjoyed by the community.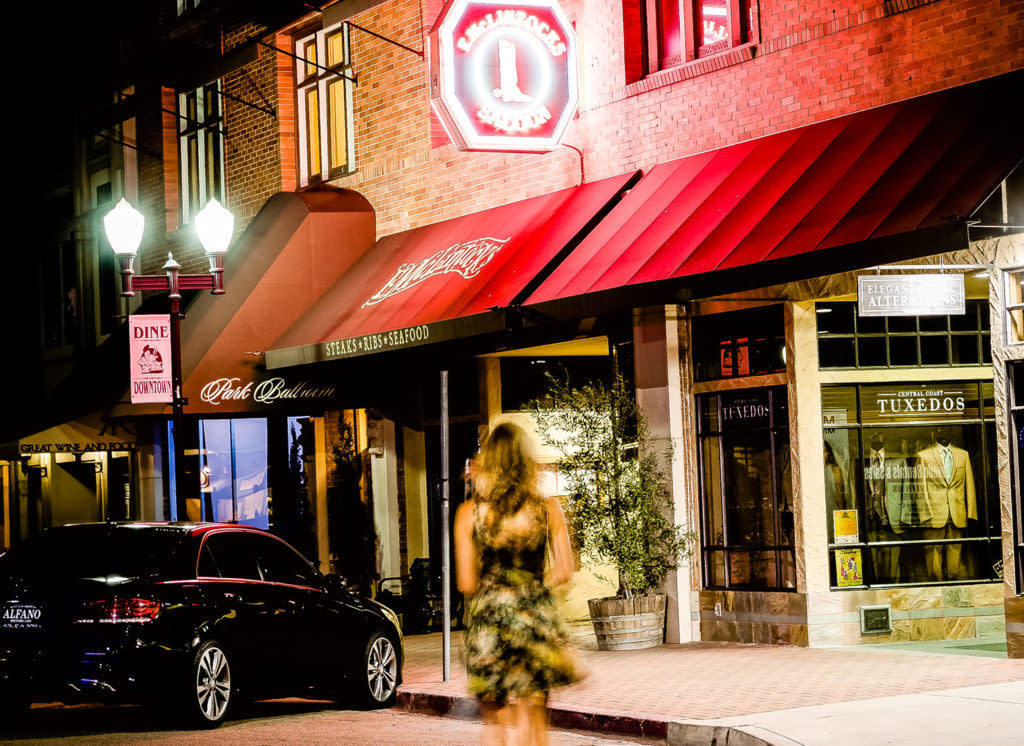 F. McLintocks Saloon in Downtown Paso Robles
Stroll around downtown Paso Robles and discover local artisan shops, upscale clothing boutiques, gourmet food, wine markets and much more. The wide range of stores offer something for everyone's taste and budget.
Delight in world-class beers, exceptional wines, and farm-fresh culinary creations exclusive to Paso. Innovative local chefs, gifted brew masters and visionary vintners infuse Paso's maverick spirit into everything they do and create, giving you a real taste of Paso.