Welcome to Paso Robles
Escape to the majestic vineyards, oak dotted hills and small town charm of Paso Robles. Located along coastal Highway 101 midway between Los Angeles and San Francisco, Paso Robles is "Real California" with easy access to the best beaches in the Central Coast. It's where world-class food and wine meet small-town cowboy charm and boasts endless lodging options, from historic inns and luxury resorts to rustic vineyard escapes. Named a must-visit region by The New York Times, Paso Robles is wine country where you can savor the real California. We welcome you to visit Paso Robles.
Paso Presents: 
Stories of the People and Places That Have Shaped Paso Robles

Troy Larkin and Donovan Schmit
Pappy McGregor's, Fish Gaucho, 1122 Speakeasy & Cocktail Lounge and Cane Tiki Room
Paso Robles proudly plays host to an emerging, award-winning fine dining scene and Park & Pine Group have been on the front edge of it from the beginning. Troy and Donovan continue to contribute to the unique options and raise the caliber of service for visitors of Paso. Fueled by inspiration, their ventures on Park and Pine Streets have brought life and flavor to downtown Paso.
Plan Your Next Trip
Explore our itineraries below to design your next trip
Paso Robles has a wide variety of event spaces. From wineries to Paso Robles Event Center, there is a place to suit your...
Learn More
From wine tasting to horseback riding to relaxing spa days, you can do it all in Paso Robles.
Learn More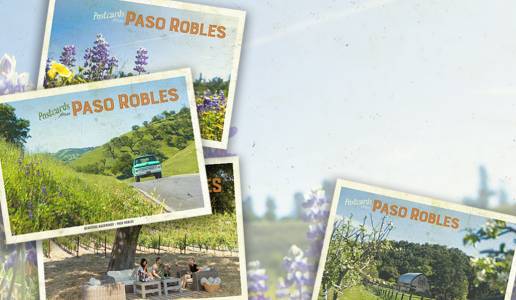 Postcards From Paso Robles
Join our monthly newsletter and get our 4 pack of limited-edition postcards sent to your home.