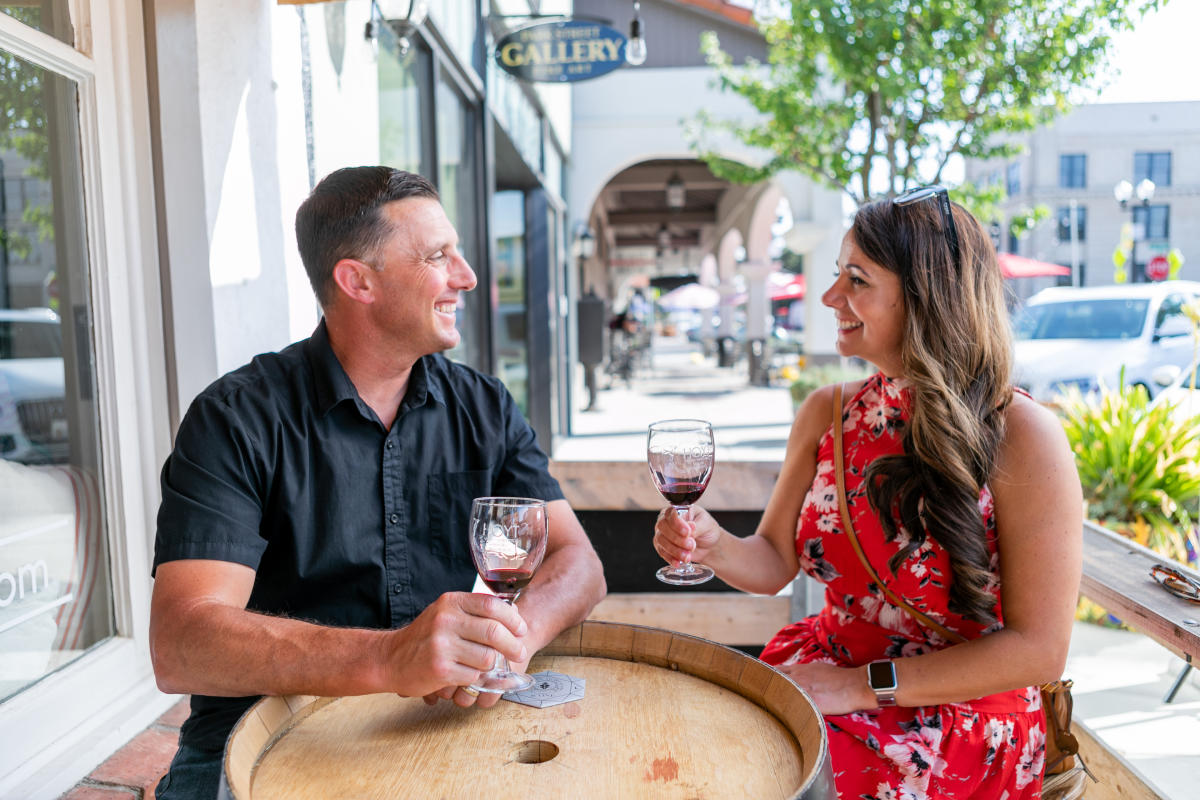 Wine tasting in downtown Paso is one of the most popular things to do and complements a day of shopping, dining and exploring without ever having to get in the car! With over 20 tasting rooms centrally located around the easily walkable downtown city park, you'll have plenty of options for tastings and wine lounge experiences. Take a tour of Paso's extensive wine region, block by block, with unique tastings around every corner. Whether your goal is to sample a selection of local wines or you're simply stopping in for an afternoon refresher, you are sure to enjoy the character and expertise that each establishment brings to the table. Keep track of your favorites so you can take a deeper dive into their wines with a vineyard visit just outside of downtown. 
Conveniently located on Downtown City Park, you can now experience JUSTIN's world-class tasting bar and cozy dining room without heading out to the vineyard. Relax and enjoy a wide selection of JUSTIN wines by the glass or by the bottle, accompanied by the chef's featured dining menu. Supplement your wine tasting experience with a la carte small bites or a flight of decadent house made chocolate truffles sourced from the acclaimed Restaurant at the JUSTIN. The space itself is reminiscent of a modern French wine bar, with beautifully appointed tile, custom furnishings, cabinetry and international digital artwork. This upscale tasting room reflects the JUSTIN tradition - Old World methods meet New World technology. ecializing in Bordeaux-style varieties, you'll sip and sample wines sourced from their four vineyards allowing for a full flavor profile representing Paso's many wine regions. The award-winning JUSTIN name is celebrated locally and nationally, so it's no surprise that the JUSTIN is easily the most popular tasting room in Downtown Paso. Due to popularity, reservations are required. 
The Tasting Room is located at 811 12th Street.
Cloak & Dagger Wine Estates excels at bringing a playful mystery to their wines, but now you can experience the same brand energy at their downtown tasting lounge. If you haven't already been lured into the mysterious Cloak and Dagger tasting room, it's high time you check it out. This discreet lounge is located in the Historic Municipal Bath House overlooking Paso's downtown City Park. Here you'll find Cloak & Dagger's most complex wines served in a secretive setting, complete with huge tufted leather couches and an all-consuming conspiracy and freemasons vibe. At first glance the outward appearances would suggest it is little more than a charming wine tasting venue in the heart of Paso Robles' vibrant downtown scene. However, those who dare to venture inside know that many hidden passages await behind closed doors. Word has it there is a secret door in the tasting room... where it goes, no one knows. 
The Tasting Lounge is located at 840 11th Street, Paso Robles. 
Enjoy an elevated Derby Wine Estates tasting at the historic Derby Tower. This VIP tasting experience allows you to taste Derby's finest selection of wines from the tower and tour their unique production facility. The Derby Tower and tasting room is located within the Historic Almond Grower's Building adding a touch of history and culture to the wine tasting and tour. The Almond Grower's Building has been a landmark in Paso for nearly a century, established in the 1930s when Paso Robles was considered the Almond capital of the world. Over the years the building evolved from almond production to wheat granary before falling into the hands of the Derby family where it found its future in wine. Today, a visit to the club lounge reveals a new perspective on Paso Robles, with 360 degree views of the downtown area and surrounding hillsides from the city's tallest building. For the other VIPs (Very Important Pets), the sunny outdoor patio is dog-friendly for you and your four-legged friends to enjoy. The entire tour and tasting experience takes about 2 hours and reservations should be made in advance. 
Located at 525 Riverside Avenue.
Named one of the 10 Best Tasting Rooms in America in 2016 by USA Today Readers, and the most highly rated tasted room in Paso Robles on Yelp, it's no wonder the lounge is a favorite amongst visitors and locals alike. LXV invites you into the sensory world of wine and flavors with three exclusive spaces - the blue room, the Cellar room, and the outdoor patio, each offering distinct experiences for wine tasting. The blue room's sapphire blue walls and Indian day beds create an inviting lounge space for guests while they enjoy equally bold wines. The Cellar room transports you to Europe with a Tuscan villa table surrounded by art by painter Carrie Graber and Cellar Wines. The tasting room serves a unique collection of "flavor flights" as well, including a wine and spice pairing curated to enhance or contrast the flavors inherent in the wines. In the spring and summer, the patio is a sunny, oasis in the middle of downtown Paso. It's dog-friendly too, making it the perfect afternoon destination.
Wine Lounge is located at 1306 Pine Street 
CaliPaso Wine brings wine to life in their downtown tasting room. Known for great wines and atmosphere, here you can expect a large scale tasting bar, colorful lights, and frequent live music. Often the last to close downtown, this is the perfect destination to end your evening on a high note. Surrounded by restaurants and shopping, CaliPaso not only delivers some of the best locally and estate grown wine, but provides a welcoming tasting room with incredible staff. Come sit on the patio and enjoy all that 13th street has to offer or sit at the bar and watch the game on their big screen TV. The classy, modern design features the bar which opens up to a patio overlooking 13th Street. This open layout makes it the perfect space for special events. Time flies as you sip and watch the people stroll by outside. Inevitably after a few tasting flights, you'll want to stock up on a few bottles for the road – stop by their vineyard estate off Buena Vista Drive where you'll find their winery, restaurant and 7 room Villa (a very popular wedding venue). 
Tasting Room located at 809 13th Street 
Experience Copia founders' Anita and Varinder Sahi's tireless passion for premium winemaking, cutting edge viticulture and warm hospitality in equal measure. Copia offers not one, but two different engaging experiences in the heart of Paso Robles' historic downtown neighborhood. For a classic tasting room experience, head to their intimate tasting room to enjoy their signature wine flight of 5 Rhone varietals. If you're looking for a more unique experience, the Copia Lounge is for you. The Copia Lounge immersive experience lasts from 60 to 90 minutes, where an experienced wine expert guides you through a multi-course wine pairing. Sit back and relax in this stylish, boutique tasting lounge while enjoying 5 premium wines thoughtfully paired with artisanal cheese and charcuterie. Reservations are highly recommended but not required, walk-ins welcome. 
Tasting Room and Lounge located at 840 13th Street 
If you know and love the Garagiste Festival, you'll love Paso Underground's small batch wine tasting room. This collective tasting room experience houses a collection of small batch wine makers all under one roof. Paso Underground is currently home to 5 talented wine makers and their small batch wineries — Ranchero Cellars, Rhonedonnee Wines, Lost Blues, Ultima Tulie, and Primitive Wines — making this your one stop shop to Paso's garagiste scene. The focus here is on a laid-back tasting experience where you taste the wines, learn about the winery, then purchase wine to enjoy on the back patio. It was designed with the goal of providing visitors the opportunity to familiar with Paso's unique wine country and sip alongside the winemaker behind the wines. 
It's important to note that each winery may hold different hours. If you hope to enjoy a tasting at a specific winery, it's best to call in advance to make sure they'll be available. 
Tasting Room located at 1140 Pine Street 
Visit the Tudor Wines tasting room in charming downtown for a collection of unique wine varietals that the family-operated winery has been perfecting for generations. Tudor features grapes from the Santa Lucia Highlands and is known for its highly acclaimed Pinot Noir, Chardonnay, Riesling and Ice Wine. In case you were wondering, Ice Wine is a type of dessert wine produced from grapes that have been frozen while still on the vine. The cold temperature freezes the water within the grape, but not the sugars, resulting in a sweeter and more concentrated wine. Ice wine production is a challenging balance of freezing without killing your harvest, making it a minority in the wine world. If the thought gives you chills you can cozy up with a coffee while you're not drinking wine — espresso is available on the menu for you (or your designated driver!)

Tasting Room located at 1210 Park Street
Check out Bushong Vintage Co. for a tasting room with a vintage vibe. Select a wine by the glass or by the bottle, then select a record from the vinyl collection and queue up your own soundtrack. Between sips you can test your skills at the Star Wars pinball machine, or explore the vintage art and decor incorporated throughout the tasting room. Owner, Jason Bushong grew up during the 80's in Southern California doing what most kids at the time were doing — collecting vinyls and listening to Duran Duran. Add a passion for all things wine, and Bushong Wines were born. Today, he captures the iconic era in his wines and tasting room experience. If you're as crazy about the wine as we are, you can commit yourself to "The Winemaker's Asylum" AKA the Bushong Bushong Vintage Company's Wine Club, available at two levels – Wine Lunatic and Institutionalized.  

Tasting Room located at 565 12th Street
 
Located in the Historic Train Depot, this hole-in-the-wall winery is just as unique as its location. Built in 1880, the train station is still in operation to this day, and the building has maintained its original wood floors and windows. Here, within its ancient walls, the tasting flights come with complimentary food pairings from the winemaker's kitchen. These include popular small plates such as Castelveltrano olives, Prosciutto wrapped figs, warm brie, and more. These can be enjoyed in their outdoor garden patio at one of the 2 top tables, 4 top tables, farm tables or lounge seats located around the central stage where live music is often scheduled. The indoor lounge also has multiple seating areas and a wine bar ideal for sampling wines alongside winemaker Susan A Mahler, "SAM." It's hard not to love the energy at Cypher, a tasting lounge that has aged like fine wine.
Tasting Lounge located at 740 Pine Street