Live Music in Paso Robles 
Paso's Variety of Live Music Options
Live Music Venues | Wineries with Live Music | Music Festivals, Concerts & Fairs
Live music enhances the Paso Robles experience. This wine country destination tucked halfway between Los Angeles and San Francisco has dynamic concert venues, from cozy downtown clubs to lively warehouse patios in Tin City to sprawling vineyard amphitheaters. Music among the vines promises a special kind of magic, complete with food and wine pairings and postcard-pretty sunsets.
You'll find live music in Paso Robles nearly every night of the week, plus popular annual music festivals and afternoon concerts to fill your sun-splashed days. Review this guide to Paso Robles live music and book your tickets today.

Downtown Establishments
Libretto
Libretto, located on Park Street in heart of downtown, stands out among Paso Robles entertainment venues. Set on the site of the 1919 Paso Robles Opera house, this beloved, 62-seat gem boasts a Steinway & Sons Model D made in 2012. Piano players consider this nine-foot, full concert grand among the world's best, and it's a hit with the classical, jazz, blues and opera artists who come through town. This Paso live music spot holds shows every Friday and Saturday night, and seats sell out fast.
Pine Street Saloon 
Downtown Paso's oldest building started as a late 1800s stagecoach stop, back when Pine Street was known for a wild mix of horse races, street dances and characters galore. The two-story redwood structure also housed various hotels and bars before taking on today's Pine Street Saloon title in 1980. If you're looking for live music in Paso Robles this weekend, this is the place to start. Karaoke typically happens on Sunday, Tuesday and Friday nights, and there are Saturday evening musicians and open-mic Mondays, as well.
The Pour House
The Pour House is a 21-and-over stop that bills itself as Paso's best place for live acts. This Paso Robles music venue regularly hosts movie nights, comedy acts, cover groups, and up-and-coming bands spanning every genre of music. There's a rotating draft list of classic American beers and locally brewed cider and beer, along with tv screens for sports, a pool table and a lively outdoor patio.
Pappy McGregor's
For live music and late-night energy, it's hard to beat Pappy McGregor's. Friday and Saturday nights bring a DJ-led, 21-and-over dance party to the back patio of this downtown hotspot, and a street taco cart parks here from 10 p.m. to 1 p.m. On weeknights, a late-night happy hour means discounted drinks from 9 to 11 p.m., too. In addition to music and fun, look for 20 local beers and wines, plus pub food, cocktails, happy hour specials, and a dog-friendly vibe.
Cattlemen's Lounge at the Paso Robles Inn
This downtown classic often hosts live music on Thursday nights, Friday evenings and Saturday afternoons. These vibrant concerts in Paso Robles take place in a 1942 venue named for its history as a true cowboy gathering spot. (In fact, one-time Cattleman's Lounge owners and their family members were known to occasionally ride horses right up the stairs and into the lounge.) There's also a hearty menu of bar food, four flat-screen televisions, and an open-air balcony overlooking Downtown City Park.
Pony Club at Hotel Cheval
Housed in the luxurious Hotel Cheval, the Pony Club puts Paso Robles music in the spotlight. Live local acts regularly play here on Thursday, Friday and Saturday evenings, and the schedule features an impressive mix of talented musicians. Winemakers sometimes give Wednesday night talks here, too. Events all take place in a stylish setting with beamed ceilings, a horseshoe-shaped zinc bar, and a stellar wine menu.
Noteworthy Venues Beyond Downtown
Vina Robles Amphitheatre
Vina Robles Vineyards and Winery launched a summer concert series in 2007, and that inspired an outdoor venue that's now one of the largest, most popular places for Paso Robles concerts. The Vina Robles Amphitheatre concert season runs from April through November, with acts like the Avett Brothers, Los Lobos, Alice in Chains, the Psychedelic Furs, Alice Cooper and Daryl Hall on the 2023 schedule. No matter who takes the stage, you'll enjoy an intimate setting – every seat is within 150 feet of the stage – and you'll find small bites, local beers, and Vina Robles estate wines for purchase.
Sensorio Field of Light
Bruce Munro: Light at Sensorio brings together music and light to create an extraordinary experience that ranked sixth on the New York Times' "50 Places to Visit" list. Four exhibits in this dreamy installation feature acres of flickering lights and fiberoptic spheres, including many that twinkle to musical scores. The newest additions are Gone Fishing and Fireflies, each inspired by the natural world. Light Towers includes 17,000 wine bottles set as towers that change colors to a special soundtrack, while Field of Light illuminates rolling hillsides with nearly 10,000 multi-hued bulbs.
Tin City
Tin City brings local wineries, breweries, distilleries and eateries together in a pedestrian-friendly warehouse district. It's a great place to sample the work of trend-setting Paso producers, often while catching some live acts. Barrelhouse Brewing Co. hosts an exciting mix of concerts, dance lessons, and local makers' markets with music in its outdoor amphitheater. The La Perdignus Wines Good Vibes Concert Series takes place on summer Fridays. They also hold Sunday afternoon concerts in the fall, Friday evening shows in the spring, and ongoing events ranging from clothing swaps to build-your-own bouquet parties.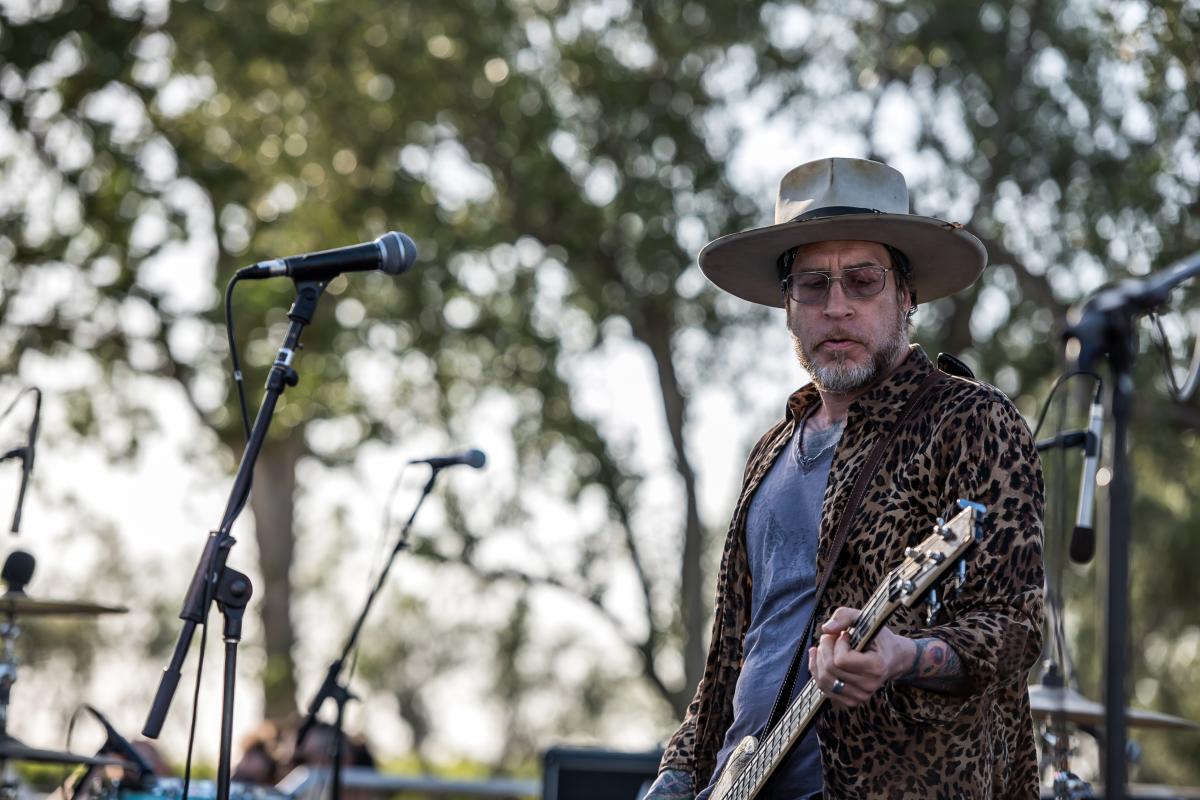 Many producers in Paso Robles Wine Country pair their red and white releases with live music. On any night of the week, you might find rock, reggae, blues, country, jazz or acoustic acts starring on winery stages. Here are some of the spots that regularly host concerts, plus some details on what to expect.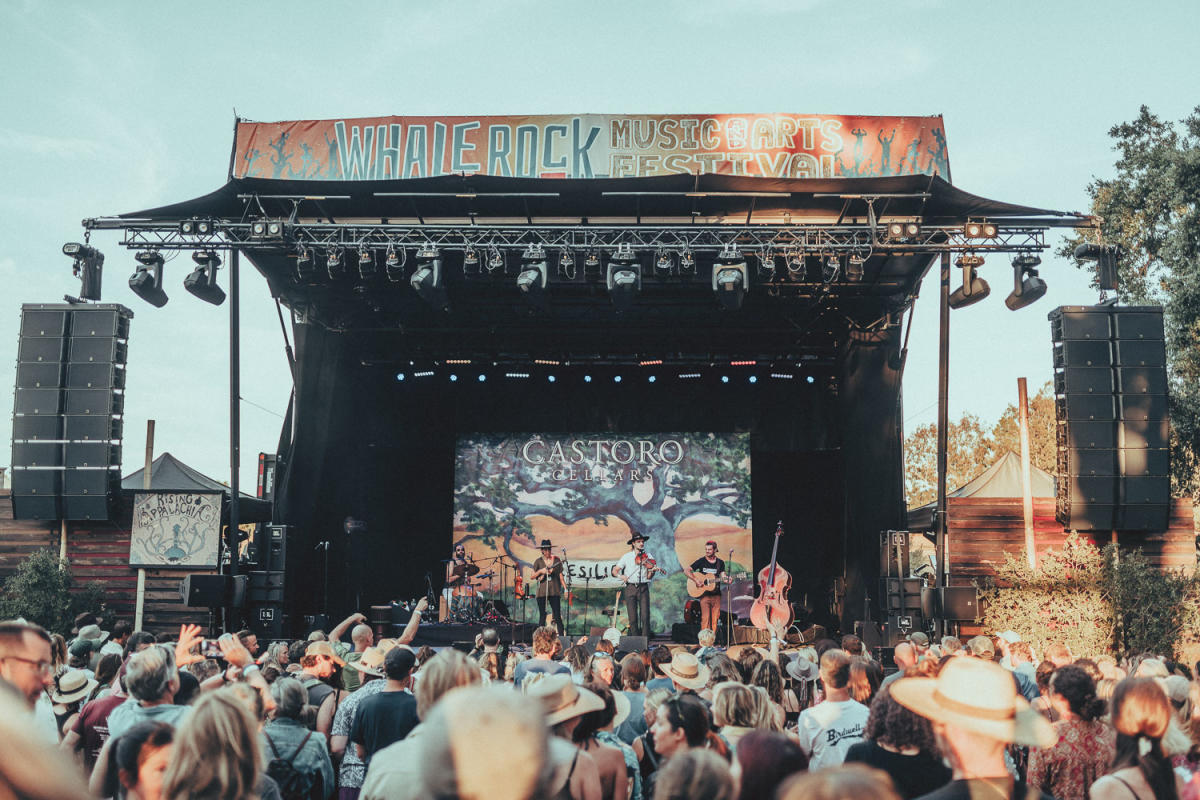 Concerts in the Park 
Nothing says summer in Paso like the Concerts in the Park series. For more than two decades, this free, family-friendly event has drawn locals and guests for live music and lots of fun. Bands set up in Downtown City Park, and many showgoers like to swing by a neighboring restaurant for dinner or pack a picnic to enjoy under the stars. Parents can relax and enjoy the show while kids run around the park and climb on a new play structure. Concerts in the Park Paso Robles takes place on Thursday evenings from 6 to 8 p.m., between mid-June and late August.
Whale Rock Music & Art Festival 
This spirited annual event grew out of Castoro Cellars' 30th anniversary in 2013, and it's named for the Whale Rock Vineyard it calls home. Taking place in mid-September, the Whale Rock Music & Arts Festival features live music on two stages surrounded by tree-studded hills and grass-covered dance floors. There are Castoro wines, of course, plus craft beer, hard cider and food truck fare. The family-friendly jam-fest also has games and face painting for the kids (ages four and under enter for free), and proceeds support Paso Robles-area nonprofits.
Paderewski Festival
The annual Paderewski Festival anchors the Paso Robles live music calendar. For four days each November, this cultural gathering celebrates the life and work of Ignacy Jan Paderewski. The Polish-born pianist, composer and philanthropist once served as Poland's prime minister, and he spent time in Paso Robles after purchasing a ranch here in 1914. Musical events at the Paderewski Festival range from performances by world-class artists to a youth piano competition, and there are also lectures, film screenings, themed dinners and wine receptions.
California Mid-State Fair
Classic summer fun comes to town for 12 days each July, when the California Mid-State Fair sets up at the Paso Robles fairgrounds. Some of the biggest names in rock and country have played the main stage here, including Tom Petty, Garth Brooks, George Strait, Journey, Cardi B and Carrie Underwood. The Paso Robles fair concerts are just the start of the festivities. You'll also find carnival rides, culinary events, craft displays, livestock shows, rodeo competitions and more.
Even More Music in Paso Robles
Paso Robles plays host to a rich variety of annual festivals and events. While they're not all focused on music, nearly every gathering features live music of some kind. Exciting options take place throughout the year, whether you're interested in culinary celebrations, harvest-season gatherings, beer invitationals, cultural galas, antique fairs, family festivals or charity fundraisers. Events offer a great reason to plan a visit, and once you get to Paso Robles, you'll find even more reasons to stay and explore
SEE MORE — ALL LIVE MUSIC EVENTS