Paso's Museums
Local museums bring the rich history and culture of Paso Robles to life. From vintage aircraft collections to a dedicated children's museum to stories of early El Paso de Robles – complete with replicas of late 1800s structures – venues here appeal to all interests. After exploring the Paso Robles museum scene, hop in the car to experience more highlights. Within a short drive of the city, you'll find two California missions, a storied hilltop mansion, a regional historical center, and the state's largest army museum. 
Start planning your cultural tour today with this guide to the best museums in Paso Robles.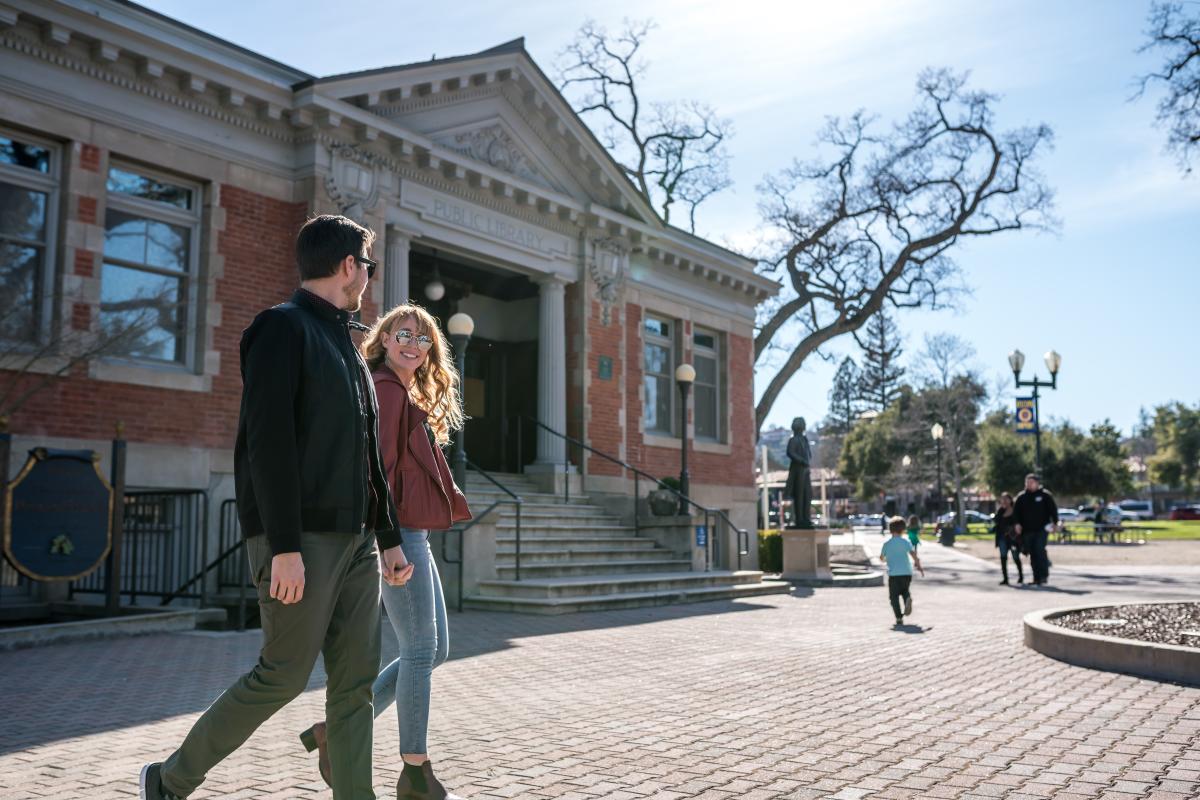 The Paso Robles Pioneer Museum has welcomed guests for more than 50 years, offering free admission and an engaging look at the past. Detailed displays present turn-of-the-century Paso through replicas of buildings that once lined the downtown streets. See a re-creation of the 1889 Paso Robles Hotel, which was mostly destroyed by fire in 1940 (the Paso Robles Inn now stands on the site). Stroll through a one-room schoolhouse that held classes until 1962. View a vast collection of vintage rifles and shotguns assembled by Clark S. Smith, longtime area businessman, and marvel at a 1911 Maxwell vehicle plus antique carriages, wagons, farm equipment, typewriters, a quirky barbed wire collection, and more.
One Pioneer Museum exhibit features the memorabilia of Ignacy Jan Paderewski, a Polish-born pianist, composer, politician and rancher who called Paso Robles home. He used local mineral and mud baths to ease his rheumatism in the early 1900s. The Paderewski Festival, held each November, also honors the artist's life and legacy.
Let your imagination run wild at the Paso Robles Children's Museum. Housed in the Paso Robles Volunteer Firehouse building, it's one of the top family-friendly activities in downtown Paso. The playful destination features hands-on educational activities for youngsters and parents. 
Kids can try on firefighter gear and climb on Old Mack, a 1944 fire engine on the museum's first floor. The Firehouse Pizza Kitchen teaches little ones about fractions and money, while El Mercado features shopping and culinary-inspired activities in English and Spanish. Jump around in the Grape Stomp ball pit. Don costumes and perform in the Theater Area. Build one-of-a-kind pathways for marbles on the Magnetic Ball Wall. Marvel at light projections and motion sensor surprises in the BEAM exhibit. The children's museum in Paso Robles holds special events, too, so check the schedule for upcoming activities.
No Paso visit is complete without a stop at the Estrella Warbirds Museum. Set at the Paso Robles Municipal Airport, this fascinating museum preserves and displays planes, military vehicles and memorabilia from several world conflicts – including jeeps, side arms, antique ambulances, and even modern missiles. The Warbird Museum Paso Robles has an extensive collection of restored prop planes, jets, helicopters and other aircraft from the early 1940s through the 1990s. Look for amphibious vehicles, vintage radio equipment and military supply trucks, too.
The Paso Robles air museum on Estrella Road also houses a full-sized F/A-18 cockpit simulator that was previously used for pilot training at Naval Air Station Lemoore. Pilots and civilian enthusiasts can schedule weekend sessions and practice their takeoff, landing and routine maneuver skills over normal airspace or aircraft carriers. 
While the Estrella Warbirds Museum earns plenty of headlines, an adjacent facility brings car enthusiasts to the Paso Robles airplane museum. The Woodland Auto Display at the Paso Robles Municipal Airport fills 25,000 square feet with a rotating collection of rare race cars, exotics and other noteworthy automobiles. Roam the venue to view classic cars, hot rods, Midget racers, sprint cars, NASCAR vehicles and much more.
Since opening in 2009, this branch of Warbirds Paso Robles has become one of the top automotive museums in central California. The new Ken Clapp Annex debuted in 2023, and it features regularly updated tributes to legendary car professionals and vehicles that made race history. The West Coast Stock Car Hall of Fame Memorabilia Gallery also opened in 2023. It includes an extensive reference library plus photos, plaques, trophies and other memorabilia from all facets of car racing.
Set in Downtown City Park, the Paso Robles History Museum and El Paso de Robles Area Historical Society occupy the community's stately brick Carnegie library building. Permanent exhibits explore Paso's history, from the Salinan communities who once lived here, to the city's days as a hot springs destination, to a population expansion driven by the 1941 opening of Camp Roberts, to the winemaking and agricultural industries that still power the local economy. 
The Paso Robles history museum also spotlights the community's notable residents, like American outlaw Jesse James, Ignacy Jan Paderewski, a pianist and the first Prime Minister of Poland, and Daniel and James Blackburn, brothers who helped shape early Paso Robles. The Virginia Peterson Research Library maintains collections of photographs, newspapers and other historical archives, while history and wine events draw locals and visitors alike.
Templeton Museum
The town of Templeton, 10 minutes south of Paso Robles, grew up around the railroad that landed there in 1886. Once the last town on the Southern Pacific line from San Francisco, it was a commercial hub that welcomed horse-drawn stagecoaches carrying passengers to and from the train. Today, the free Templeton Museum shares stories and artifacts from the community's history. Exhibits feature an original 1925 Model T Ford, early 1900s household appliances, vintage quilts and other interesting pieces shared by local families.
Mission San Miguel
Originally founded in 1797, Mission San Miguel Arcangel was the 16th of 21 missions established in Alta California. It's about 10 miles north of downtown Paso Robles, and it's well worth the drive. Named to the National Register of Historic Places in 1971, Mission San Miguel is graced by a courtyard fountain and original interior frescos painted by local Salinan artists. Mission San Miguel still holds regularly scheduled masses in English and Spanish.
Rios-Caledonia Adobe
Crews built the Rios-Caledonia Adobe just south of Mission San Miguel in 1835. The century-old inn and stagecoach stop is located eight miles north of Paso, on the old mission trail between San Francisco and San Diego, and it originally housed the overseer of mission lands. Today, the well-preserved buildings and gardens offer picnic sites, a gift shop, and exhibits that explore T'epot'aha'l (the people of the Salinan community) artifacts, original antiques and area photographs.
Camp Roberts Historical Museum
Camp Roberts opened 12 miles north of Paso Robles in 1941, and it was the country's largest U.S. Army basic training installation throughout World War II. The base also housed troops during the conflicts in Korea and Vietnam, before the Army closed the base in 1970. Today, the Camp Roberts Historical Museum is California's largest Army museum. Explore military history through outdoor displays, two exhibit buildings, a research library, and a gift shop. Artifacts here range from tracked and wheeled vehicles to solders' personal letters to uniforms, equipment and more. The Camp Roberts Museum is open on Thursdays and Saturdays, with free admission.
Mission San Antonio De Padua
Continue north from Camp Roberts toward Fort Hunter Liggett Army base to reach Mission San Antonio De Padua. Established in 1771 under bells hung from oak branches, this was Padre Junipero Serra's third church on the California mission trail. Mission San Antonio moved to its current site in 1773, and its well-maintained adobe buildings were constructed after the 1906 earthquake. Parishioners still gather for weekly Sunday mass and special annual events on the mission grounds, and tours are available with advanced reservations. The mission, museum and gift shop are closed on Mondays and Tuesdays.
Hearst Castle
Head about 40 miles from Paso Robles to the coast to reach iconic Hearst Castle. Newspaper magnate William Randolph Hearst's blufftop estate once covered 250,000 acres, and he built a sprawling mansion there with the help of Julia Morgan, the first woman to be licensed as an architect in California. Guided tours now showcase the legendary property, including Hearst's grand, gilded retreat and 123 acres