Long Live Local Live Music
Whether you prefer rock n' roll, jazz, blues, pop, or country - we can all agree that music sounds better in wine country. Don't miss a single beat with this concert lover's guide to the Paso Robles' live music scene.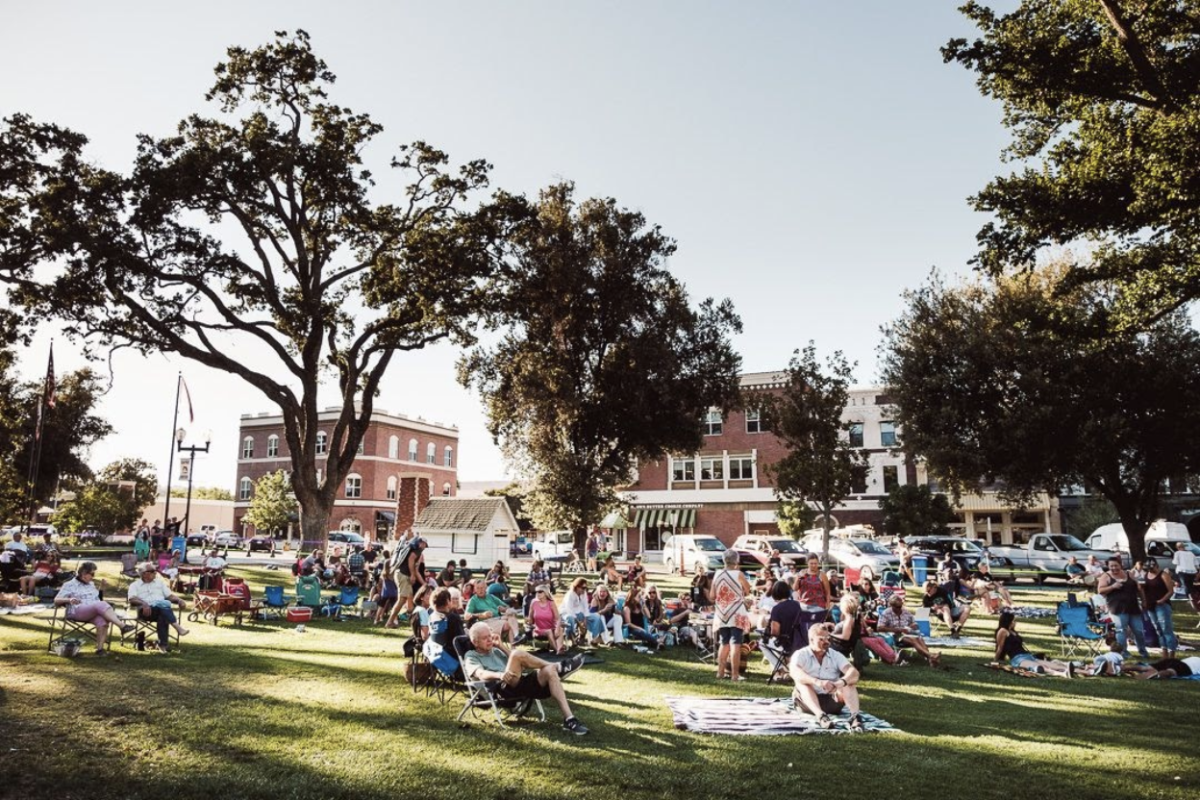 Concerts in the Park 
Celebrating its 20th anniversary season, the 2021 summer Concerts in the Park series is back through August. Concerts are held every Thursday of the summer from 6-8 p.m. at City Park, and include every genre imaginable, from country, jazz, American rock n' roll and 80s tributes. This relaxed event is perfect for an evening of family-friendly fun or a romantic couples date night. In partnership with hosts, Paso Robles REC Foundation and Paso Robles Recreation Services, J. Lohr Vineyards & Wines and Firestone Walker Brewing Company are serving up craft beers and local wines to benefit the REC Foundation's youth scholarship fund. Pack a picnic, grab your bev of choice, and stay awhile because you don't want to miss this classic summertime event!
Thursday, August 19
Los Gatos Locos (Latin rock, R&B)
Sponsored by MGE Underground, North Coast Engineering
Thursday, August 26
Joy Bonner Band (funky rock, R&B)
Sponsored by Connect Home Loans & RE/MAX Parkside Real Estate
Paso Market Walk
The Paso Market Walk is the hottest new destination for shopping, dining, and entertainment. Here locals and travelers alike gather for fun events and activities, such as the popular summer live music series. Held on their outdoor patio, the event features wines pouring, craft beers flowing, and gourmet foods for all. Come soak up the last of the warm summer evenings at the Market Walk with favorite bands playing your favorite tunes. Friday, August 20th is the final performance for the Summer 2021 series, so mark your calendars! You don't want to miss O'Donna, this classic American Rock band playing covers from Tom Petty to Rihanna.
Friday, August 20
O'Donna 
Vina Robles Amphitheatre
Nestled on a picturesque hillside, Vina Robles Amphitheatre pairs local wine with an intimate music experience you won't find anywhere else. Here, California's Central Coast character meets European design to create the perfect outdoor venue featuring a variety of music and entertainment. One of the largest outdoor music venues of its kind, it holds concerts from April through November, offering unique seating options all within 150 feet of the stage. Here you'll find artists of all styles performing, including big names such as Chase Rice, Train, and The Beach Boys. Not to mention, Vina Robles was a winery first, amphitheatre second so you can expect the finest of concessions selections. 
Wednesday, August 18
Rise Against 
Sunday, August 22
Steve Martin & Martin Short 
Sunday, August 29
3 Doors Down 
Sculpterra Winery
Live music returns to Sculpterra Winery! Songwriters at Play host, Steve Key, is in residence every Saturday afternoon. Special guests accompany Steve, swap songs, and jam on folk, blues, country and pop favorites. 
Upcoming Dates - 
Saturday, August 21
The Ateliers 
Saturday, August 28 
Arielle Silver & Cynthia Ford
Robert Hall Winery
Sit back, relax, and enjoy the Live from Paso concert series at Robert Hall Winery with a glass of wine, a snack from the concert menu, and picturesque vineyard views from the patio. 
Upcoming Dates - 
Friday, August 20
Travis Brooks Trio
Friday, August 27
Brass Factory 
Parrish Family Vineyard
Join Parrish Family Vineyard most Sundays, featuring local bands and local wines, reservations recommended. 
Upcoming Dates - 
Sunday, August 15 
Natalie Haskins 
Sunday, August 29 
Toan Chau 
Tooth & Nail Winery
Tooth & Nail Winery welcomes you to their castle estate every Friday and Sunday for live music and great wine. 
Upcoming Dates - 
Sunday, August 15
Morgan Myles
Friday, August 20
Carbon City Lights

BarrelHouse Brewing Co. 
BarrelHouse Brewery Co. is all about good people, good times, and great beer. A big focus of theirs is bringing together delicious craft beer with live music and events such as "Truck Bed" live music Fridays (5:00 - 8:30pm) and specialty BarrelHouse Amphitheatre concerts held throughout the year. This laid back, backyard atmosphere has great vibes for all kinds. 
Upcoming Dates - 
Saturday, August 14
Motel Drive
Friday, August 20
The JD Project
Friday, August 27
Prestige
The Pour House
At The Pour House, live music is a common occurrence, often starting on Thirsty Thursdays and continuing through to Sunday! Sharing craft beer, live music, good times, and pour decisions is their motto and they serve it well. In addition to an outstanding beer lineup, The Pour House also hosts great local bands and traveling musical acts. Expect high energy and volume as it should be, turned up loud. 
Upcoming Dates - 
Saturday, August 14
The Byrom Brothers
Sunday, August 15
Sunday Funday with Sensi Trails
Sunday, August 22
Burning James and the Po Ho Blues All Stars
Tuesday, August 24
High Voltage
For a full list of live music events, click here.