Hot Springs
Paso's Thermal Hot Springs Uncovered
It should come as no surprise, then, to know that visitors still enjoy these mineral hot springs in Paso Robles.  Although the region is better known today for its fertile soil, producing some of our nation's best wines, Paso Robles has not forgotten these springs completely.  Some springs have been diverted due to growth plans and natural disasters, like the old bathouse spring that resided where our current city official buildings stand, but most springs remain in their original locations.  Today, there are three public locations in Paso Robles where visitors can indulge in the therapeutic mineral hot springs.
One location is at the historic Paso Robles Inn in downtown Paso Robles.  Here, guests can request a room with a mineral hot tub on a private balcony.  The second location is at Franklin Hot Springs, located on the North East side of Paso Robles off of Creston Road.  And the third location is also located on the North East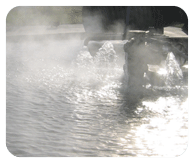 side of Paso Robles at River Oaks Hot Springs Spa.  While each location is vastly different from the other, they all offer the same great feeling.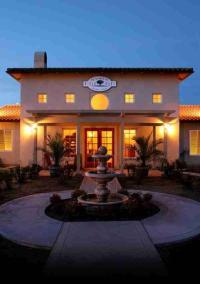 River Oaks Hot Springs Spa currently offers guests a special Valentine's Day package that includes a relaxing dip in the natural thermal mineral springs, paired with a bottle of Paso Robles wine and followed by a one-hour full-body OluvSkin olive oil Massage and Hydrating Facial.  OluvSkin is a line of skincare products that uses olives grown by fifth generation farmers in nearby Shandon with the farm's own natural spring water.  The olives are hand-picked and cold-pressed to extra-virgin quality oil, and then made into lotions, lip balms, massage oils and more.  Rich in antioxidants, vitamin E and beta-carotene, OluvSkin products rejuvenate your skin and promote new cell growth, creating younger, fresher looking skin.  This package also includes a gift bag filled with OluvSkin products, all for only $165 per person.  Click here to see more spa packages at River Oaks Hot Springs Spa. 
Held every Saturday morning and Tuesday evening on the north side of the Downtown square, each week dozens of local farmers man their booths, and are ready to give you a taste and a tale of their family farming philosophy.
Read More
With more than 200 wineries and vineyards, what sets Paso apart is its approachability, carefree and pretentious-free atmosphere, and centralized geography.
Read More