The lazy girl's guide to a perfect stay in Paso
Give your followers major vacation envy with this insta-worthy itinerary. 

Morning 
Sleep In 
Wake up in paradise with a glamorous stay at the Tuscan-inspired Allegretto Vineyard Resort, where you will always find yourself on the right side of the bed. Feel like you've escaped to a European castle in the countryside while enjoying a long list of luxury amenities - including a modern spa and pools that overlook the vineyard, on-site tasting room, international art and fine dining. With photo-ops around every corner, Allegretto gives you every reason to stay up, sleep in, and truly enjoy your stay. 
Breakfast of Champions
Start the day off right with a breakfast of champions. Stop by Twisted and Glazed for a gourmet donut sampling that is sure to fulfill your sweet tooth. Not only has this unique donut "society" thought up every flavor imaginable, they are super cute too. Taste test everything from s'mores, bubblegum, bacon and hot cocoa donuts. It's impossible to pick just one, instead we recommend selecting a dozen from the list of daily specials to share with your besties.
Afternoon
Action Shots
Strap on your walking boots and get ready for a day of adventure with the girls. In Paso Robles there is a little something for every style. Make sure to bring your camera to capture all the action. For those of us who came for the wine, a vineyard tour is a must when in wine country. Taking an afternoon stroll through one of Paso's famed vineyards is a great place to start. Discover the winemaking process from start to finish with a winery and vineyard tour at Tooth and Nail Winery. Did we mention this winery doubles as a castle, making the experience almost as unique as the wine. Next, pause for a picture-perfect picnic at DAOU Vineyards, where you can enjoy a bottle of their wine with amazing views of Paso. Grab an adirondack chair overlooking the rolling hills and you will understand why DAOU is arguably the most iconic spot for a photoshoot. Visit Villa San-Juliette Vineyard & Winery for a seasonal tasting flight on their stunning Tuscan-inspired patio. Fool your followers with photos that transport you to a sunny Italian countryside. Finally, if you plan on staying till sundown, private tastings and wine blending classes are available at Alta Colina Winery where you can enjoy sunset views from the Sundowner Deck. If you would prefer to see Paso's wine country from a different perspective, saddle up with Central Coast Trailrides. These guided horseback tours take you through the wine district where you can explore rural beauty and rolling countryside cowgirl-style. You also have the option to swap the horse for a bike with guided bike tours or bike rentals. Choose from downtown, vineyard and coastal tours to best find an option suited for you.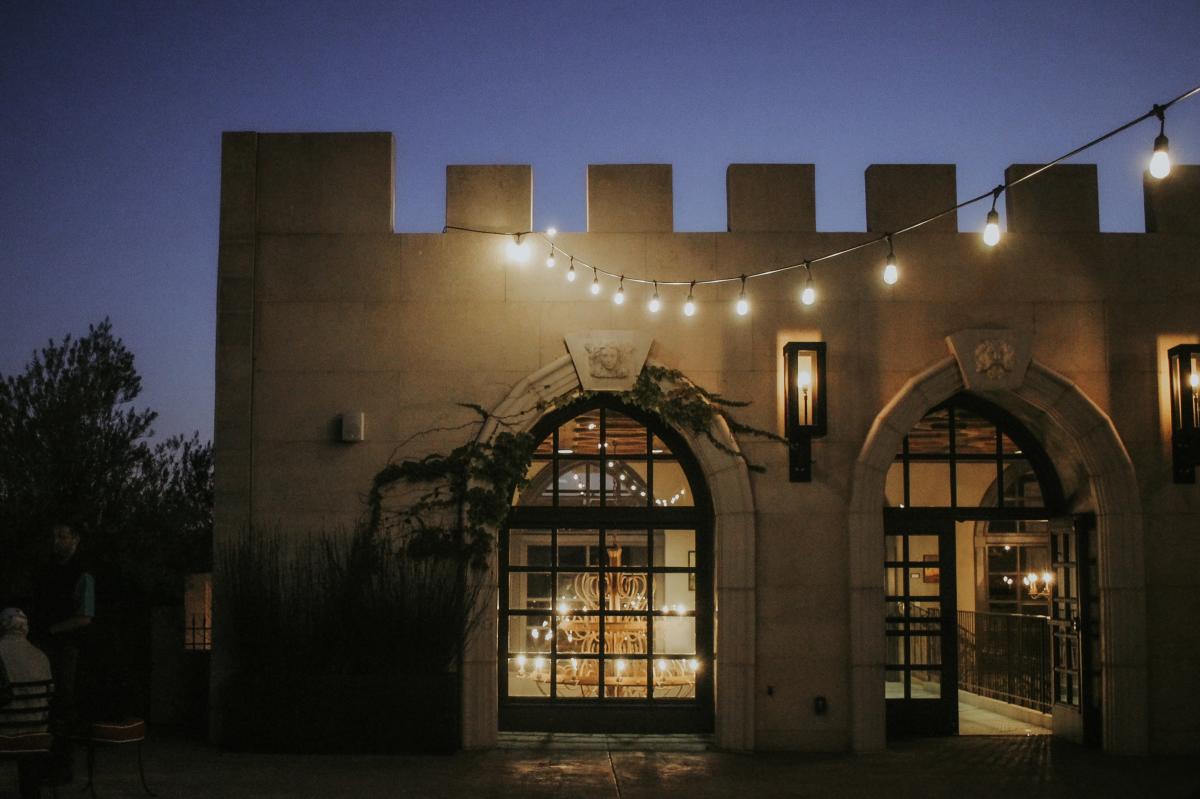 Tooth and Nail Winery
Refresh
After an active afternoon of adventure and sightseeing, stop for a pick me up at The Neighborhood Cafe. This fresh juice bar serves up the trendiest acai bowls, organic cold pressed juices, smoothies and plant-based foods. Everything you need to refresh and refuel with the prettiest presentation. Once revived, it's time to treat yourself to some retail therapy at Downtown Paso. Whether you are shopping for yourself or for friends and family, local artisan shops, upscale clothing boutiques, gourmet food spots and wine markets make it easy to shop till you drop. Pick up a memorable souvenir or find a stylish new outfit for your evening out in Paso. Still have time to kill before dinner? Return to the Allegretto Vineyard Resort to lounge in a cabana by the vineyard pool, take a rejuvenating yoga class, or a power nap in the garden swings.
Happy Hour 
Sip, Sip, Sip 
It's important to stay hydrated, no matter your drink of choice. Luckily Paso has all the bases covered whether you're looking for beer, wine or spirits. For the beer-buffs, BarrelHouse Brewing Co. is known for good times and great beer. At their Paso Brewery and Beer Gardens, you can expect to find exactly that. Choose from a flavorful lineup of craft beers while you enjoy outdoor games and live music. For a childhood treat that packs a punch try the Beer Slushie, a refreshing blend of your favorite signature beer with delicious summer flavors such as Strawberry Freeze and Pina Colada. For the wine-enthusiasts, you've certainly come to the right place, Paso is known for its wine after all. Make your way downtown to sip some of your new local favorites while overlooking town square and wine country beyond. Tetto Rooftop Bar at the Piccolo hotel offers an extravagant experience, including ultra-modern style, chic details, and even a champagne vending machine within the hotel. For the cocktail girls, The Alchemists' Garden is serving up drinks that are (almost) too pretty to drink. A bar designed by dreamers for dreamers, it boasts equally dreamy flavor and presentation. If you like bottomless mimosas and floral drinks, we recommend planning your trip around their monthly Botanical Brunch. Right next door you will find Eleven Twenty-Two Cocktail Lounge. This candlelit, Gatsby-inspired speakeasy is both seductive and mysterious. If you can find the hidden entrance, the experience (and epic cocktails) are worth seeking out.
Evening 
Savor 
Once you and your posse have worked up a sufficient appetite, it is time to savor Paso's exclusive local flavors. Known for incredible farm-fresh ingredients and innovative dishes, you can't go wrong when it comes to meals. For a super chic wining and dining experience, Les Petites Canailles is a French-style restaurant with a focus on excellent wine and exemplary butcher cuts. Here your phone will always eat first, as every dish is a hand-crafted masterpiece. Finish with a photo sesh outside in front of the colorful Paso Robles mural. For award-winning tacos and margs, Fish Gaucho takes on modern Mexican cuisine with local coastal flair. This lively cantina offers perfected dishes and a popular list of seasonal and craft margaritas that will leave you dancing the night away. Add a hint of charred jalapeño, volcanic lava salt, or fresh-squeezed pomegranate juice to tequila and the possibilities become endless. The sophisticated yet rustic atmosphere is perfect for a spicy girl's night out.
Sparkle
End your evening with a little sparkle at the Light at Sensorio exhibit. This stunning light exhibit created by inter­na­tion­al­ly acclaimed artist Bruce Munro, now features two attractions - the Field of Light and the Light Towers. The exhibits celebrate Paso's beautiful landscape and extensive wine country in the most artistic way. Here you can wander amongst 15 acres of glowing glass blooms, or stand in awe of the towers composed of over 17,000 illuminated wine bottles. Enjoy a magical night under the stars with this unique walk-through experience.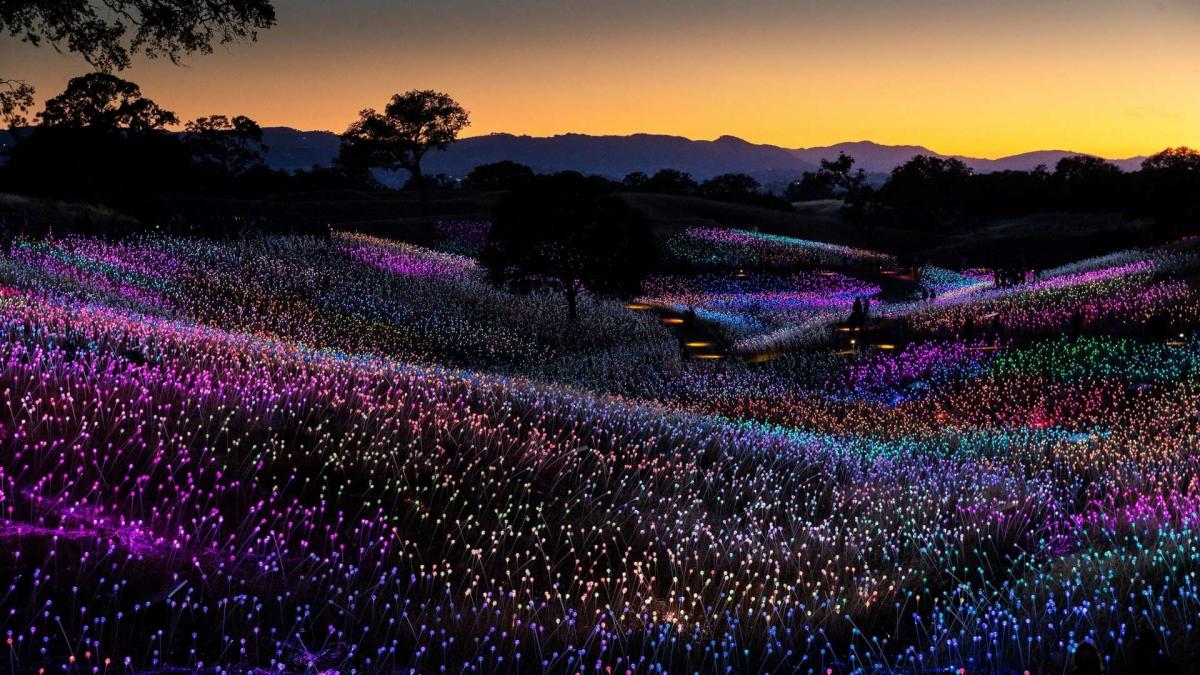 Light at Sensorio
Once you have sipped and savored all that Paso has to offer it is time to return for the evening and dream about the day you've had. Whether you wake up in the morning and do it all over again, or begin your return trip home, the memories you make and the photos you take here will last a lifetime just like your friendships.