Biking
A One-Stop Guide to Bicycling in Paso Robles
Paso Robles is a veritable paradise for cycling. The guide below offers information on guided rides and tours, trails, routes, rentals, cycling events and weekly rides. With incredible scenery and rolling terrain, you can enjoy rides from 1 to 100 miles, easy or hard, your choice. Enjoy the cycling time of your life!
Check out these rides that have been routed by local riders willing to share the love:
Annual Cycling Events:
Weekly Group R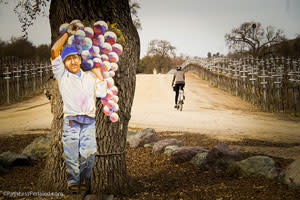 ides, Every Sunday!
Meet each Sunday morning at DARK NECTAR Coffee House at 420 S. Main St, Templeton. Meet at 8:30 for coffee, leave at 9:00 to ride. (Please note - On the third Sunday of the month the rides leave from Best Bike Zone in Paso). Three rides: 10 Mile Easy Beginner, 20 Mile Casual Pace and 30 Mile Brisk Pace. No one left behind, social ride. Great place to hook up with local riders for rides during the week. (Sponsored by DARK NECTAR Coffee and Best Bike Zone!) 
So with friendly riders, great hotels and restaurants and wonderful shopping, you can create your own unique vacation in Paso Robles.
Enjoy the ride!
Delight in world-class beers, exceptional wines, and farm-fresh culinary creations exclusive to Paso.
Treat yourself to the seemingly endless outdoor activities, exciting shopping experiences, and interesting local attractions that make Paso so unique.