Welcome to Paso Robles
Escape to the majestic rolling hills and celebrated wineries of Paso Robles. Located midway between Los Angeles and San Francisco and bordered by coastal Highway 1 and the 101, Paso Robles is California wine country with beach access and Michelin stars. A community of cowboys and innovators, it's where world-class food, wine and art meet small-town charm.
The ideal destination that fits every traveler's profile; from the romantic couple's escape, to family adventures, to the wine trail girls getaway, and more. Paso has it all. Here, a laid-back, country lifestyle meets the sunny Golden Coast in perfect harmony. Despite being celebrated for its luxurious wine country, Paso excels at much more than top-tier grapes. Try farm-fresh markets, boutique shopping, healing hot springs, as well as countless pet-friendly and family-friendly adventures. What's more is there is no best time to visit; come summer, winter, fall, or spring to explore what each new season brings. We'll provide the travel guide to Paso, so that all you have to do is show up and enjoy your stay in this fantastic historic town.
With the United Airlines direct flight from Denver (DIA) to San Luis Obispo (SBP), wine country is only a three hour trip away. Hop straight into a rental car at the airport and take the 30 minute cruise up the coast to visit Paso Robles. 
Paso Robles is a winemaking oasis. With 40,000 acres of vineyards spanning from the Santa Lucia Mountain Range all the way to the Salinas River Valley, the extensive diversity of micro-climates throughout the area leads to a unique and diverse tasting profile. There are 60 different varietals grown throughout the region, including the iconic Cabernet Sauvignon, Zinfandel and Syrah. Wines from Paso are known for being bold and fruit driven.
While many Old World wine regions are required to follow strict laws and guidelines, in the New World, and Paso Robles, we are blessed with unrestrained creativity. Therefore, you will find many unconventional blends coming from the region. You can try some iconic blends at JUSTIN Vineyards, Adelaida Vineyards, Cass Winery and DAOU Vineyards.
With 11 distinct sub-AVA's, each viticultural area has unique growing and stylistic differences, leading to many different wine profiles and with over 300 wineries in Paso Robles, there's plenty to choose from. Paso Robles brings the best of Old World heritage to New World innovation. With over 300 wineries, Paso Robles has perfected the art of tasting experiences. Our Downtown square and neighboring Tin City both feature about 30 urban tasting rooms for a modern tasting experience with the convenience of being in town. The remaining wineries are sprinkled throughout the oak studded, rolling hills that surround Paso Robles. Many tasting rooms are nestled in the vineyards and offer tours, light bites and views into the cellar or caves. 
For the best all-around experience, get a customized door-to-door concierge experience from one of the many wine tour operators in the area. This always you to relax and take in the panoramic views while also keeping safety in mind. Whether you have a small or large party there is an option to fit your needs! These wine tours will show you the Paso favorites while giving you a personalized experience.
Take a stroll through the heart of downtown, centered around Downtown City Park. Here you will find a gazebo, children's play structure and extensive lawn that is perfect for a picnic. You can regularly find families in this tight-knit, local community setting up their lawn chairs and picnic blankets to listen to the music in the park.
Meander through the Farmer's Market on Tuesday and Saturday mornings where you can find local growers sharing seasonal harvests such as lavender, vegetables, fruit, olive oil and honey. All around the square, you will find top rated restaurants, boutique stores, tasting rooms and art studios.
When you come to Paso, come hungry. Paso is known not only for its incredible wine country, but its impressive list of restaurants to pair with it. Get a taste for real local flavor at the very best restaurants in Paso Robles. Treat yourself to farm-fresh ingredients and innovative dishes, cocktails and craft beers. Paso's impressive collection of diverse restaurants allows you to indulge from breakfast to dinner, and everything in between. Love to wine and dine? Enjoy unbeatable, multi-course pairings and gourmet seasonal flavors when you make reservations at The Restaurant at JUSTIN. Exploring locally grown? Taste test award-winning farm to table options downtown at Thomas Hill Organics. Planning your favorite meal of the day with your best girls? Paso Robles Brunch can't be beat! Brunch (and signature customizable mimosa flights) are served all day at Brunch Paso. Whether you're a food and wine connoisseur, or the pickiest of eaters, this restaurant scene does not disappoint. No matter what your taste, we know you'll love the taste of Paso. 
There are never ending list of Paso Robles activities. With lakes, concert venues, breweries, horseback riding, hot springs, water park and art exhibits, you will never have a dull moment during your visit to Paso. Thanks to the amazing weather and local talent, you can always find something to do no matter the season. 
During your stay, make sure to book horseback riding through the vineyards with Central Coast Trailrides or enjoy aerial views of Paso by taking a once in a lifetime ride in a hot air balloon. Check out the local concert lineup at the outdoor Vina Robles Amphitheater to hear great artists perform, paired with great wine! While we may be known for our wine country, there is so much to do besides visiting wineries.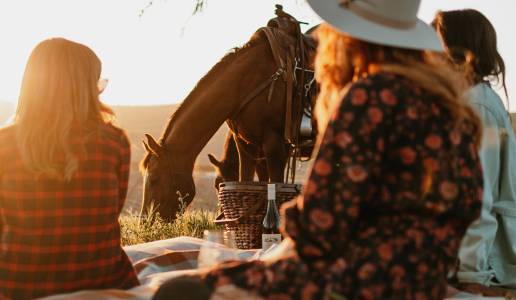 Plan Your Trip to Paso
Subscribe for updates, events and trip ideas in Paso Robles.