HISTORY & HAUNTINGS

On Set with Ghost Adventures: "Panic on Pine Street"
The Ghost Adventures crew investigates the Pine Street Saloon, a historic local saloon once used as a brothel where today suspicious activity continues to haunt guests and staff. The site has also been featured on the Travel Channel's Dead Files, starring psychic medium Amy Allan and former NYPD homicide detective Steve DiSchiavi as they investigate locations that are reported to be haunted. Ron French, owner of the Saloon installed security cameras due to all the stories and rumors from guests and staff about strange noises and paranormal activities. 
Visit Pine Street Saloon - The Oldest Building in Paso Robles
Visit Graveyard Vineyards
Graveyard Vineyards sits atop a picturesque hill overlooking Pleasant Valley Cemetery, a historic graveyard that began in the 1800s. Today, you can embrace the spooky setting and "To Die For Wines" — stop by the tasting room to sample Tombstone, Estate Mortal Zin or SCREAM (which comes in a glow-in-the-dark bottle). 
If you visit Graveyard Vineyards and hear the cuckoo clock go off, don't be alarmed, it's believed to be a friendly greeting from the departed laid to rest at the cemetery. 
Haunted Hotels: Paso Robles Inn
Ghosts, paranormal pianos and mysterious phone calls...
The Ghost of J.H. Emsley — Founded in 1864, the Paso Robles Inn has a long history as one of the most historic buildings in Paso Robles. One of the first instances took place in 2001, when the front desk began to receive frequent calls on stormy evenings. The calls came from Room 1007, but there was never anyone on the other end of the line once the clerk picked up. Each time a call occurred, a staff member was sent to evaluate the room, which they discovered was always empty...
The Inn requested the phone company investigate the occurrences, but they didn't find anything wrong with the hotel's phone system. After awhile, the staff determined there was a friendly ghost playing tricks on them and they began documenting the calls. It was harmless fun until Room 1007 called 911 one evening. The police responded, and just like the hotel staff before them, found the room to be empty. 
The former manager at the time began researching articles about the 1940 fire that destroyed the original hotel. He discovered that on the night of the fire, the 911 call went out around 9:00 pm, close to the time that night clerk J.H. Emsley sounded the alarm warning guests of the fire. It was due to Emsley's heroic action that every guest was evacuated from the hotel safely—except for Emsley, who died of a heart attack before he knew if all the guests were safe from harm. It seems Emsley may still be protecting the hotel and its guests to this day. It's no surprise that Room 1007 is one of the most highly requested rooms at the Paso Robles Inn.
The Ghosts of Cecilia Blackburn & Helen Sawyer —More recently, ghosts are known to haunt the wine room at the Steakhouse as well as the Ballroom hallway area. These ghosts are believed to belong to Cecilia Blackburn and a little girl named Helen Sawyer. Cecilia Blackburn was the wife of William Blackburn, one of the hotel's original owners. She is one of the more playful ghosts, often playing with employee's hair or locking the ancient cellar doors. 
Helen, daughter of the former General Manager in the 1900s, has assumed a role of responsibility to keep things tidy. Her footsteps and laughter have been heard by many playing around in the hallway. Her most significant sighting was years ago when she assisted in the Historic Ballroom renovation, closing doors behind contractors and rearranging their tools. 
The Paderewski Spirit — Finally, in the same Ballroom lobby, rests the same iconic piano that visiting artist, Ignace Paderewski once played on. One evening a former employee was playing a traditional Paderewski piece upon the piano. As the song progressed the lighting began to flicker in sequence with the instrument's sounds. When the piece came to a close, witnesses claim they saw two light orbs fly away from the piano bench as the lighting calmed. 
Today, the Paso Robles Inn features these stories and others in their hotel's History Book and happily offer guests tours and tales, upon request. 
HALLOWEEN ACTIVITIES 

Pick Your Pumpkin
Start a new holiday tradition and pick the perfect porch pumpkin at Chesebrough Farms, only open annually for the month of October. Or make your way over to Jack Creek Farms for a corn maze, fresh produce, and Pumpkin Palooza to-go craft kits!
Sip Seasonal Beverages & Sample Fall Menus
Pumpkin spice lovers rejoice – Drink in the halloween spirit with seasonal specialties at local cafes, bars and breweries. Don't miss the Autumn Specialty Drink List at Spearhead Coffee or the Fall Release Menu at Alchemist's Garden. 
Plan Your Harvest
Wine harvest season in Paso Robles is like Christmas and Fourth of July wrapped into one, and is by far one of the best times to visit.  Located midway between Los Angeles and the Bay Area, harvest is a weeks-long celebration of the bounties of the region. Use our insider's guide to plan your trip and experience harvest in Paso Robles. 
SCARY-GOOD EVENTS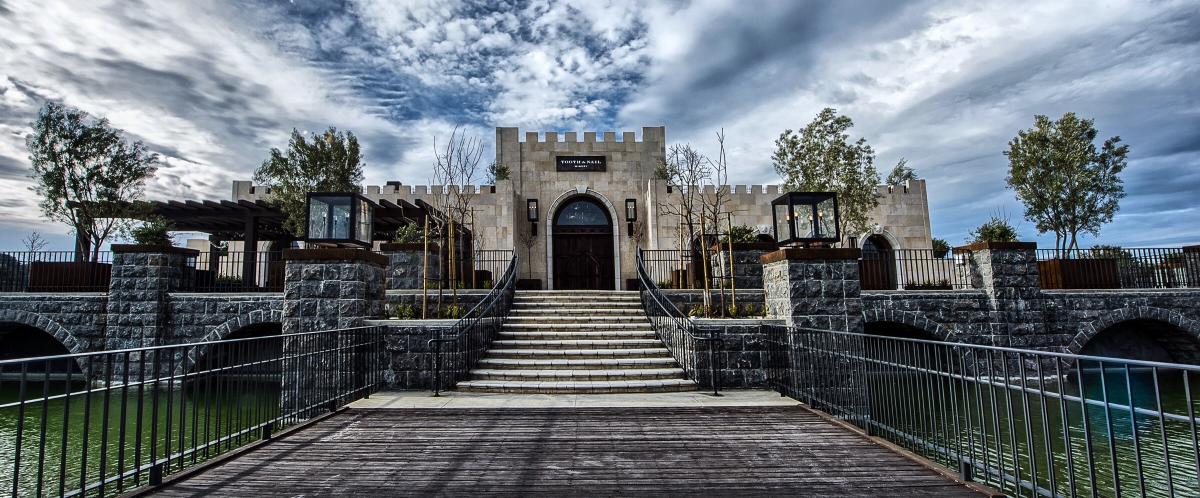 Fall Fair Market at Paso Robles Event Center (October 28)
The Mid-State Fair Market at the Paso Robles Event Center features local crafters and artisans from throughout San Luis Obispo County selling handmade and unique items. Find jewelry, apparel, fashion accessories, home décor, health and beauty products, art, antiques, handmade eats, used items and more. Free admission and parking! 
Castle Costume Ball: Halloween Party at Tooth & Nail (October 28)
Tooth & Nail Winery's epic Costume Ball is back and we're ready for all you witches and warlocks to STORM THE CASTLE. Come dressed in your Halloween best to be entered into the castle costume contest. We will have food and wine available to purchase and music going all night. Let's get spooky at The Castle! (Adults 21 and over only.) 
Harvest Dinner at Oyster Ridge (October 29)
Celebrate with us as we wrap up Harvest 2022! Enjoy a five-course wine pairing dinner with our Winemaking team and Ancient Peaks Ownership. Chef Jeffrey Scott collaborated with us on an exclusive menu pairing his creations with select Ancient Peaks wines. Club Member discounts apply. This event is open to everyone!
3rd Annual Boos & Brews Halloween Party at The Pour House (October 29)
We are excited to welcome back CLUB DV8 for the night's entertainment at Boos & Brews! Once again we will have our costume contests with prizes going to the best group and individual costumes! We will have raffles throughout the evening for drinks and other goodies, too!
Annual Safe & Fun Trick or Treat Downtown at Main Street (October 31)
The annual Safe & Fun Trick or Treat Downtown will take place Monday, October 31, 2022, from 4 to 7 pm in Downtown Paso Robles. Costumes required, admission is free. Come take your picture with our witches! Dance Demos, Trick or Treat, and Hot Dog BBQ.
Nightmare on Main Street (through October 31) 
The scariest haunted house on the Central Coast is back in a new location. Nightmare From Main Street is now located in downtown Paso Robles at the corner of 14th Street and Pine (828 14th Street.) 6,000 sq.ft. of thrills chills and the Vortex of Doom. Be prepared to be SCARED!