A few years later, studying wine at Fresno State University, Brian met his wife and future business partner, Stephanie. Together, the two researched soils and climate to find a spot that would give them the best chance to create their favorite wines from Italy. As a result, they landed in Paso Robles and subsequently launched two wine brands, Giornata Wines in 2005 and Broadside Wines in 2006.
But Brian and Stephanie didn't stop there, because as every Italian knows, a glass of wine is completed by a plate of pasta. The duo founded ETTO Pastificio in 2017. It started very small, making pasta for their kids' school — their first customer. Brian had experience making pasta in the past with his grandmother. Later in life, living and working in Italy, he ate a lot of pasta and upon returning to the United States, he found that great pasta was hard to find. From this opportunity, ETTO Pastificio was born.
"Great pastas are one of life's simple luxuries."
Early on in the business, building a pasta factory had its fair share of challenges, being such a niche business and novel idea. The turning point for Brian was when friends introduced him to Rob Emery. Rob had practical experience working in production, but also has a strong food science background from Cal Poly. Together the team engineered a pasta that combined old-school techniques with modern science. For ETTO, Rob Emery was the secret ingredient, bringing craft food experience to the table and great pasta as a result.
"The name ETTO, is a simple word. But the reason I love ETTO so much is because it means 100 grams, which to an American is about a quarter pound. An "etto" is a perfect portion of pasta for dinner."
ETTO's pastas are unique in that they utilize nutrient rich semolina flour, combined with simple ingredients and water. The ingredients are combined in a pasta machine, then extruded through brass dies and cut into perfect sections of delectable pasta. The result is a slightly coarse textured pasta perfect for coating with sauces and better flavor in every bite.
"At Etto, we make pasta. But in a broader sense, we want to work with local producers and use the best quality ingredients possible." - Rob Emery
ETTO's first location in Tin City is known as ETTO Marketplace. This little shop is home to the same machine that started it all and where you will find fresh Etto pasta, local and imported specialty foods, Italian wines from Giornata and much more. ETTO's neighboring restaurant, Etto Pasta Bar is open for lunch and dinnner dining for those looking for locally inspired dishes featuring Etto's famed pasta. You might also see ETTO's "Ape" pasta mobile delivering fresh pasta and lunch to neighboring businesses.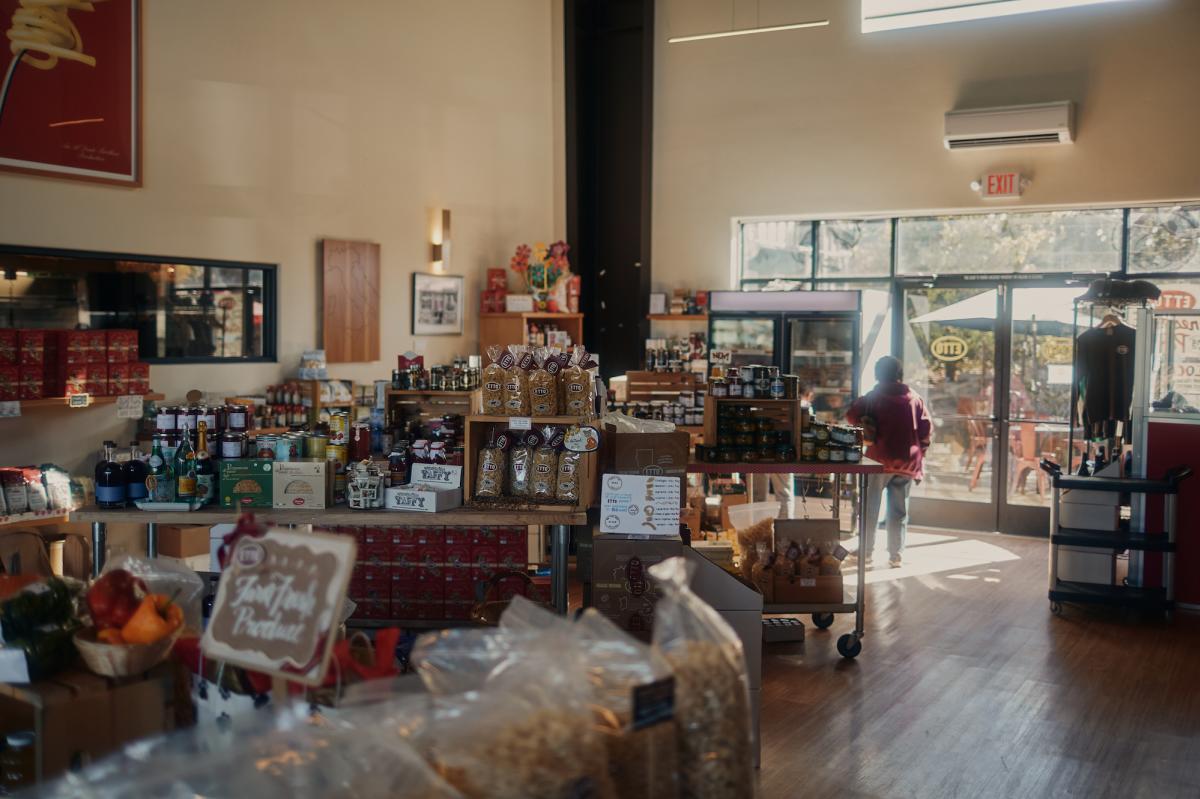 "Paso Robles has been incredibly supportive, there's something special here in Paso. We definitely want to keep growing because it seems to make people happy."
Savor Real California 
Recently named a Top Destination by the Today Show, Paso Robles is "the place" to savor the good life. With over a dozen craft distilleries, 200+ wineries, hundreds of restaurants, live music and art, this charming small town offers a bevy of activities to tantalize the senses.
As you journey through Paso Robles, you'll discover we are California wine country with beach access and Michelin stars. A community of cowboys and innovators, it's where world-class food, wine and art meet small-town charm.