"The legacy our parents have created is really spectacular. Our generation, the second wave of energy to come in is a blessing for them. It's the future of the vineyard they created."
In 1999 Niels filed the paperwork to license the first Distilled Spirits Plant (DSP) in the county and a number of years later purchased a still. As time went on, Max began to show interest in learning how to operate the still, which eventually led to a new branch within the family business, Bethel Rd. Distillery.
The dream came to fruition in 2012 when the handmade copper still was purchased and delivered from Germany. Once the still was physically on site, the magic began to happen. The next step was taking the father-son project to a bottle. And that's when the team landed on a property on Bethel Road, across the street from Castoro Cellars. They needed a new look, feel and space to receive the new products they were going to be producing. As they created a second label and brand, this additional space allowed the distillery to become its own world dedicated to spirits and small lot winemaking.
"When we started the distillery, everything was going to be grape-based. The reason we're here is because we have Castoro Cellars."
Unlike most spirits, which are derived from grain, Max utilizes estate-grown grapes to craft Bethel Rd.'s unique style of spirits. Grapes are first harvested, then crushed and destemmed prior to fermentation in open bins, much like the process for winemaking. Turning this juice into a spirit takes the extra step of distillation. Bethel Rd. features a hybrid pot/column still to boil/condense and collect alcohol from wine. This neutral spirit may continue on as neutral, flavored or barrel-aged brandy or with the addition of juniper and other botanicals, turn out as a gin.
"What I think is unique about a grape-based spirit or a fruit brandy, is the ethanol coming out of the still has a higher glycerol concentration, so there's more texture and depth as a raw spirit than what I've seen in distillation of grains and other types of spirits."
Bethel Rd. specializes in aged brandies, gin, grappa and liqueurs, all crafted from wine grapes. Additionally, they are also keeping the spirit of winemaking alive with a portfolio of small-lot CCOF certified wines, available only at the tasting room.
Whale Rock Music Festival
"We called it two days of wine-loving, peace and music in the vineyard… It's something that we all have a deep passion for, and has grown to be more than we ever could have dreamed."
The family spirit of Luke, Max and their parents means things are ever evolving and from an anniversary party, a new concept was born… What initially started out as "Beaverstock", a 30th anniversary celebration for Castoro Cellars, is now one of Paso's most anticipated annual events. The concert was meant to be a one-time thing, bringing wine, love, peace and music to the vineyard but 9 years later it continues to grow with the ever-evolving family business. Today, Whale Rock Music & Arts Festival is a 2-day music festival that falls on the third weekend of September every year, and is considered a local holiday by wine and arts lovers all over the Central Coast.
"The future for Bethel Rd. is to continue our focus on creating craft products that we can scale without sacrificing quality."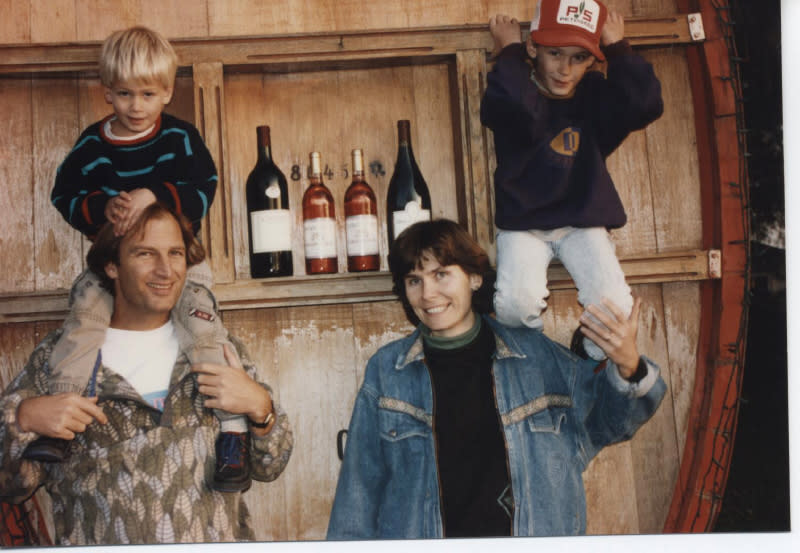 "We want our parents to be proud of what we're producing, help them carry on this incredible brand and company that does so much for a lot of people." 
Explore the Craft Distilleries of Paso Robles
Recently named a Top Destination by the Today Show, Paso Robles is "the place" to sip in the good life. With over a dozen craft distilleries, 200+ wineries, hundreds of restaurants, live music and art, this charming small town offers a bevy of activities to tantalize the senses.
As you journey along the Paso Robles and SLO Distillery Trails, you'll taste one of a kind spirits and meet the individuals behind the bottle as they work passionately and artfully to create exquisite brandy, whiskey, gin, vodka, liquors and grappa.
Paso Robles... Not Just Wine Country Taste the spirit - and spirits - of Paso! Paso Robles has been known as a wine...
Read More
Delight in world-class beers, exceptional wines, and farm-fresh culinary creations exclusive to Paso. Innovative local chefs, gifted brew masters and visionary vintners infuse Paso's maverick spirit into everything...
Read More
Known for its sensational suds, Paso's breweries dot the landscape, offering exciting brews that reflect expertise, imagination, and the Paso spirit.
Read More