Beat the heat with a pool day in Paso Robles. Find the perfect accommodations for your crew and book your getaway!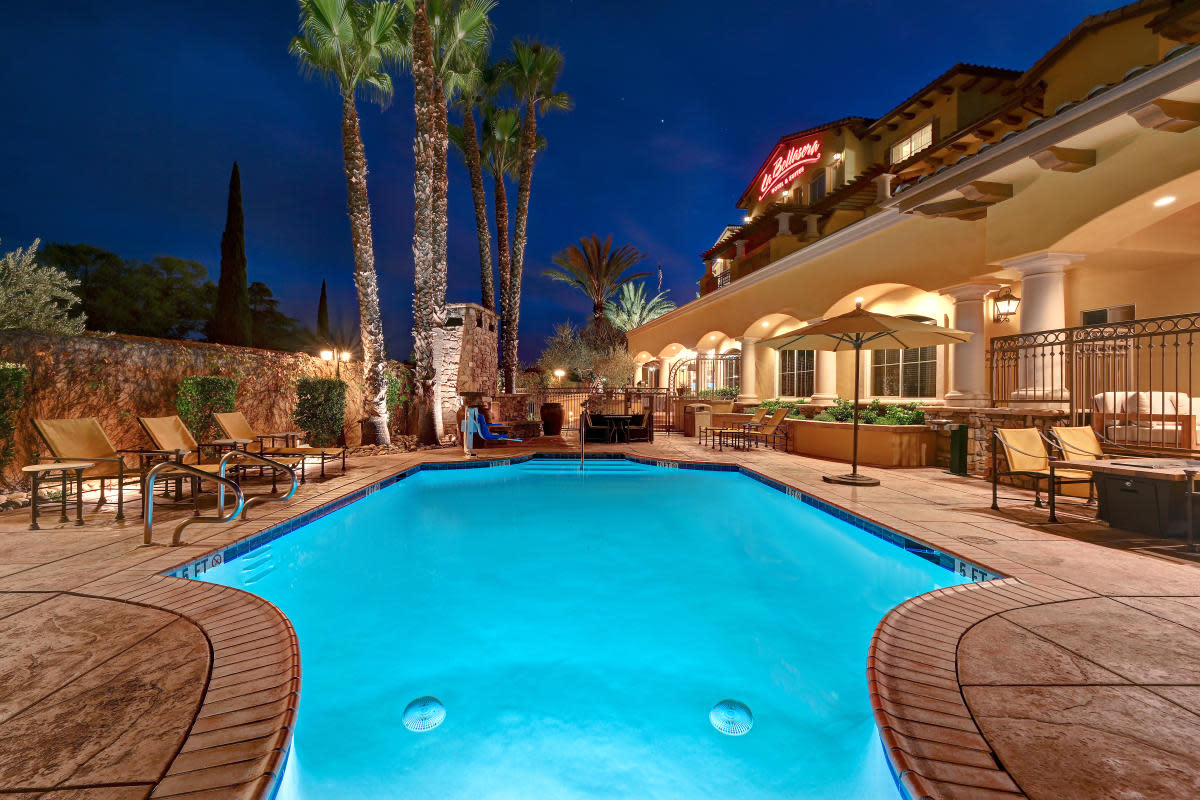 La Bellasera Hotel & Suites
La Bellasera Hotel & Suites welcomes you with comfort and elegance in the heart of Central Coast Wine Country. Here you will find Mediterranean and Italian-inspired architectural style, with a dose of California flair. Relax and unwind by the outdoor pool with sunny yellow seating, or never leave your room when you book a Whirlpool Suite with an indoor whirlpool tub. The cheery atmosphere and luxury amenities provide everything you need to feel right at home. After a day by the pool, make your way to the on site Enoteca Restaurant & Lounge for an authentic Paso Robles dining experience.

Adelaide Inn
Family owned and operated for over 50 years, the Adelaide Inn knows how to offer a unique personal touch. This charming property provides an escape from reality while still feeling like home. Surrounded by welcoming gardens, the Adelaide Oasis is a magical haven with both an outdoor pool and spa tub gazebo. Discover a new level of inner peace as you lounge by the bubbling waters overlooking rows of brightly colored flowers. Make a day of it with a lunch picnic at the neighboring picnic area or a round of mini golf in between swim sessions. 


Allegretto Vineyard Resort 
Experience the spirit of Allegretto Vineyard Resort with a long list of luxury resort-style amenities designed to immerse visitors in tranquility and Tuscan warmth. Of these indulgent amenities, the pool is easily one of the most popular. Situated at the back edge of the property, surrounded by rolling vineyards, the spa pool feels like a true European escape. Here you'll find a spacious swimming pool, multi-jet hot tub, private cabanas, and a well-stocked poolside bar to fulfill all your lounging needs. Enjoy the scenery as you melt into a chaise lounge with drink in hand. 
Courtyard by Marriott
The Courtyard experience at the Courtyard by Marriott encourages you to unwind with curated spaces to relax, recharge, and reset. As the name implies, the hotel features a picturesque outdoor courtyard perfect for a day of tranquility. Go for a swim in the heated pool or lounge in the jacuzzi to start your day off with some vitamin D and vacation vibes. Whether you've traveled miles or you're a local staycationer, this accommodation has everything you need wrapped up in one chic package. 

Paso Robles Inn
The historic Paso Robles Inn shines in many departments, one being their exquisite property. Nestled along the central downtown square, the location is known for quite literally being the heart of Paso Robles. However, despite its unbeatable location, there's no need to stray far from the hotel. With features like an outdoor pool and hot tub, Steakhouse restaurant, lounge, secret garden, walking paths and koi ponds there is plenty to do on site. If you're looking for the ultimate night in, book a suite with a private balcony spa tub and order quality room service delivered straight to your door. 
Oxford Suites
Both exceptional and exceptionally affordable, Oxford Suites excels at accommodating all kinds of travelers. This brand new hotel was built in 2019 and is located near downtown Paso Robles, making it the perfect stay for visitors looking to experience everything Paso has to offer. Exuding sophisticated modern design and artistic essence the hotel combines its agricultural past with a refreshing ambiance. Speaking of refreshing, one of the highlighted amenities happens to be their crystal clear outdoor pool and spa. 

La Quinta Inn & Suites
Focused on elegance, comfort and modern amenities La Quinta Inn & Suites boasts an impeccable heated outdoor pool and spa. Start your morning with their free Bright Side Breakfast service, followed by a workout at their state of the art gym and spend the rest of your day poolside basking in the summer sun. For those set on exploring the area, the hotel is conveniently situated near a number of local wineries including Pear Valley Vineyard, Robert Hall Winery and Eberle Winery. If you're still not sold, La Quinta is pet-friendly which means you can skip the guilt of puppy dog eyes and bring your four-legged friends along.
Hampton Inn & Suites
Explore the taste of wine country and the salty air of the Central Coast all in one with a stay at Hampton Inn & Suites in Paso Robles. Whether your goal is to spend the day touring wineries or exploring local and neighboring attractions like Hearst Castle, the inn provides a convenient location and top notch amenities. Stay for a weekend or stay for a week, with a long list of on site activities and events. Heated pool and spa, wine bingo night, and the manager's wine and cheese reception are all included in the list of fun, unique offerings. 

Best Western Plus Black Oak 
Your stay in Paso Robles should be an experience to remember, which is why Best Western Plus Black Oak goes the extra mile to ensure you love your time there. Recently renovated, the hotel offers considerate amenities at an exceptional price. Spend the day in the sun or under the stars with the heated outdoor pool and hot tub open from morning to evening. It's close proximity to local area attractions like wineries, downtown center, lakes and golf allows you to enjoy everything that Paso has to offer. If you plan on attending the California Mid State Fair, it is also worth noting that Best Western is walking distance from the Paso Robles Event Center.

Holiday Inn Express
Another newly renovated lodging property, Holiday Inn Express is perfect for those traveling for business or for pleasure. This hospitable sanctuary is tailored for anyone and everyone, including your furry family members (they'll even greet you with a doggy goody bag and list of local dog-friendly activities). Offering all the comforts, details and amenities you would expect from a luxury hotel, you can enjoy every bit of your stay whether you are working hard, playing hard, or both. Don't forget to take a dip in their gorgeous heated indoor pool before you check out! 

Cava Robles RV Resort
Cava Robles RV Resort is the ultimate destination for RV Camping in California. Built resort-style with amenities in mind, the center features numerous amenities, including pools, spas, fire pits, outdoor movies, a wellness center, and dog parks. The goal of the fitness center is to allow visitors to maintain an active lifestyle throughout their stay with a full fitness room, lap pool, hot tub, and meditation room. Whether you stay in your RV or one of the four on-site cottages, your stay is guaranteed to be a memorable one inspired by nature and authenticity.  

Vacation Rentals 
Paso Robles Vacation Rentals are a great way to enjoy the pool in a more intimate setting. No need to fight for the best seat when you can roll out of bed and walk right outside to your own private pool. Check out The Paso Peach, a westside gem waiting for you to take full advantage of the palm-shaded backyard pool and patio. Or book The Gables at the Rockin' K which offers an outdoor wood burning pizza oven and a solar heated infinity pool overlooking wine country. For a full list of vacation rentals click the link where you can filter your search for rentals featuring pools, spas, and other amenities.