Going Green in Paso Robles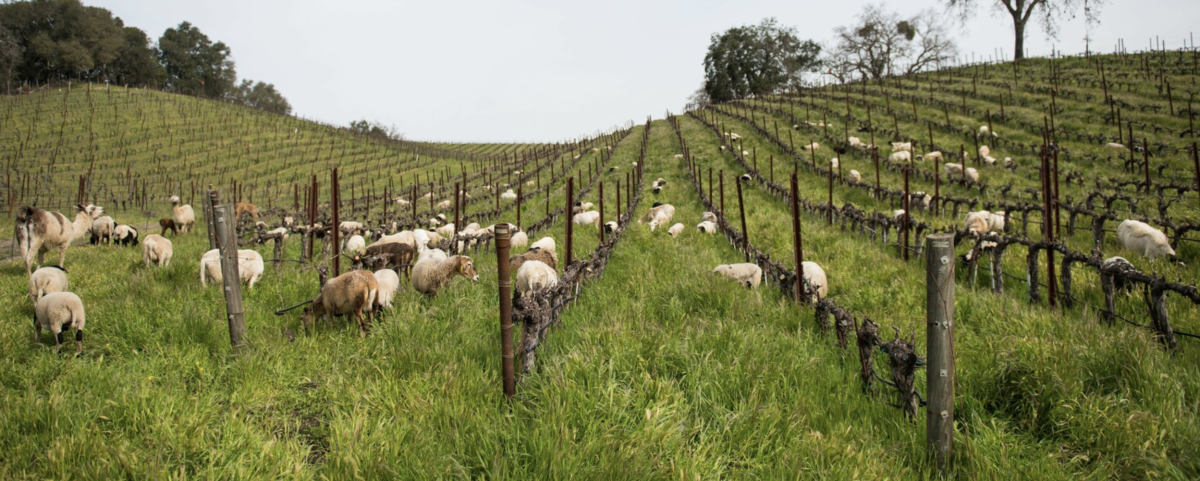 Paso Robles is looking greener than ever thanks to a long history of sustainability and ongoing eco-friendly efforts. From SIP Certified winemaking to biodynamic farming techniques, and even alpacas as lawn mowers — here's how Paso's locals are getting creative to keep our region beautiful, sustainable and environmentally conscious.

Discover how local wineries, breweries and farm-fresh restaurants are giving back this Earth Day and every day. 
Castoro Cellars
Powered by the Sun
Castoro Cellars has been at the fore­front of sus­tain­able farm­ing and wine­mak­ing in Paso Rob­les for near­ly 30 years. Their winery is Cal­i­for­nia Cer­ti­fied Organ­ic Farm­ers and SIP Certified using no syn­thet­ic pes­ti­cides, her­bi­cides, or chem­i­cal fer­til­iz­ers. They are also largely solar powered — in 2006, Castoro installed 42 solar pan­els at their Cob­ble Creek vine­yard and installed an even larg­er solar pan­el sys­tem on the roof of their events room locat­ed beside the tast­ing room in Tem­ple­ton. Ever since, they've continued to add to their solar power collection; the pow­er gen­er­at­ed from these pan­els allows them to min­i­mize their impact on the envi­ron­ment and sup­port a sys­tem they believe to be nec­es­sary for a sus­tain­able future. Check out their sum­mer concert series, run com­plete­ly on solar pow­er pro­vid­ed by a mobile solar gen­er­a­tor. 
Tablas Creek
Biodynamic Farming, Boxed Wine and Alpacas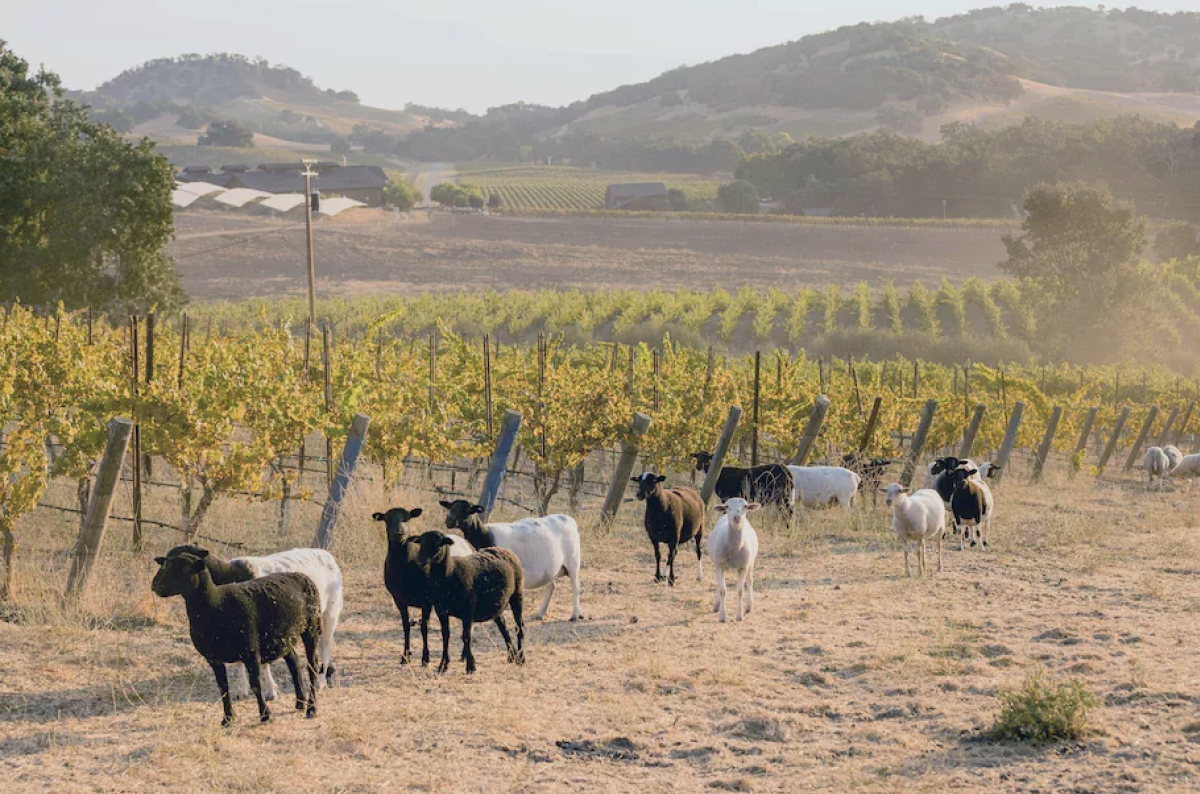 Tablas Creek's limestone-rich 270-acre estate vineyard is located in the heart of the Adelaida District, in the hills north and west of Paso Robles, about 11 miles from the Pacific Ocean. Their viticulture practices emphasize quality through dry-farming and moderate crop levels, and they have been certified organic since 2003. 
In 2010 they began incorporating many Biodynamic techniques across the estate vineyard, including their own mobile herd of sheep and alpacas. Their goal in farming, as in their winemaking, is to maximize the expression of place from the vineyard, the terroir, and to produce grapes full of intensity and character. As a result of their hard work, they received their Biodynamic certification a few years later. 
In 2020, they took their sustainable practices to the next level, becoming the United States' first Regenerative Organic Certified™ vineyard and as a result, an innovator for the local wine region and the world. Today, they continue to strive for more — check out their latest venture, boxed wine. Turns out, the 3L bag-in-box has 84% less carbon footprint than the same wine in 4 750ml glass bottles.
Firestone Walker Brewing Company
Brewing for Tomorrow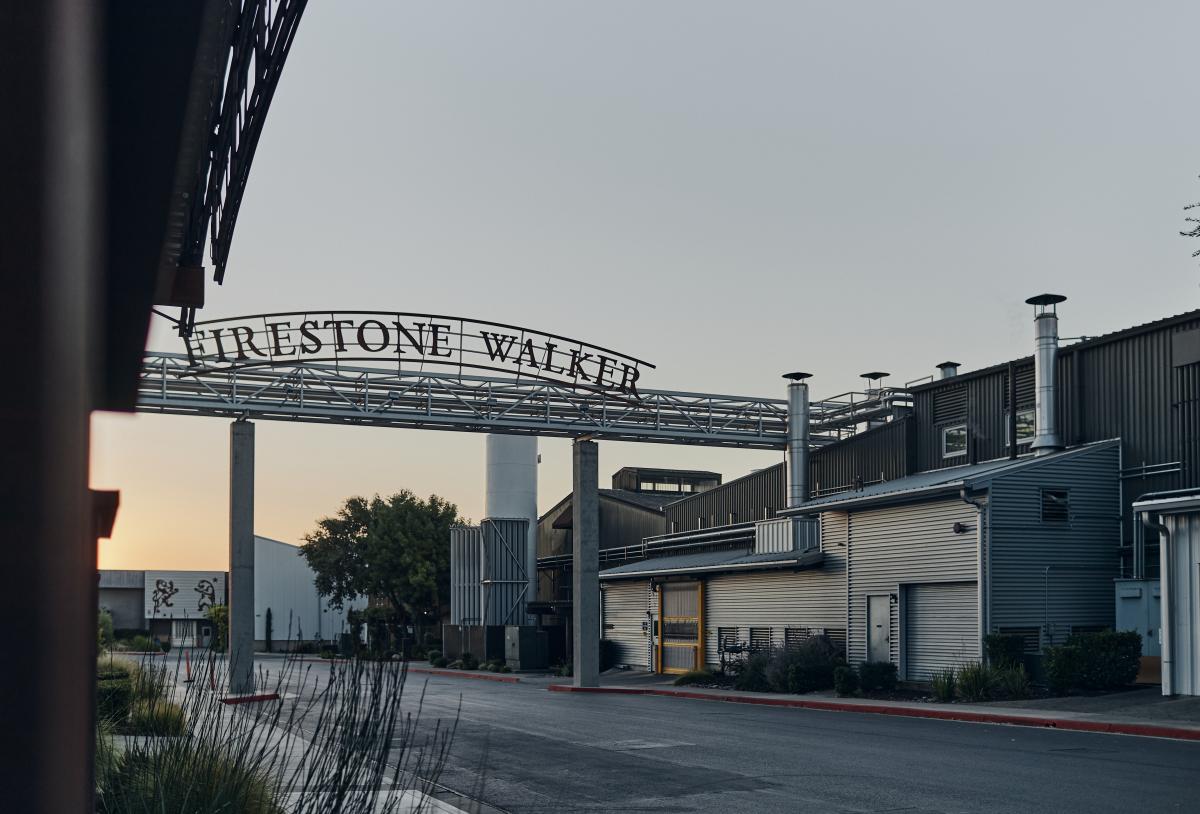 For Firestone Walker Brewing Company, California's Central Coast has been home for a few generations—their affection for Paso quickly led to an obligation to take care of the land. To founders, Adam Firestone and David Walker this means being relentlessly resourceful to conserve water, energy and materials. In the pursuit for the perfect beer, they are brewing for tomorrow.
Clean Energy: Firestone Walker is committed to clean, renewable energy. The use of a 9.7-acre solar array alongside kettle steam recovery and heat-power micro-turbines, ensures that the majority of their beer is now brewed with California sunshine. This saves 3,000 metric tons of carbon emissions each year. 
Eliminating Waste: Brewers have long been resourceful by nature. In that tradition, Firestone Walkers diverts as much from the landfill as possible through the recycling, reuse and repurposing of excess material and equipment. This means brewing grains are delivered in bulk to eliminate packaging waste, spent grains are recovered and fed to local livestock each year, and the brewery "Boneyard" repurposes old equipment, and all excess cardboard, glass, and aluminum is recycled.
Conserving Water: Water is one of our most precious resources in California. Firestone Walker views water conservation as a vital responsibility for the health of our environment and communities. Firestone Walker preserves water by investing in local reservoir sourcing, recycling water annually through their custom water reuse system, and treating water annually on site to return it to the local aquifer. This results in over 40 million gallons of water conserved each year by the brewery alone. 
For Adam and David, it doesn't stop there. They ask the community to help them continue to brew a better tomorrow by recycling cans, bottles and packaging, opting for reusable growlers when possible, and supporting local breweries that prioritize sustainable practices.
Vina Robles Vineyards & Winery
Drink a Bottle, Plant a Tree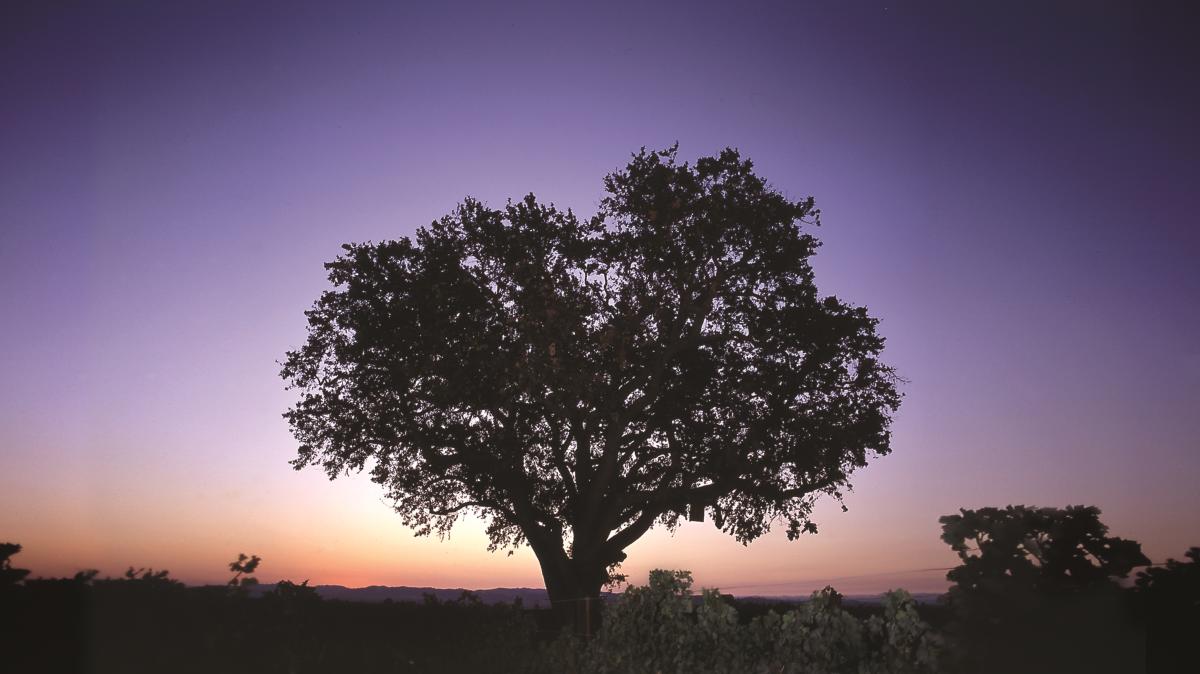 Planting a tree­ is now as easy as enjoying a bottle of wine. The Arborist is a dynamic red blend from the estate vineyards of Vina Robles Vineyards & Winery. Through a partnership with One Tree Planted, Vina Robles plants trees with a portion of the proceeds from every bottle of The Arborist sold.
"The simple act of planting a tree represents a belief that the tree will grow to provide us with clean air and water, cooling shade, habitat for wildlife, healthier communities, and endless natural beauty — all for a better tomorrow." – Arbor Day Foundation
The Arborist is dedicated to Vina Robles' founder Hans Nef and named for the arborist who saved the life of the iconic 300+ year-old oak tree featured on the label. Mr. Nef's admiration and respect for the native flora and sustainability of the land led to saving the legacy oak in 2014 and we are happy to report it has made a full recovery and stands high among the vines.
Today, Vina Robles owns 1,200 sustainably farmed vineyard acres across the Paso Robles region. The winery is powered by solar energy and its estate wines are certified sustainable.
Partnering with One Tree Planted is a natural extension of the winery's passion for trees and sustainable viticulture. One Tree Planted has consistently doubled its plantings each year by helping with wildfire recovery, reforestation efforts and other projects.
"I am proud to share that we have helped plant more than 21,000 new trees in partnership with the nonprofit known as One Tree Planted." – Hans-R. Michel, Co-owner
Booker Wines & Niner Wine Estates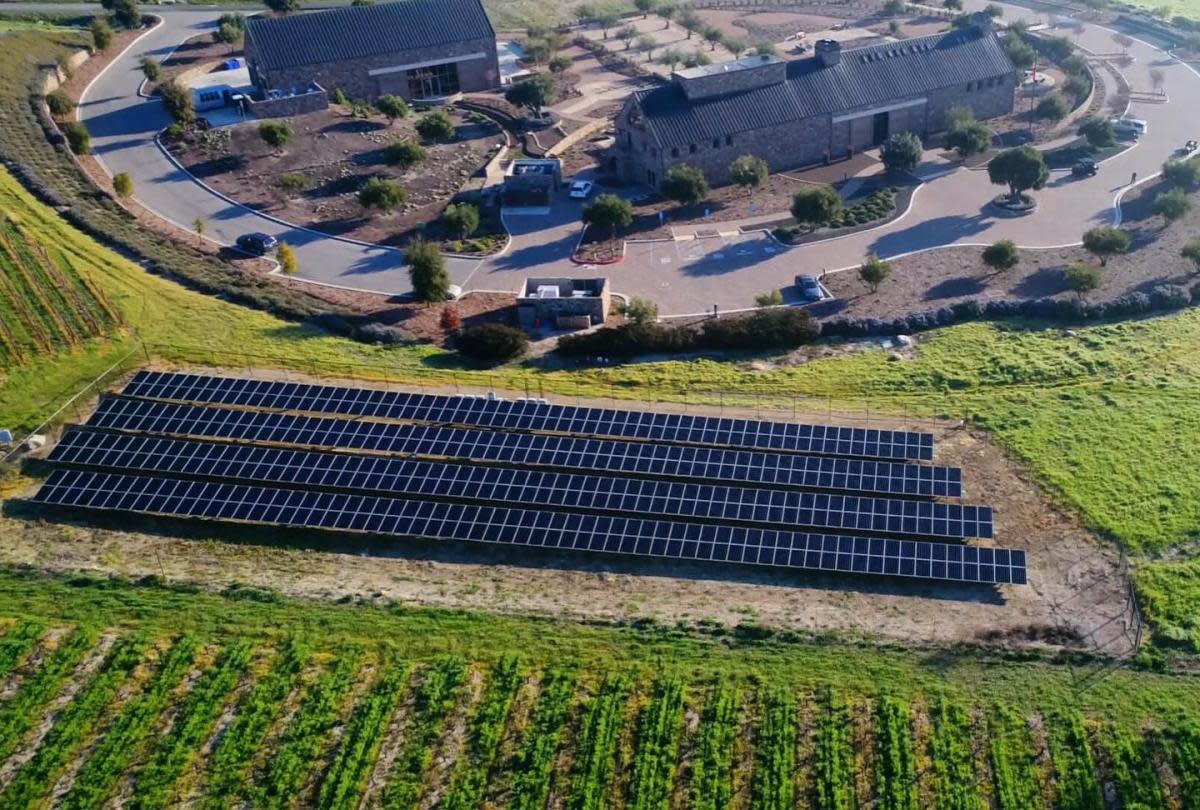 Wineries like Booker and Niner are known for using a flock of over a thousand sheep to help maintain their beautiful vineyards through the spring season. Not only do they remove the need for spring mowing (replacing most tractors)but they fertilize the soil as they go. In addition to being adorable, this flock of nature's lawnmowers get the landscaping done while enjoying complimentary dining during their stay on the vineyard. When they are finished mowing down the weeds and grasses at one winery, they'll move onto another neighboring vineyard buffet.
In Bloom 
Locally Sourced Flavor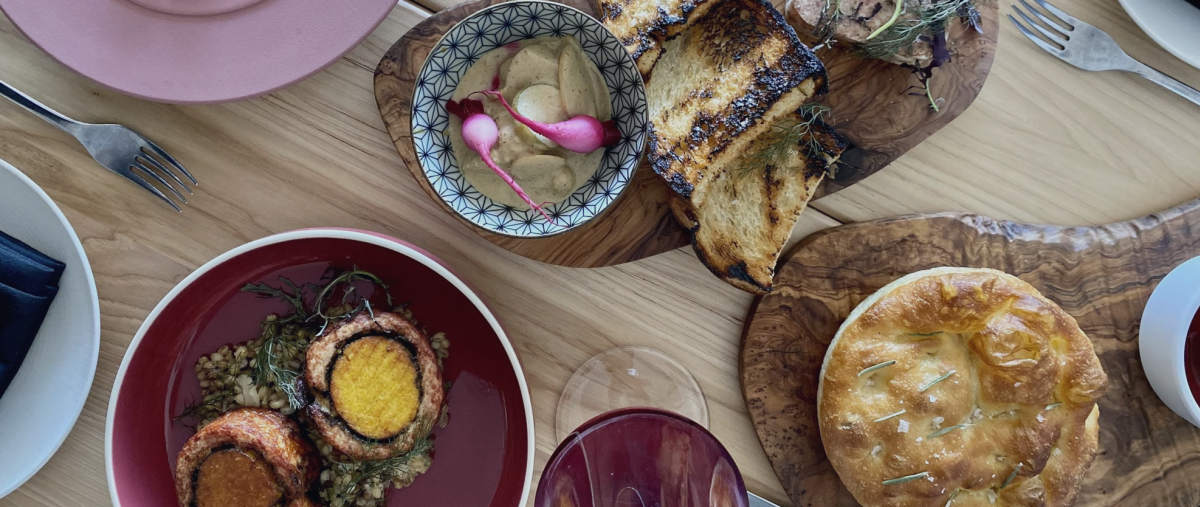 In Bloom's mission is to embrace and support their community while allowing California's Central Coast to shine in every dish, cocktail, & wine served. Executive Chef Kenny Seliger and Executive Sous Chef Ron Frazier's menu is a playful and modern approach to what is in season and locally sourced. We love everything on their menu but the Farmer's Board with carrot hummus, citrus miso dressing, fresh and pickled vegetables is hard to beat when you're looking for farm-to-table goodness. 
Supporting Sustainability in Wine Country
Paso Robles Wine Country is home to over 25 wineries that are certified sustainable. With some help from the area's local certification program, Sustainability in Practice (SIP), many wineries are making sustainable wine, grapes and vineyards a priority. The approach is holistic, with a focus on both energy consumption and water usage. Now you can sip wine and feel environmentally responsible while you do it. Make your way along Paso Robles' sustainable wine trail which includes favorites like Opolo Vineyards, and Vina Robles Vineyards & Winery. Learn more about SLO CAL's Sustainable Wine Trail.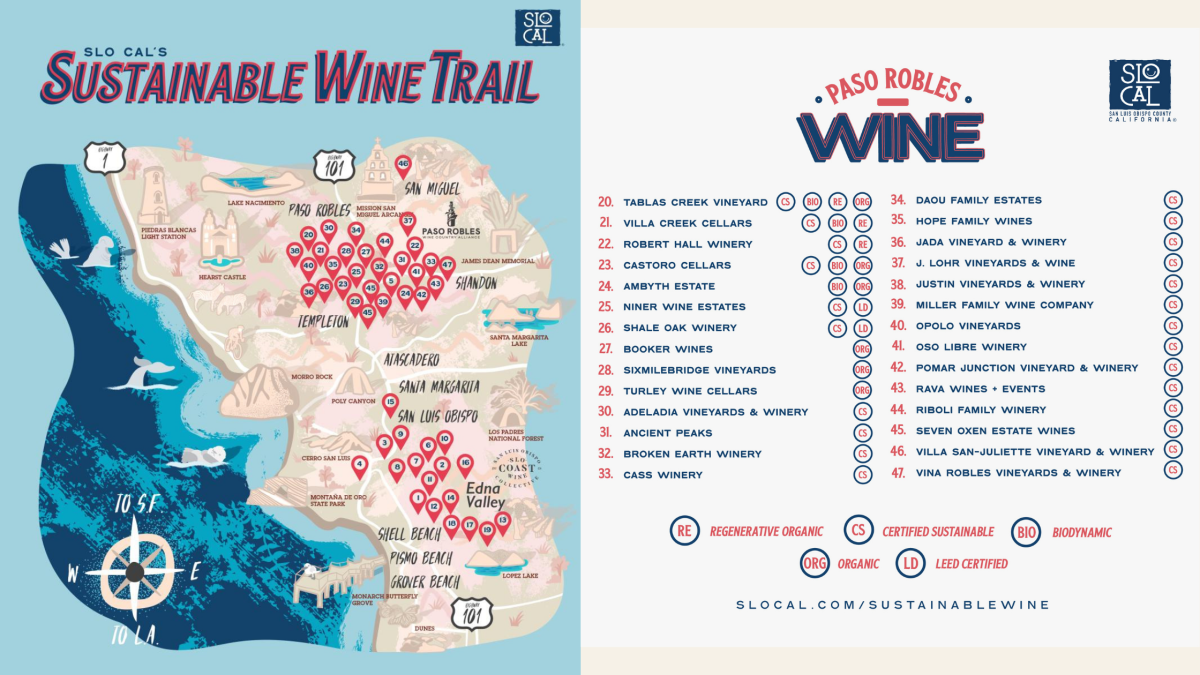 Sustainable Winery Certifications
Regenerative Organic Certification is a distinction coined by Patagonia®, which evaluates three key pillars (soil health, animal welfare and social fairness). Tablas Creek Vineyard in Paso Robles is the only winery that has been certified at this level and is currently serving as a global model for others, such as the local Villa Creek Cellars and Robert Hall Winery. 
Certified Biodynamic is a global standard that proves a grower uses biodiverse practices including soil husbandry and livestock integration. These wineries already adhere to organic practices and additionally respect the interconnectivity of the planets and the four elements of earth, fire, air and water. Days are divided according to the lunar calendar into best times for fruiting (best time to harvest), rooting (best time to prune), flowering (leave the plants alone) and leafing (best watering days). Also unique are the practices of making compost tea, burying dung in cow horns to later dig up and distribute around the vineyard at a later date. Those in Paso Robles that adhere to these practices are Castoro Cellars and Ambyth Estate.
Organic Certification proves products are pesticide- and synthetic fertilizer-free. Certifications vary globally, and the USDA imposes bottling regulations, such as sulfites—which is why many do not display organic on their wine bottles—although the farming practices were certified organic. Organic seals on bottles are also displayed in the natural side of merchants, which is dissuading to many high-quality wines that might be segregated in stores. Those vineyards certified around Paso Robles wine region would be Booker Winery, sixmilebridge and Turley Winery.
Certified Sustainable comes from a variety of certification boards, such as SIP "Sustainability in Practice" or CSWA "California Sustainable Winegrowing Alliance." These verification standards are at a minimum, including water management and energy efficiency regulations. Many wineries are certified at this level, including Paso's DAOU Family Estates, Cass Winery, Villa San-Juliette.
LEED Certified refers to green architecture, and the Paso wine region boasts two such buildings, Shale Oak Winery and Niner Wine Estates for these tasting rooms and landscapes for gold and silver certifications, respectively. At Niner Wine Estates, a bank of solar panels provide energy to charge up your electric car while you sip.