Hey travelers, are you ready to take a road trip? We have miles of winding roads, quaint wineries, award-winning eateries and picturesque landscapes to be explored in Paso Robles wine country. Leave your worries at home, pack up the car and join us, Paso is OPEN!
The Sound of Music
Live concerts? That's music to our ears. Savor Paso's warm nights with a drink in hand at our wineries, breweries, restaurants and venues offering the perfect backdrop for a night of music. Nestle in at the family-friendly outdoor beer garden at Barrelhouse Brewing Co. or Tin City Cider in Tin City and listen to local bands on the outdoor stages.
Gather your friends for a glass of wine at AMSTRDM Coffee House and Piano Lounge and listen to beautiful music from pianists Wednesday – Sunday weekly. The spot also offers bubbles and brunch on Sundays with music beginning around noon.
As wine country reopens, wineries are welcoming back live music series. Enjoy delicious wines and wonderful entertainment at Tooth & Nail Winery, Rava Wines + Events, Castoro Cellars, Four Lanterns Winery and more. Check out Paso Wine's website to view upcoming events at your favorite wineries!
Paso Robles is excited to welcome back the California Mid-State Fair for its 75th anniversary here on the Central Coast. Plan a trip to the annual fair, taking place July 21 – August 1, 2021. Visit the fair's website for more information as they roll out their live entertainment lineup.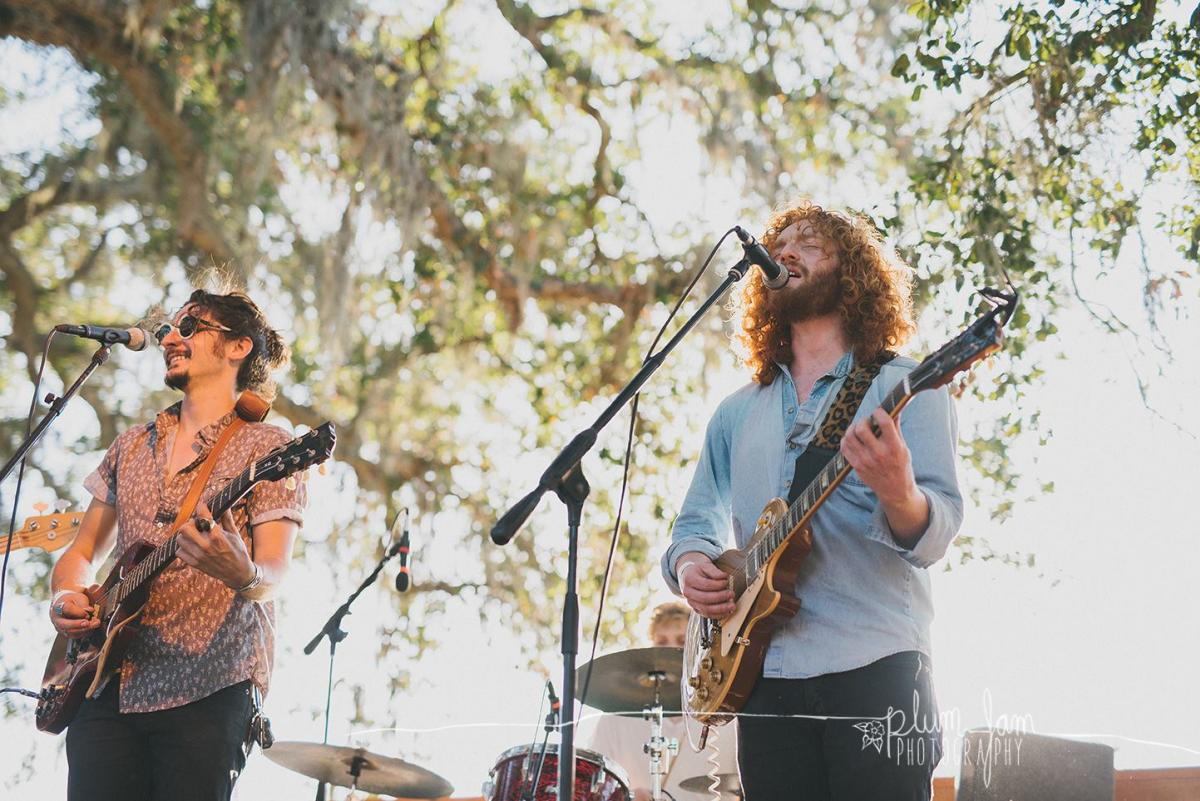 Music at Castoro Cellars
Wining and Dining - Paso Style
Enjoy the scenic beauty of Paso Robles wine country with a gourmet lunch boasting a vineyard view. Reserve a table at Barton's Kitchen at Grey Wolf & Barton Family Wines, serving a delicious lunchtime pairing menu including a decadent mac and cheese – we recommend adding crab! If you're staying close to downtown, start with a glass of wine at the JUSTIN Downtown Tasting Room, then hop on the wineries' shuttle for a ride to The Restaurant at JUSTIN, raved about by locals and visitors alike. 
During your stay, immerse yourself in the culture of Paso in the downtown dining scene. While our recommendation list is long (like really long), we've narrowed it down to seven. For those feeling eccentric, dine at The Alchemists' Garden - their cocktails are insanely Instagrammable and drinkable. For those who can't make up their mind when ordering, TASTE Craft Eatery is the perfect spot for you. Choose several menu items with choices from gourmet sliders and bite size sandwiches to divine salads and ten different options of brussel sprouts. Not to be forgotten is The Hatch Rotisserie & Bar, known far and wide for their fried chicken and wood-fired comfort food. And their cocktails. 
For a foreign food experience, we have outlined the best of the best in Paso Robles. Enjoy Latin American-inspired eats at La Cosecha Bar + Restaurant, with a seasonal menu and extensive wine list. Just a block away, Fish Gaucho is a lively cantina featuring modern Mexican fare and a world-class tequila bar. Lastly, take your taste buds to France at BL Brasserie and Les Petites Canailles, two outstanding restaurants boasting seasonal menus and the freshest local ingredients. 
Ok, who's hungry now?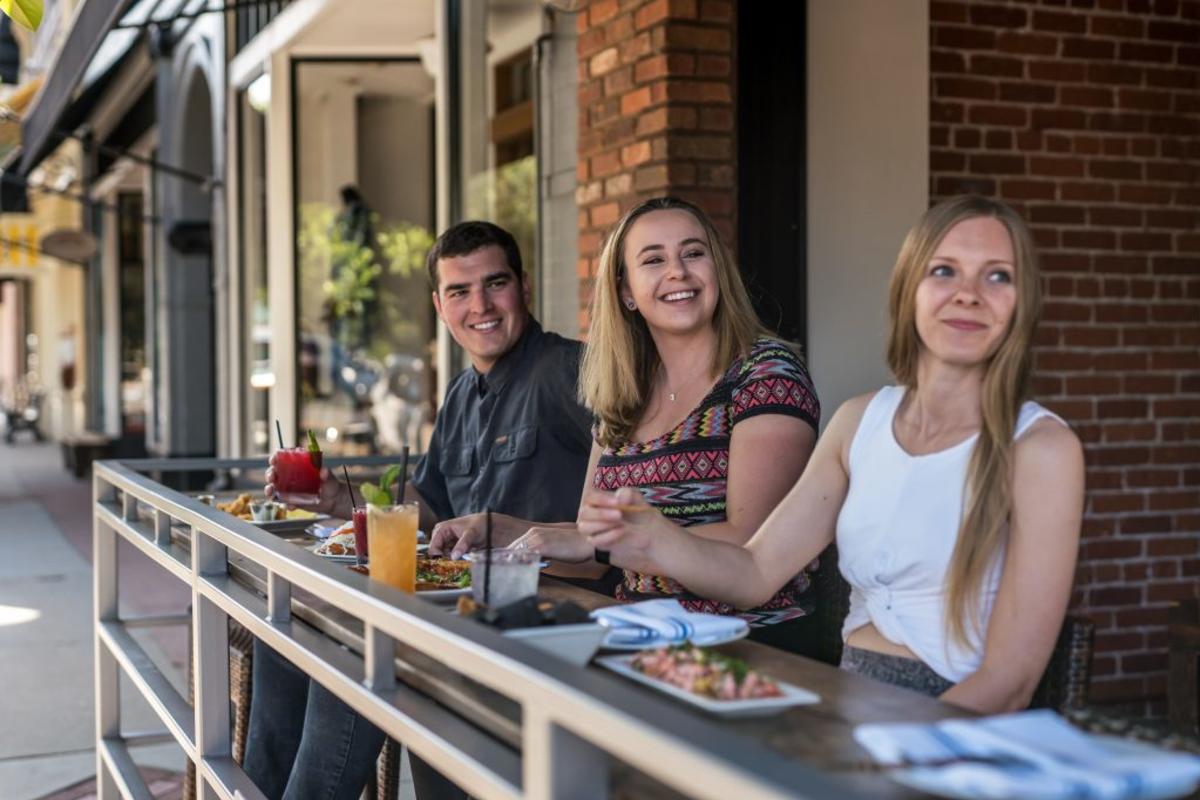 La Cosecha Bar + Restaurant
Shop, Shop, Hooray
Need a new wine tasting outfit? Swing by Ambiance, Kahuna's, Firefly, Jade and other local boutiques that will make sure you are dressed to the nines. For quality Paso branded gear, check out The General Store stocked with everything from mugs to hats to t-shirts. 
Take a piece of Paso home with you from Studios on the Park, a local art studio that is sure to have that perfect piece you've been looking for. 
Walk down Spring Street to the Paso Market Walk, home to a variety of purveyors from the Central Coast. Grab lunch from The Third Degree and enjoy it at the outdoor tables or reserve a seat at the newest restaurant in Paso, Finca. Calling all vegans – The Vreamery at the Paso Market Walk offers more than 50 artisan crafted vegan cheeses! Check out Just Baked for a special treat and pick up a few bottles of wine from the Paso Wine Merchant to bring home with you.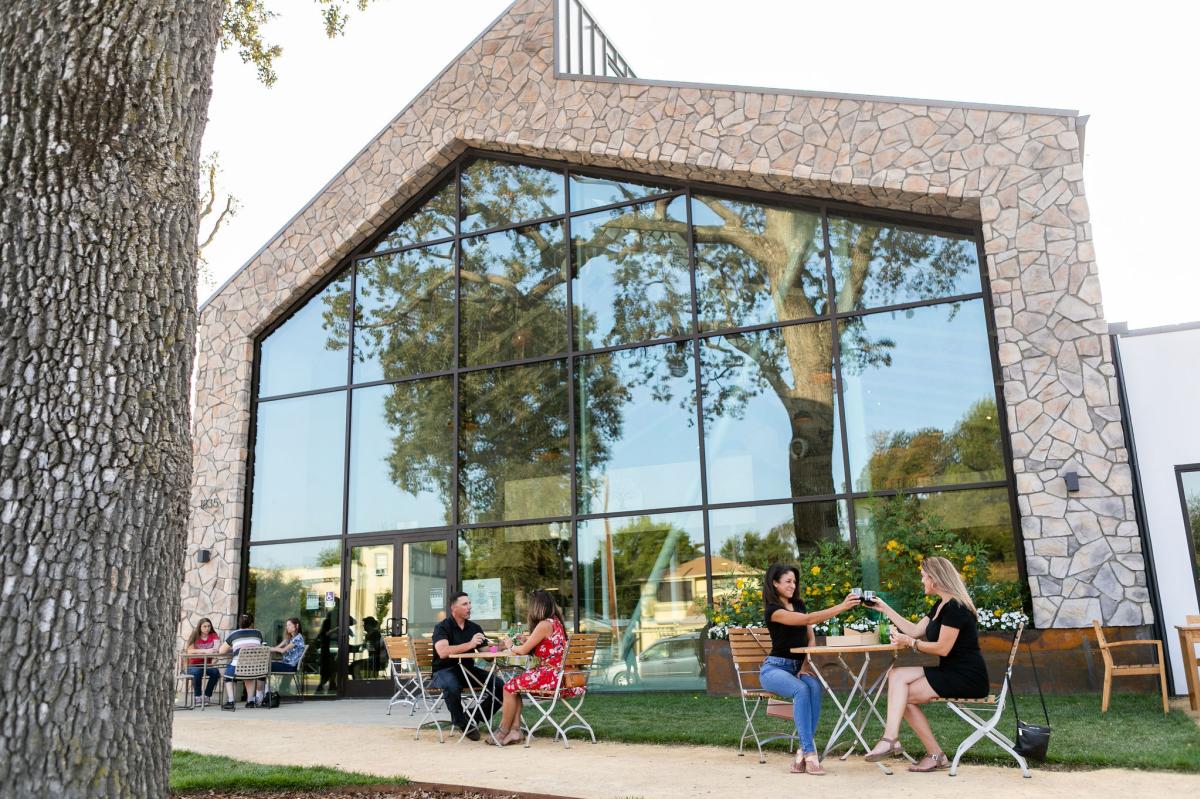 Paso Market Walk
The Great Outdoors
Get out on the pristine greens in Paso Robles, designed for the beginners and the pros. Set atop the highest point in Paso Robles, Hunter Ranch Golf Club is home to stunning views and a notoriously tough back nine. After your round, settle in at the Hunter Ranch Grill for delicious lunch or a Sunday brunch you will talk about for years. The newly renovated Paso Robles Golf Club boasts a beautifully conditioned course with panoramic views from the restaurant, bar and veranda. With live music every Wednesday, Skins Games twice a week and a lady's golf on Tuesdays, it's easy to join in on the fun.
Tour wine country with Central Coast Jeep Tours for an off-road adventure through rows of vines at Halter Ranch, Steinbeck Vineyards and Villa San-Juliette. Each educational tour will guide you through growing grapes sustainably to increase the longevity and health of the vines, the land and the people. Customize your tour to tailor your experience and see Paso wine country from a whole new perspective.
For those traveling with kids, the Ravine Waterpark is the perfect way to beat the mid-day heat. For the brave ones in the group, barrel down the extreme waterslides and rides. If you're looking for a relaxing day in the sun, simply cruise around the lazy river and rent a cabana with food and drink service. What more could you need?
Your trip to Paso would not be complete without a visit to Light at Sensorio. The stunning outdoor art exhibit illuminates the rolling hills of wine country, and the popular attraction recently added a new Light Tower display: 6-foot towers composed of over 17,000 wine bottles light up the night with stunning colors.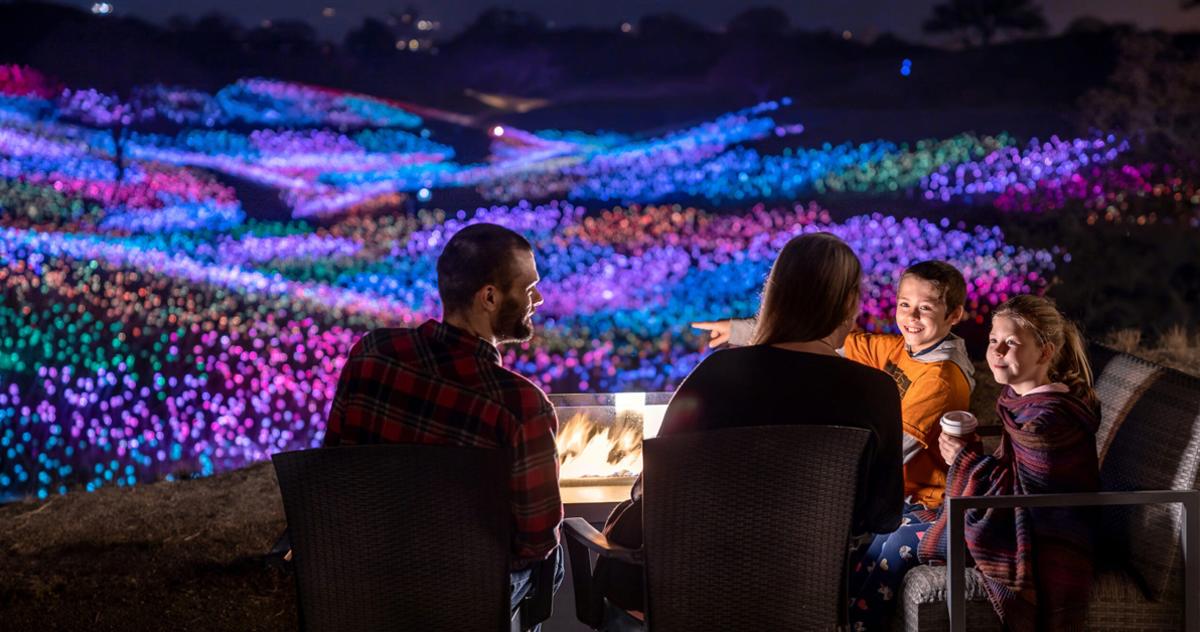 Light at Sensorio
Paso Hospitality
Stay in the heart of Downtown Paso at the Paso Park Studios - just steps away from tasting rooms, restaurants, coffee shops and more – and enjoy the buzz of Paso Robles, open once again. For your couple's getaway or girl's trip, enjoy a stay at the newly renovated La Quinta Inn & Suites or pamper yourselves with a stay at The Piccolo, fully equipped with a Moët & Chandon Champagne vending machine, rooftop bar and beautiful rooms.
Bringing the whole family to town? The Adelaide Inn is the perfect home base with a pool for the kiddos to swim in, spacious lawn for a picnic and close proximity to great restaurants. If you're looking to stay under the stars, park your RV at CAVA Robles RV Resort equipped with a large pool, pizza ovens, on-site wine tasting and campfires for the family to enjoy. No matter your needs, Paso has the perfect accommodations for an enjoyable getaway.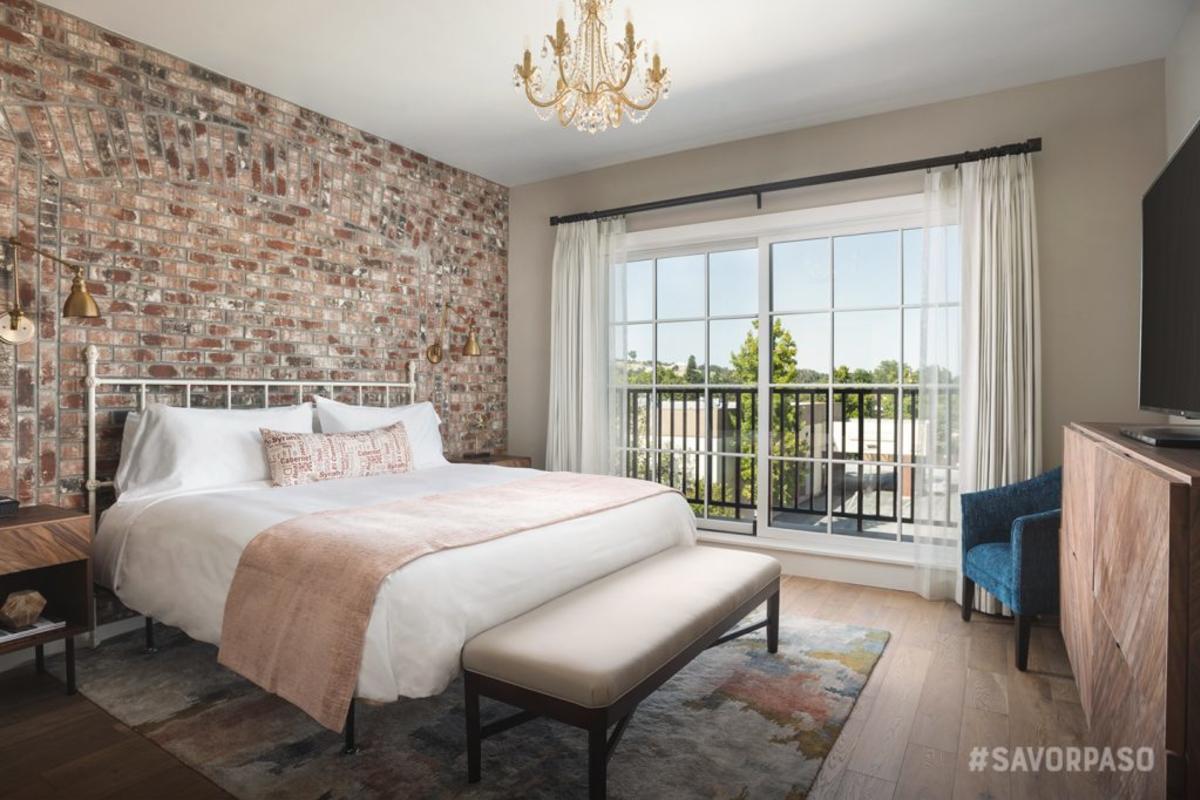 The Piccolo
Top 5 Tips for Planning Your Return Visit to Paso Robles Wine Country 
Dates – While weekends are fun in Paso, consider planning a stay Sunday through Thursday for the best rates and access to Paso's personalities. Experience more intimate wine tastings and a slower side of Paso with a mid-week visit. 
Reservations – Reservations are required from lodging arrangements to wine tasting appointments to dinner reservations. Most wineries and restaurants offer online booking for a quick and seamless reservation experience. Don't miss out on your favorite places - plan in advance. 
Be on time – With guidelines in place to ensure a safe experience for all guests, businesses are on a stricter timeline. It is important to show up on time (or a little early!) to your reservation to make sure you have plenty of time to enjoy your tasting or meal.
Pack layers – While we're warming up here in Paso, the coastal influence can bring a chill during the evenings. We recommend packing a coat everywhere you go, better safe than sorry!
Try something new – There is so much to do in Paso from playing disc golf at Castoro Cellars to relaxing at River Oaks Hot Springs. Do your research and plan something new for you and your travel companions on your next visit to Paso Robles. 
We are so excited to welcome you back to Paso Robles wine country.

Cheers from Travel Paso!