Welcome to Paso Robles
We made it! Some of our group of travelers drove 3-4 hours from Los Angeles or the San Francisco Bay Area. Others flew into the San Luis Obispo County Regional Airport and made the quick drive over. But we were here, ready to explore what the centrally located and enchanting town of Paso Robles, California has to offer. 
Paso Robles, translated as "Oak Pass" or "Pass of the Oaks," or just "Paso" is a town of about 32,000 nestled in rolling hills just twenty-five miles from the Pacific Coast. The surrounding area includes 40,000 acres of verdant vineyards.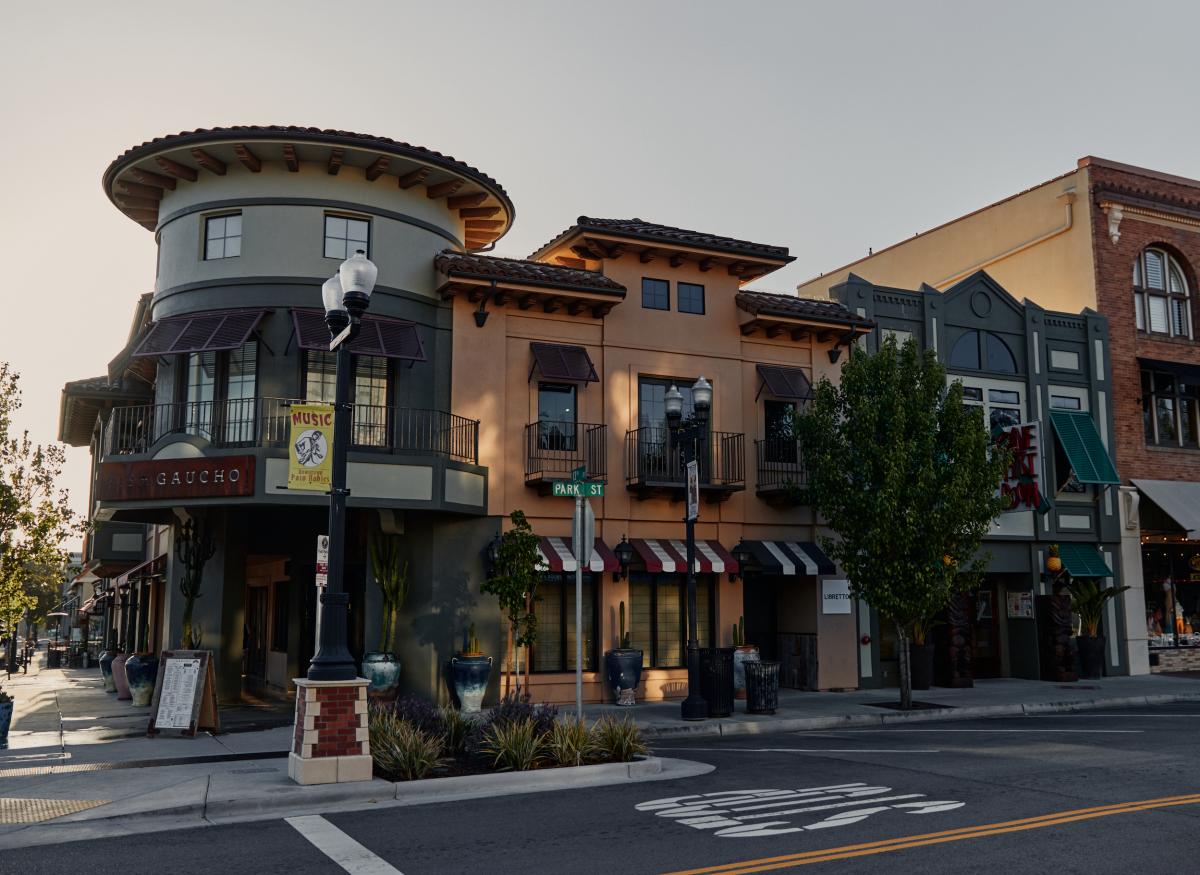 Arriving at Paso Robles Hampton Inn
During our recent trip, we stayed at the  Hampton Inn and Suites, Paso Robles, an 81-room suite-style hotel just off the 101 freeway and centrally located for all our adventures. The spacious rooms included a wet bar, fridge, and microwave, large flat-screen TV, and a generous bathroom stocked with all necessary amenities. Soft but supportive beds covered by fluffy duvets provided a comfortable night's rest.
The main floor includes a morning breakfast area with a broad range of offerings, a swimming pool, gym, cozy lounge area with a fireplace, and conference space. Another amenity during our stay was a large glass cooler filled with cold drinks such as lemonade for guests to enjoy as they enter or exit the hotel. 
An unusual hotel feature is a "Drop Water" machine that, rather than selling regular bottled water, offers water dispensed into your own container or one of its own compostable containers. So, depending on where you live, you can throw the used bottle in with your "green" trash, and it will decompose, sparing nature from more plastic detritus. Drop Water also allows the option of adding supplements such as caffeine and flavors. Developed by Cal Poly-SLO graduate Scott Edwards, Drop Water seeks to revolutionize water distribution.
Late Afternoon Stop at Paso Robles Wine Merchant
After settling into the hotel, our group headed over to the Paso Robles Wine Merchant located in the Paso Market Walk. The brainchild of husband-and-wife team Justin and Julie Fisher, the Wine Merchant is a space that includes a wine bar, restaurant, event space, and a wine club that highlights small producers from Paso and the Central Coast.
The large airy space has glass sides and vaulted ceilings that provide a bright and inviting ambience. On Wednesdays from 5 to 7 p.m., the space hosts Paso Wine Merchant Wednesday featuring the wines of a local winemaker who talks about their varietals and offers them by the flight, glass, or bottle. Both visitors and locals gather for these community events as they sample both the wines and local farm-to-table food offerings. No reservation is necessary, so head on over when you're in town.
We sampled three wines: the Nenow Family Wines 2022 Rosé of Grenache, Alta Colina 2021 12 O'Clock High Estate Viognier, and the Epoch 2018 Grenache. Each of the wines come from a small-production local vintner. For example, Alta Colina produced only 220 cases of the Viognier we sampled.
Accompanying the wines, we nibbled on a three-cheese plate accompanied by crunchy flat bread, marcona almonds, bright green olives, honey, preserves and dried apricots. As a cheese, olive, and almond lover, I had to remind myself not to overeat and spoil my dinner.
Justin and Julie both spent time explaining how they came up with the concept for the Paso Robles Wine Merchant as a community space for wine makers and their fans to gather and share talk, healthy food and interesting wines. The large space that can also be used for private and community events spills into outdoor casual seating where customers can enjoy the beautiful Paso weather.
Paso Market Walk, where Wine Merchant is located consists of a series of joined buildings that also include everything from a bakery, brewery, ramen shop, and even six rooms and suites called The Lofts. In addition to the events held at the Wine Merchant, the Market Walk also hosts winemaker dinners and live music.
Delightful Dinner at Della's
After our visit to the Paso Robles Wine Merchant, we headed to Della's restaurant located downtown. Created by Maggie Cameron and Eric Connolly who also own the next-door eatery "The Hatch," Della's is known for, among other things, its fantastic wood-fired pizza.
Our staters were several sumptuous appetizers including sweet, deep-fried artichokes with aioli and meatballs in red sauce with basil and arugula pesto.
The highlight of the meal were the four distinctly different pizzas that dazzled us with their flavors. These included the "Straight Up Now Tell Me" with tomato sauce, mozzarella and basil, the "Carte Blanche," a white pizza with Castelvetrano olives, garlic, basil, and Calabrian chili, the "Smoke Show" with smoked short rib, pickled pineapple, and roasted jalapeño, and the "Day Trip to Denver" with smoked mushroom, taleggio, parmigiano and aioli.
The only thing we could argue about was which one was better, or at least our personal favorite. I cannot decide which I enjoyed most!
For dessert, Della's offered a choice of its individual cream pies: chocolate, banana, and key lime. Everyone devoured every crumb of their selection from the individual pie tins.
Lovely Tablas Creek Wines
During our meal at Della's, we were joined by Jason Haas, proprietor of Tablas Creek Vineyard. Jason shared and talked about his wines. We first enjoyed the 2022 Patelin de Tablas Rosé, a Provence-style rosé with 67% Grenache, 21% Mourvèdre, 9% Counoise, and 3% Vermentino. It was a bright version of the crisp southern French-style.
Next came the 2019 Esprit de Tablas Blanc, a palate-pleasing white blend with 45% Mourvèdre, 30% Grenache, 21% Syrah, and 10% Counoise. Lastly, we tasted the 2010 Esprit de Beaucastel, a red blend of 39% Mourvèdre, 30% Grenache, 21% Syrah, and 4% Counoise. Like many of the winemakers we met during our trip, Tablas does not shy away from interesting blends, some with lesser-known grapes leading to unique, layered wines with great character.
Although we didn't sample any, the 2021 versions of these Tablas wines were rated between 93 and 97 points by Robert Parker. 
Return to the Hampton Inn
Fully stuffed and satiated with wine, we returned to our cushy beds at the Hampton Inn, ready to get some rest in anticipation for our next day's adventures, with more outstanding wines, food and experiences. But that's another story.