Wine Country
With more than 200 wineries and vineyards, what sets Paso apart is its approachability, carefree and pretentious-free atmosphere, and centralized geography.
Exploring Wine Country on Different Wine Trails
Experience the Paso Robles wine country lifestyle in an intimate and personalized way, unique to our bucolic community. Paso Robles is the halfway point between San Francisco and Los Angeles as well the entrance from the San Joaquin Valley to the coastline. A true crossroads where the north meets south and east meets west.
This unique location with its coastal influence, creates a greater day-to-night temperature swing than other California wine regions. This is good for the grapes. They thrive with a long growing season and diverse soil types. More than 40 wine grape varieties are grown in Paso ranging from Cabernet Sauvignon, Syrah, Mourvedre, Grenache and Zinfandel for red wines to Grenache Blanc, Viognier, Roussanne, Sauvignon Blanc and Chardonnay for white wines. For more information about the Paso Robles wine region, visit Paso Robles Wine Country.
Choose from seven wine trails each with unique adventures to plan your itinerary. Don't know where to start? Begin your journey in the town square where you'll find more than 20 tastings rooms sprinkled among the shops and restaurants.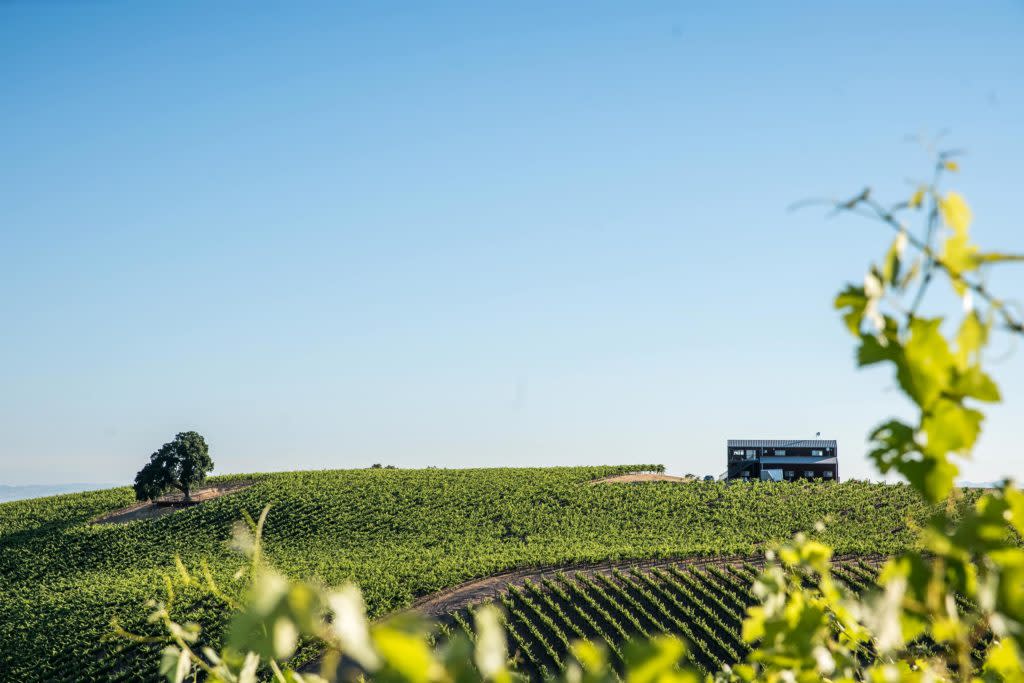 Alta Colina in the Adelaida District of Paso Robles.
Downtown Wineries
The charming and historic downtown features a variety of winery tasting rooms. It's a great way to taste the diversity of Paso Robles. Often you'll be greeted by the winery owner whose passion and enthusiasm will captivate your attention and spark an interest to learn more. Several downtown tasting rooms stay open longer (6 or 7 pm) giving you one more sip before dinner begins.
Adelaida District
Wineries dot the hills along Adelaida Road to Vineyard Drive creating a loop amidst west Paso. You can take a jeep tour through the vineyards at Halter Ranch, schedule a hilltop tasting at Adelaida Vineyard & Winery, experience a sunset summit vineyard tasting at Alta Colina, catch Burger Sunday's at Lone Madrone and learn about Paso's rich Rhône wine history at Tablas Creek. Seeking new wine styles? Be sure to stop at Thacher where you'll find the softer side of Paso with lesser-known varieties such as Valdiguié and Cinsault. Complete the Vineyard Drive loop with stops at Brecon, Opolo and Jada.
Highway 46 East
Coming off I-5 and driving west along Highway 46 the first winery you'll find is the famed Tobin James. Taking a snapshot from the days Jessie James roamed the hillside you'll step into a touch of Paso's cowboy culture while sipping fine wines. As you continue down the highway you'll be drawn in by cave tours at Eberle, a concert at Vina Robles and game of bocce ball at Robert Hall Winery. Check out the tasting room at J. Lohr Vineyards and Wines for more history about Paso Robles and stop by Le Vigne Winery for a cheese tasting and picnic provisions. All with a focus on crafting world-class Cabernet Sauvignon.
Highway 46 West
On your way to the coast and Highway 1 you'll find more of Paso's family-owned wineries. Taste classic Zinfandel at J Dusi and Peachy Canyon, embrace summer year around at SummerWood. Plan a picnic while sipping SummerWood wines and enjoy a taste of local master gelatier, Leo Leo Gelato, for dessert. Zenaida offers a great line-up of wines and an experienced team to personalize your tasting to your liking. More lunch options await at Barton's Kitchen Window at Grey Wolf Cellars or Niner Wine Estates. Rhone wine fans will want to stop by Four Lanterns Winery and if you seeking classic ports Paso Port awaits with some unique offerings.
Backroads
The wine trails continue down Creston road, located east of downtown Paso Robles. You may find yourself at the new Rava Winery for a glass of bubbles or next door at Still Waters Vineyards for Bordeaux or Rhône Blends. Turn the corner for Cass Vineyards and Wines and grab lunch at the Cass Café.
Union Road Wine Trail
Running parallel to Highway 46 is Union Road. This wine trail boasts Steinbeck Vineyards, Pear Valley and newcomer, Rails Nap. Plan a picnic as you explore the rolling hills and sweeping landscapes of the hidden trail. Just off Union Road find additional wine offerings at Bianchi Winery, Clautiere, Rio Seco and Penman Springs.
Pleasant Valley Wine Trail
North of Paso Robles amidst the rolling hills you'll find Cinquain, Ranchita Canyon, Villa San-Juliette and Graveyard wineries. Enjoy the sweeping views and rural landscape as you drive the wine trails of Paso.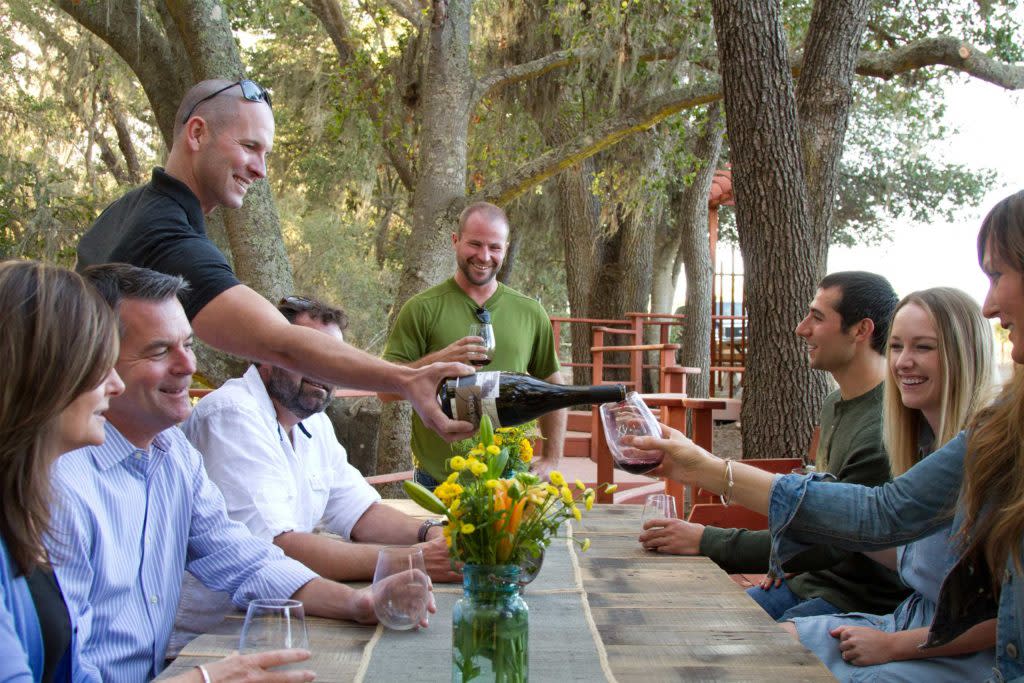 Enjoy intimate wine tasting experiences with your spouse or friends.
Reserve Tastings and Private Tours
Are you a planner? Roll in VIP style through Paso Robles Wine Country with a variety of reserve and private tastings. Several tour companies like Central Coast Food Tours, Alabaster Box Charter, Breakaway Tours, Uncorked Wine Tours and more offer personalized experiences tailored to meet your needs. Whether you choose one of our many tour companies or plan your own Uber driver, be safe and leave the driving to the experts so you can do the tasting and sipping.
You'll find reserve and private offerings at these wineries – Adelaida, Alta Colina, Booker, Caliza, Clos Solene, Daou, Halter Ranch, L'Aventure, JUSTIN, kukkula, Vina Robles – and many more.
Plan ahead, check the calendar, and book your reservations for a personal wine county experience.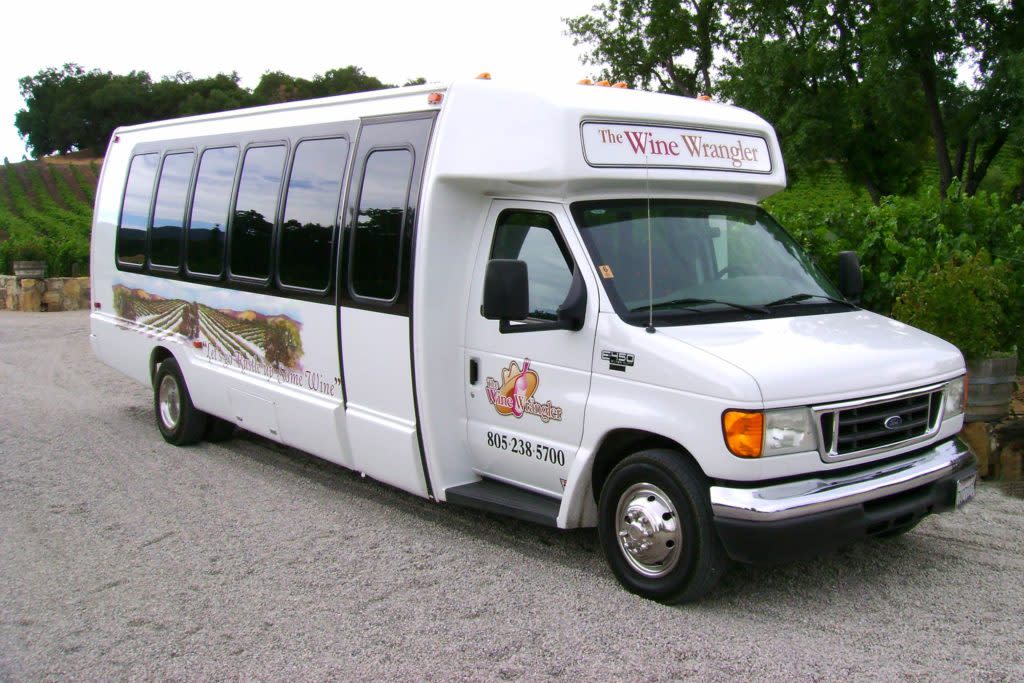 Private tours provide a safer experience that is more enjoyable for you.
Cave Tours, Unique Tours or Exclusive Tours
Wine tasting is an experience that extends beyond the tasting room in Paso. From jeep tours to cave tours to unique vineyard hikes, food and wine pairings, disc golf and even zip-lining, an adventure awaits for you in Paso wine country.
If you're looking at an off-road jeep ride down the vine rows check out jeep tours at Halter Ranch, Steinbeck Vineyards and Villa San-Juliette. Each offers an educational tour that talks about growing wine grapes sustainably to ensure the longevity and health of the vines, the land and the people. Central Coast Jeep Tours offers customizable offerings to tailor your experience through Paso wine country.
If you are looking for how things work in the cellar and want to get a peek behind the scenes schedule a cave tour at: Eberle, Halter Ranch, JUSTIN, L'Aventure or Robert Hall. Hear about the importance of barrels in winemaking and how the various toasts, sizes and origin of the oak adds to the complexity of wine. Notice the thief your tour guide is carrying? You might get to sample a sip of wine from the barrel along the way.
Are you seeking a bit more active adventure? The kind that puts your blood pressure to the test? Play a game of disc golf at Castoro Cellars or fly through the air via zipline at Ancient Peaks Winery.
Specialized Tours
There are a wide array of specialized tours offering guests a menu of exclusive options. These range from a tasting being hosted by a wine educator, the winemaker or the owner. Food and wine pairings allow you to taste for yourself the balance and magic of how flavors come together. Vineyard hikes or walks allow you to sink your boots in the dirt and learn more about how soil, weather and location influence the wine in your class. You might even find a blending seminar to test your skills at winemaking. Check out these wineries to find a tour customized for your interest: Adelaida, Alta Colina, Daou, kukkula, J. Lohr, Niner, Tablas Creek and Zenaida.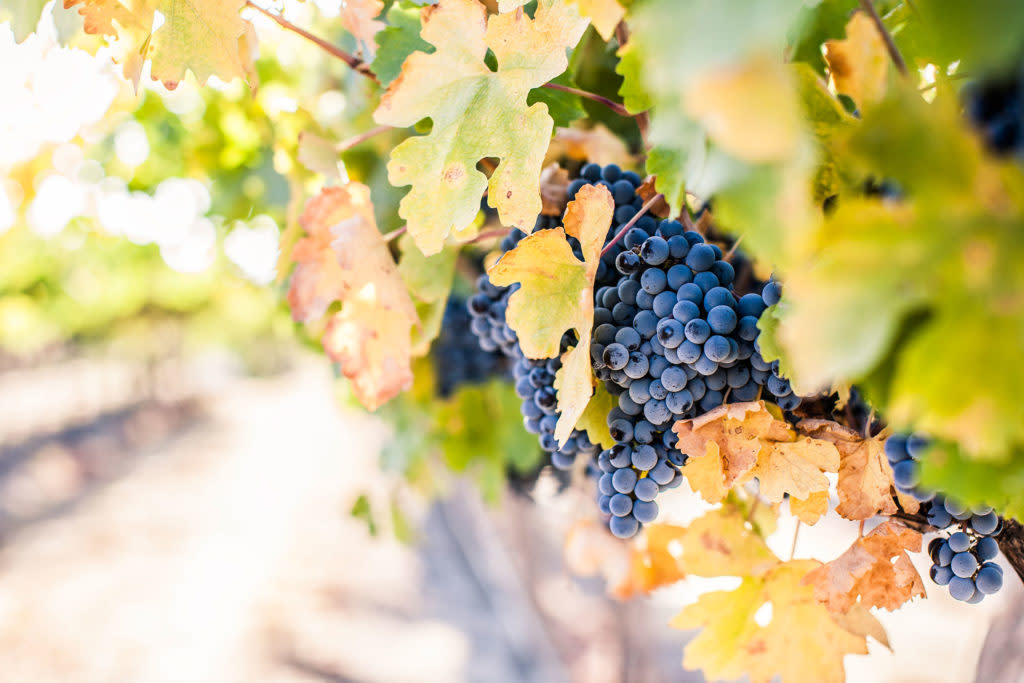 The grapes are ripe and ready for harvest. Come taste in Paso Robles.
Craft Beer
Paso's craft beer industry is taking off. When we ask brewmasters why … the simple response … "I want to make beer in wine country." With a focus on local and sourcing fresh ingredients, Paso's brew scene is creating a spotlight in wine country. While anchored with Firestone Walker Brewing Company, more than a dozen breweries call Paso home.
Unique brewing techniques are happening when hops meets blending. Rosé beer, barrel-aged imperial stout and did we mention local? The interest in locally sourcing ingredients has farmers working alongside the beer community to create a truly farm-to-table brew.
Take a tour at Firestone's Visitor Center and taste beers only available at onsite. Then stop by these breweries located downtown Paso Robles – Silva Brewing, Earth & Fire Brewing Company, and Toro Creek Brewing Company. When you stop by Tin City a stop at Barrelhouse is a must.
Speaking of Tin City, the hard cider movement is also happening as a result of wine. Winemakers fermenting apples has resulted in the latest crave. Check out Tin City Cider for a full tasting of all things cider.
The best part? Wine is the driving force for the growing beer and cider movement. You can sample them all while in Paso.
Craft Spirits
While Paso Robles is known for its wine, it's also home to the leaders of the California craft spirits movement. From the grape to the still to the garden-fresh cocktails winemakers are turning towards distilling as part of the latest wave in Paso. Home to more than 12 craft distilleries, Paso is the hub of this Central Coast movement.
From brandy and grappa to vodka and gin to grain-based whiskey you'll find a full line-up of craft spirits popping up in Paso.
As a premium wine region, craft distillers share similar qualities as winemakers. A vintner is dedicated to the quality of the grapes just as a distiller is dedicated to the quality of the base material used to derive the spirit.
A vintner is focused on conducting clean fermentations to highlight the quality of the raw materials used just as a distiller. Anything that goes wrong in the fermentation will show up in the final product and will ultimately need to be fixed.
Both winemaking and distilling demand a strong understanding of chemistry, a healthy dose of creativity, and a highly tuned palate for layering flavors and achieving balance.
Beyond the chemistry, the artistry in distilling is similar to winemaking in that it takes a trained and disciplined palate to weave the elements together to make a unique final product. Life would be boring if all spirits tasted the same!