Wineries, Breweries, Cideries And Distilleries, Oh My!
Get to know our "Paso Personality" by tasting your way through town. Paso Robles is home to a down-to-earth wine country and a burgeoning craft beverage scene offering unique tastes and products not found anywhere else.
Wine Tasting
Paso Robles is a winemaking frontier, where innovative wines blend with Paso's warm hospitality. Around here, it's not about what's been done, rather it's what can be done. Take the rush out of wine tasting and enjoy an easy, relaxing wine tour. With various types of tours, you can taste your way through Paso's vineyards with all of your friends in any fashion you choose. Check out these wine tour companies:
101 Wine Tours

Central Coast Jeep Tour Adventures
*Insider Tip: Your wine tastings are complimentary on all of their tours!

Destination Drivers 
*Insider Tip: They provide designated drivers for your vehicle.

The Wine Line
*Insider Tip: They offer a "hop-on, hop-off" service that lets you stay as long as you want at participating wineries.
The Wine Wrangler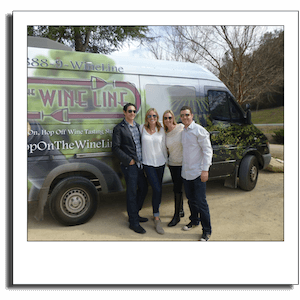 Book your tour and check out our iconic wineries to start planning your trip to Paso Robles today.
Breweries
You'll hear the winemakers say, "It takes a lot of beer to make great wine!" This unofficial motto of Paso Robles has been embraced to the degree that some of the greatest minds in beer and science have brought forth a revolution of sorts. Stop by these classic Paso breweries on your next visit:
*Why we love it: Their live music and food trucks make this a great hang-out spot.
Earth & Fire Brewing Company
*Why we love it: They are Paso's only nano-brewery that is hand-crafting rustic and unfiltered beer.
Firestone Walker Brewing Company
*Why we love it: This classic Paso brewery truly depicts the 805 lifestyle and are always releasing new brews.
*Why we love it: Their Way Back Wednesdays will take you back to the days of vinyl records and classic music.
Santa Maria Brewing Co.
*Why we love it: This is the new kid on the block and they are the "best little brewery that nobody knew about."
*Why we love it: Their stainless-steel growlers are perfect souvenirs to take home to the beer-lover in your life.
Toro Creek Brewing Company
*Why we love it: They grow their own barley and 13 varieties of hops directly on property.
The Paso Robles Distillery Trail
Our winemakers are always looking for new ways to sip and savor the tastes of Paso Robles, and now they are dipping their toes into distilled spirits. With Paso's distillery scene gaining more momentum by the minute, there's no better time to add a craft distillery tasting experience to your visit! The Distillers of San Luis Obispo County invite you down the Paso Robles Distillery Trail: 

Cider Houses
Do you like the bubbles of beer and the expressive flavors  of wine? Get the best of both worlds and try a cider. Paso's cider scene is growing and beginning to make a splash in the Paso Robles craft beverage offerings. See Canyon Cider Company recently opened a new tasting room in the heart of Paso Robles. With six ciders on tap, this is what's popping in Paso. Tin City Cider Co. is also jumping in on the fun with the return of their pink canned cider, the Poly Dolly. Put cider and rosé together, and what do you get? A great time in Paso Robles. For those who can't make up their mind between wine or cider, visit Lone Madrone where they always have Bristol's cider on tap. Be sure to add these tasting rooms to your itinerary for your next journey through Paso Robles.
Looking to take a break from the sipping and savoring? Stretch your legs and check out our Outdoor Adventurer Itinerary.