Top 10 Romantic Excursions in Paso Robles Wine Country
1. Three romantic outings in wine country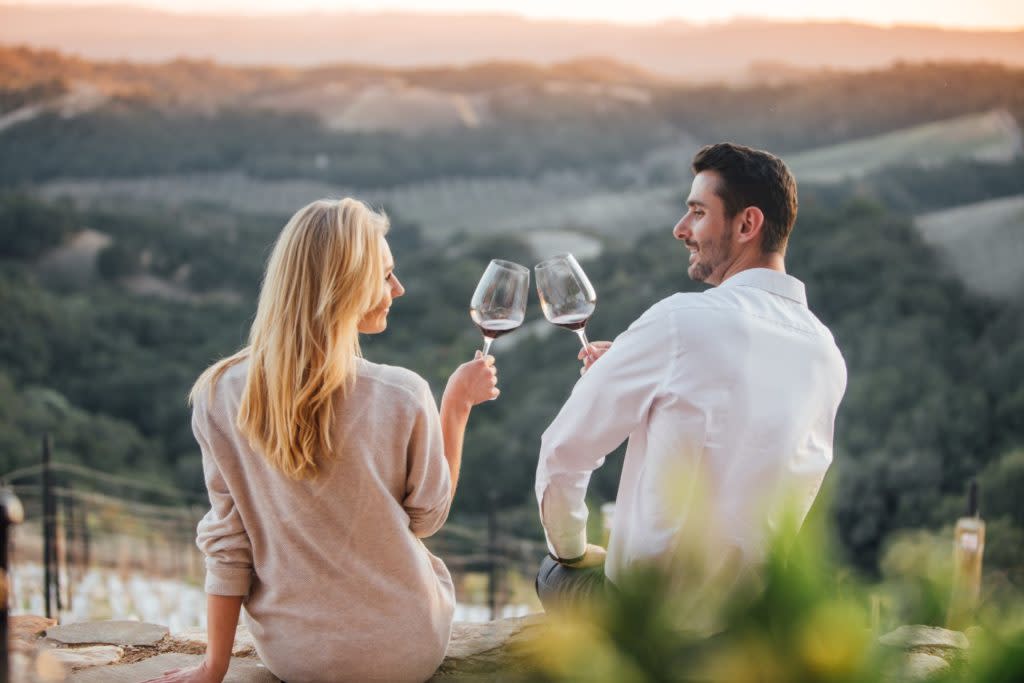 Niner Winery, is one of Paso's top romantic spots: Heart Hill Vineyard boasts an actual heart-shaped oak grove. It's no wonder the spot has become a favorite for proposals – as many as one per week. The winery offers a "Heart Hill Tasting Experience," where you can travel to the highest point of the vineyard, ride through the vines to the heart and enjoy seated tastings on the patio – proposals not required, but reservations are. This spot is sure to have you and your partner coming back for more.
If you're looking for a more adventurous experience with your loved one, join Halter Ranch for one of their award-winning Excursion Tours. This two-hour tour will take you throughout 281 acres of their historic ranch in a Land Rover Defender. You can expect to view wildlife corridors, overlook the vineyards at Lion's Ridge – the property's highest point – and a stop under the famous Ancestor Tree. And don't forget the wine—tastings will be provided during the tour.
If you're considering a laid back and intimate date instead, join Daou Vineyards & Winery for a private tasting. Daou Mountain stands at an elevation of 2,200 feet in the heart of the Adelaida District, providing breathtaking scenery of the vineyard. Sit outside above the clouds while you enjoy your wine and light snacks or enjoy a true culinary experience from a menu of five courses curated by our Estate Sommelier and Estate Chef.
2. Get your groove on with live music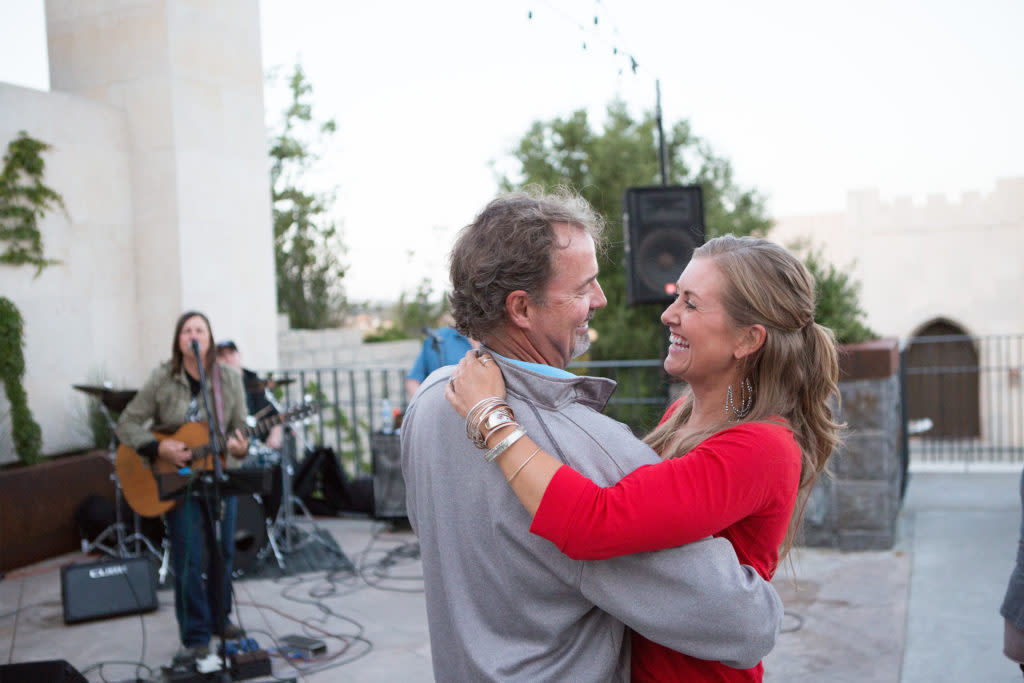 Similar to love, music is a universal language we can all understand and what better way to celebrate your love than a show. In Paso you can find a range of genres, venues and artists throughout the town—musicians of all types can find stages across Paso on back patios, the flatbed of an old truck or in a winery cellar.
Rava Estate Wine + Events
Greeted by the uncanny blend of Central California scenery, this 505-acre vineyard holds one of the most gorgeous venues around. Tuscan-inspired, stone architecture set in the middle of the vineyard sets the scene for their state-of-the-art event center. Upcoming concerts in March include an evening Rick Springfield. An intimate evening of music and storytelling with the legendary rocker, Springfield will be treating fans to a special solo performance with storytelling! You do not want to miss your chance to see Rick perform 'Stripped Down' and get up close and personal with the man and his music! If you can't make it to this event, there will be more chances to come enjoy live entertainment at this exquisite venue.
Tooth & Nail Winery
Storm the castle for a unique tasting room experience. Tooth & Nail Castle offers unconventional brands with historic labels and plenty of space for you to dance, listen and enjoy a show. This old-world, industrial castle offers lounge seating next to the fireplace, or an expansive Pergola to enjoy Paso's breezy, sunny days. Tooth & Nail offers music Friday through Sunday on most weeks, so there's always an opportunity to kick back. With a selection of local bites to enjoy throughout the day, it makes it easy to spend most of your day at this stunning castle.
The Pour House
A relaxing and comfortable tap room with outdoor seating and large variety of mostly California-born brews. A locals favorite, you can enjoy live music most weekend nights, featuring anything from Bluegrass to Blues, to covers or originals. Between sets you can play board games or check the score of your favorite teams. The Pour House is the perfect laid-back spot to grab a drink, enjoy some tunes and play some games after a full day of activities.
3. A romantic picnic in the downtown park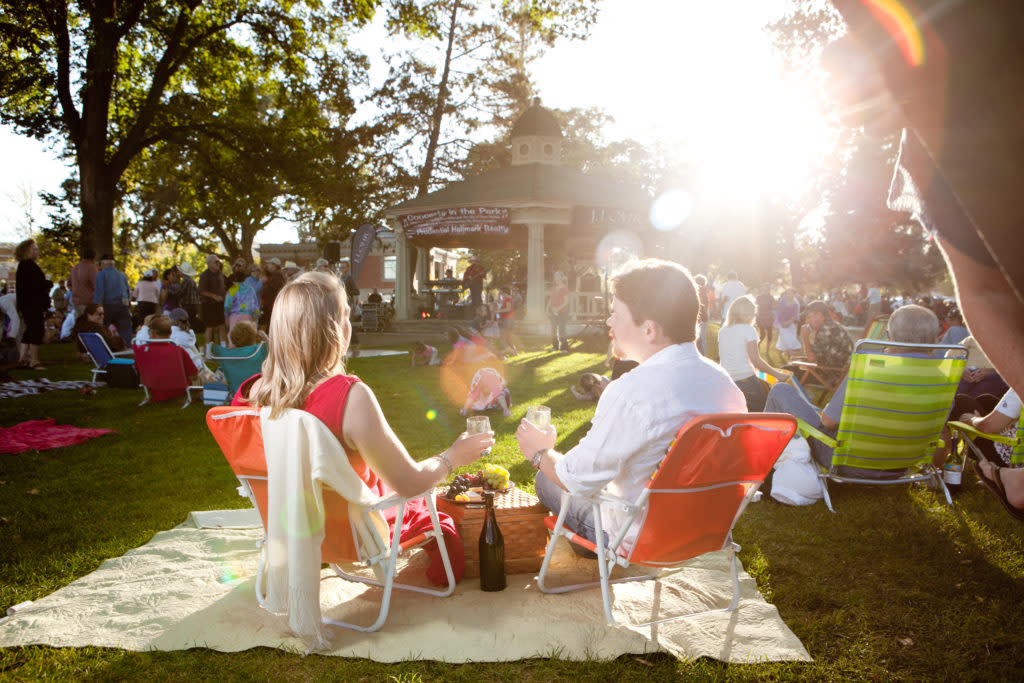 Stroll through downtown and find yourself a wide selection of goods to wrap up for a picnic in the park. Sit in the heart of downtown and enjoy yet another sunny day with temperate climates as the small-town America buzzes around you.
Head to the General Store for unique and local provisions that are sure to make your picnic a memorable one. Explore and discover indulgent bites such as a variety of local cheese, nuts and salami. If you don't already have a picnic ready blanket, pick one up while you're there.
Red Scooter Deli, next to the theaters and across from the park, is your convenient stop for breakfast and pastries with coffee, a quick lunch or refreshing smoothie. You can choose from an extensive list of masterfully created sandwiches, wraps and salads, or build your own creation. They even offer "Box Lunches," which includes your choice of sandwich, deli salad, chips and cookie, all wrapped into a convenient to-go box perfect for picnicking.
Speaking of cookies, one of Paso's musts is the Brown Butter Cookie Company. Sure to be the perfect sweet treat to finish your picnic, these cookies are known and enjoyed nationwide. You can find them in the iconic Acorn Building on the park in downtown. As soon as you enter the store, the scent of freshly baked cookies overwhelms your senses. You can watch the butter browning on the stovetop to bring out the natural rich, nutty flavors and see the bakers roll out their small-batch cookies, all while you choose from a variety of mouth-watering flavors. Every cookie is topped with coarse sea salt, which perfectly balances the salty sweet combination we all love. The company even features seasonal flavors for you to try, but be careful, these small delights are addictive.
4. Indulge in the Paso Robles other bounties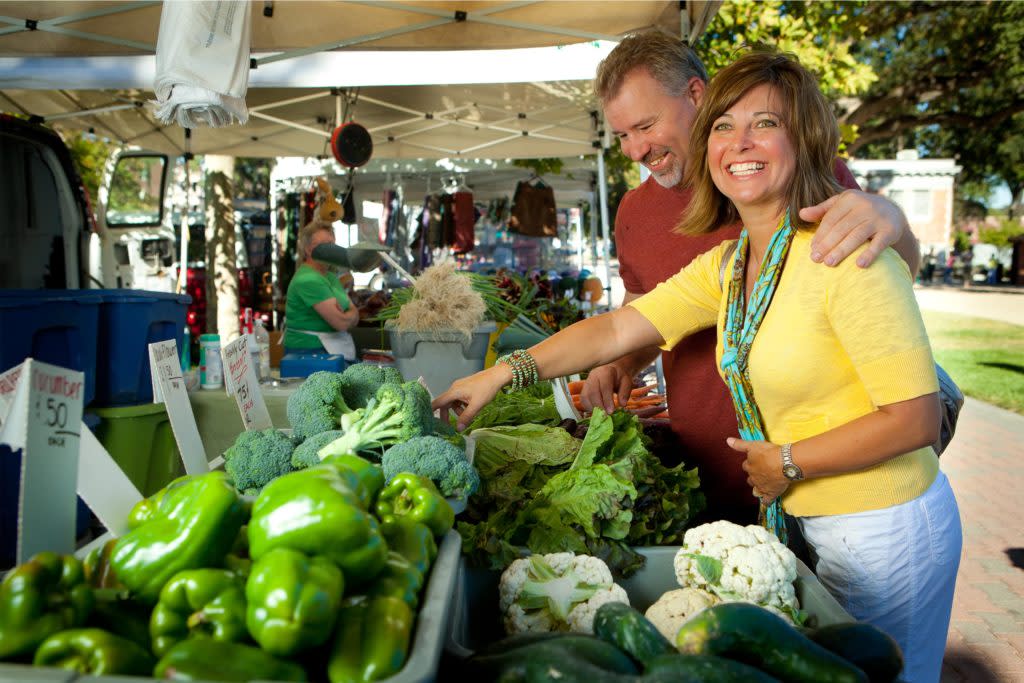 From the vineyards and rolling ranchlands to the almond tree orchards dotting the hillsides, the evidence of Paso Robles' bounty is everywhere. You can experience the delicious abundance of Paso's agricultural and ranching roots all in one place: the twice-weekly Farmer's Market.
Held every Saturday morning and Tuesday evening in the Downtown square, famers, craftsman and artists alike line the square with booths to give you an all-immersive experience into their world. Eager to share, these individuals offer delicious samples, smiling faces and impressive stories of their operation as you walk throughout the bright and colorful street.
You can find Paso's freshest fare from just-picked produce to grass fed beef, as well as baked goods, artisan cheeses, seasonal flowers and aromatic herbs. Because of its frequency and huge selection, you can often spy the region's top chefs filling their baskets for their specials, offering a rare glimpse into the quality of the produce and the starting point of your future dinners.
Bring some of your delicious finds to a nearby wine tasting room or coffee house right off the square. Diving into the fresh fares will show you exactly why Paso locals have demanded this Farmer's Market happen twice a week, every week.
5. Love in the vineyards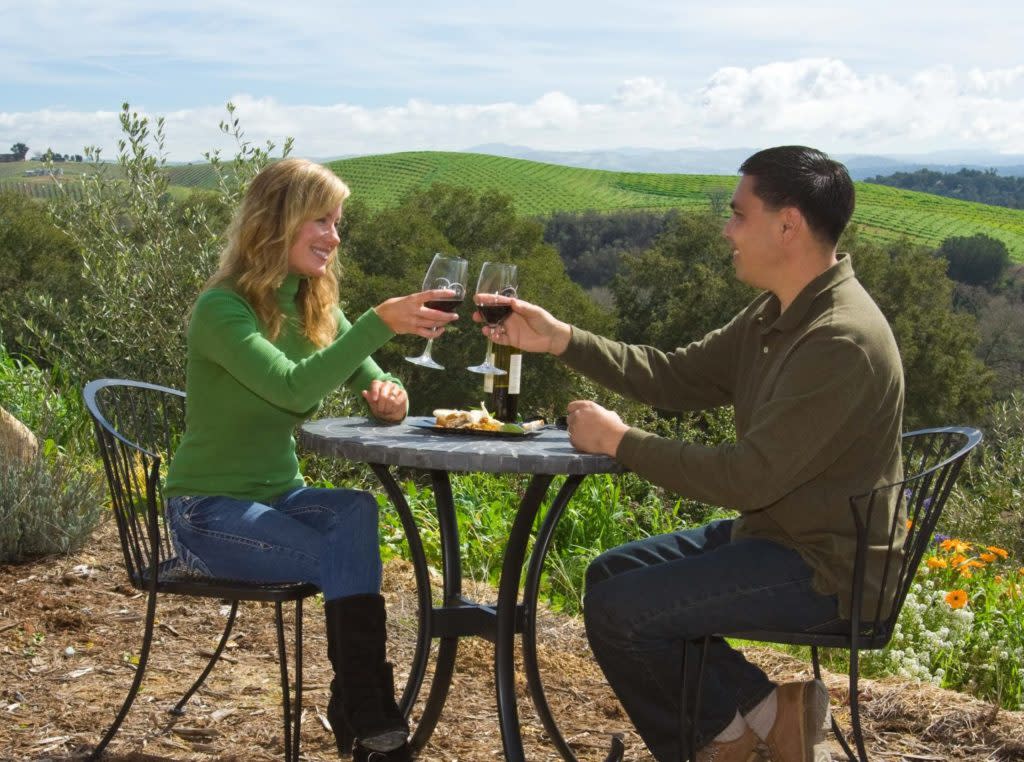 Experience the Paso Robles wine country lifestyle in an intimate and personalized way. With more than 200 wineries and vineyards, what sets Paso apart is its approachability, carefree and welcoming atmosphere. Its centralized geography and coastal influences cause a unique microclimate, with high swings in temperature from day to night, which is ideal for the growth of our grapes. They thrive with a long growing season and diverse soil types. More than 40 wine grape varieties are grown in Paso ranging from Cabernet Sauvignon, Syrah, Mourvedre, Grenache and Zinfandel for red wines to Grenache Blanc, Viognier, Roussanne, Sauvignon Blanc and Chardonnay for white wines.
Explore the vineyards and tailor your experience to your exact wishes and dreams with Uncorked— the group that is known to completely personalize their clients tour to give them the best possible taste of Paso. Speak with the local, knowledgeable tour guides that will help you create a custom itinerary and personalize their service. Whether your idea of romance is sipping wine with a view and exploring the rolling hills, or zip lining over the rows of vines, Uncorked wants you to have an unforgettable tasting experience.
If you're looking to make an entire day out of it, head over to Central Coast Food and Wine Tours. Here you can find a completely relaxing experience while pairing two of the best things Paso Robles has to offer— wine and fresh cuisine! The tour starts by visiting a landmark eatery that highlights all things that make our region famous. You will also have the chance to visit two to three wineries of your choice, or suggestions made by the tour guides based on what you are looking for. The tour will also take you to an operating olive farm where you will be introduced to some of the finest olive oil being produced in the world.
6. Rejuvenate your romance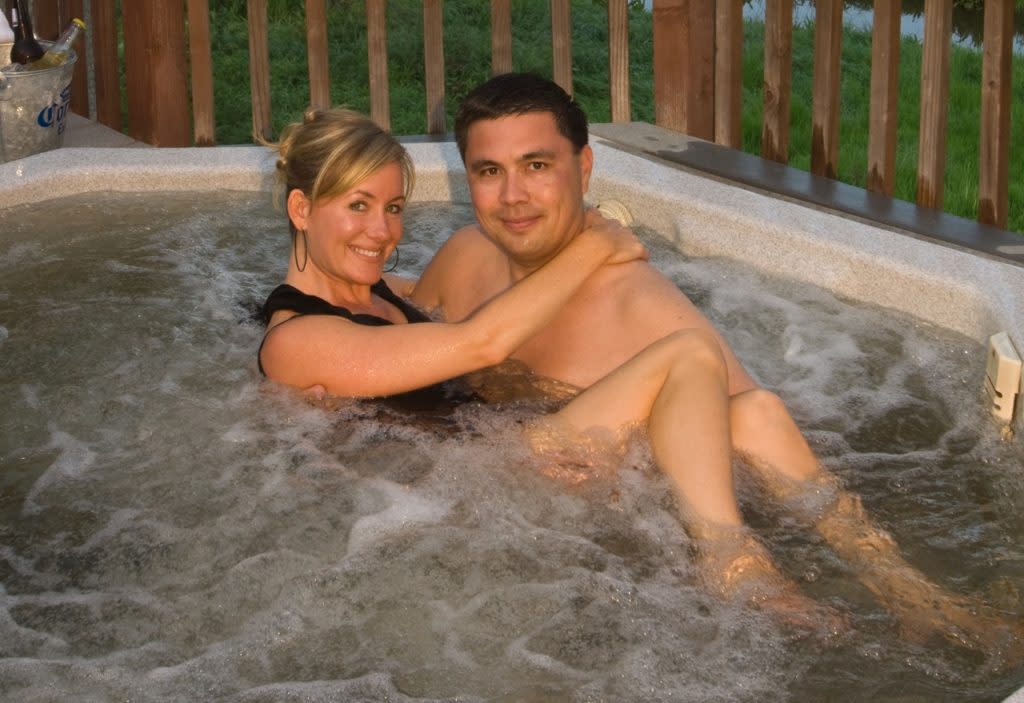 There's no better way to experience gentle rejuvenation and relaxation than at River Oaks Hot Springs. Whether it's soaking in their artesian thermal mineral springs under the starlit sky, or relaxing in the shade of a private open-air spa, you will be reborn in the tasteful, uncluttered environment. In an area the Salina Native Americans came to heal sickness, the mineral spring water emerges at 117 degrees. Rich with healing, restorative minerals and sulfur compounds, the spa waters soothe a variety of ailments from respiratory issues to joint pain relief. Pair an hour in the mineral springs with a menu of body treatments and skin care services and you are sure to feel anew.
Hotel Cheval, named the United States number one small, luxury hotel by TripAdvisor, offers additional therapeutic spa services for you and your partner. Located just off of Paso Robles' historic town square, this boutique luxury hotel presents a welcoming and calming refuge, beautiful views of surrounding vineyards and guaranteed rejuvenation. Spa therapies include heated stone massages, a vine inspired massage using cedarwood, lavender and rosemary essential oils to re-hydrate and relax muscles, body scrub massages and a massage for two.
If you are looking for a different kind of relaxation, the Allegretto Vineyard Resort boasts the world's first Sonic Labyrinth 'Sound Circle.' Designed to utilize space and music as a way to compel guests to slow their pace and become more mindful, the Sound Circle provide guests a tranquil space with a series of sounds created by wind instruments. Activated by motion sensors, the Sound Circle creates a series of soft, soothing tones that evolve as one walks through the labyrinth, cultivating a sense of relaxation and focus, while an intentional central null space creates an added sense of grounding.
7. Satisfy your wanderlust with these Paso discovery drives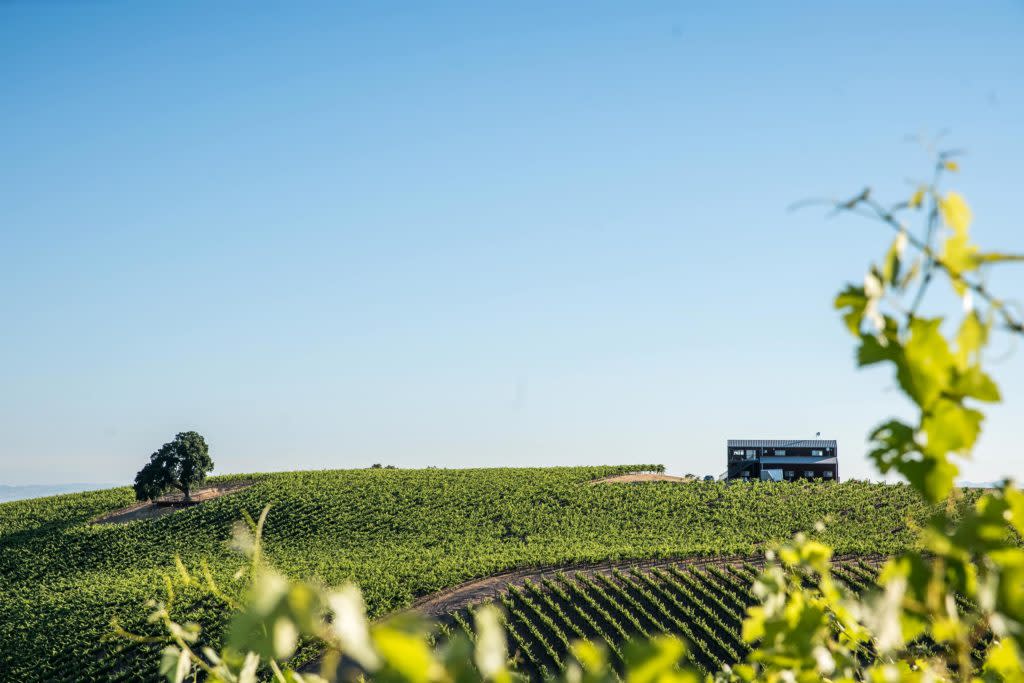 Paso is filled with inspiring, scenic drives and wine trails for you to explore with rolling hills, rows of vines, beautiful oak forests and plush grassland alive with wildflowers.
Highway 46 East – Coming off I-5 and driving west along Highway 46 the first winery you'll find is the famed Tobin James. Stepping into a touch of Paso's cowboy culture, you'll be able to sip fine wines. As you continue down the highway, you'll be drawn in by cave tours at Eberle, a game of bocce ball at Robert Hall Winery and check out the tasting room at J. Lohr Vineyards and Wines for stories of historic Paso Robles.
Backroads – The wine trails continue down Creston road, located east of downtown Paso Robles. You may find yourself at Rava Winery for a glass of bubbles or next door at Still Waters Vineyards for Bordeaux and Rhone Blends. Turn the corner for Cass Vineyards and Wines and grab lunch at the Cass Café. Take in Train Wreck Friday at Pomar Junction for an evening of wine, music and dancing too.
Union Road Wine Trail – Running parallel to Highway 46 is Union Road. Plan a picnic as you explore the rolling landscape of the hidden trail. Just off Union Road find additional wine offerings at Bianchi Winery, Clautiere, Rio Seco and Penman Springs.
Pleasant Valley Wine Trail – North of Paso Robles amidst the rolling hills you'll enjoy the sweeping views and rural landscape as you drive the wine trails of Paso.
Vineyard Drive —Just a mile off the highway on Vineyard, after crossing Route 46, begins your 30-mile scenic detour that takes you through the rolling, bountiful vineyards that have placed Paso Robles on the wine world's map. This easy route takes you 16 miles down Vineyard, then right (west) on Adelaida Road, a 9-mile lane that delivers you back in Paso Robles and the 101.
There's more: as you cruise along Vineyard and Adelaida, every few minutes you come upon yet another a clearly-marked gate (or even dirt drive) that leads to an award-winning winery. From Halter Ranch and Daou, to Thacher Winery and Tablas Creek, among dozens of others.
8. For your romantic evening out
Paso Robles buzzes with energy as people stroll across downtown between wine tastings, craft breweries and culinary delights. Known for fresh and local ingredients, innovative dishes and craft cocktails, Paso offers an impressive collection of restaurants and bars.
Start your night off at Eleven Twenty-Two, the hidden speakeasy that is sure to jump start your evening. Spark some romance and engage your senses in this elegant, candlelit adventure. You can hear the bartenders shaking up drinks, hushed chatter from the patrons enjoying their craft cocktails and, in the background, music from the Great Gatsby era. You'll smell torched rosemary, lemon and cinnamon being garnished on unique and classic spirits. Then after you settle in and taste your cocktails you will be hooked on an experience unlike any other.
Once hunger hits, choose from an array of Paso Robles' noteworthy restaurants, from classic French fare to Italian or authentic and upscale Mexican.
Il Cortile Ristorante
This fine dining Italian restaurant features seasonal menus crafted with locally sourced ingredients, surrounded by picturesque landscapes and beautiful weather. Executive Chef Santos MacDonal provides a vast array of exceptional homemade pastas, fresh seafood, top quality meats and antipasti.
BL Brasserie
BL Brasserie offers traditional brasserie style fare with a casual feel in an elegant setting; utilizing local ingredients paired perfectly with both local and French wines.
Chef and Owner, Laurent Grangien has worked in the kitchens of the St. James, in Bordeaux France, Chateau de la Chevre d'or in Eze France, and Michel Guerard in Eugenie les bains, France. After moving to Paris, Laurent became the Head Chef of Michel Rostang's restaurant. He also became a partner and Chef at Bistro d'a Cote. He then received the opportunity to work in California and fell in love with the idea of creating a bistro in the Central Coast of California. With the natural beauty and ability to use local wines with local ingredients, Paso Robles became the only choice. Join Laurent for amazing French cuisine and wine for a romantic evening away.
Six Test Kitchen
Cozy up at this intimate and innovative dining experience. Chef Ricky Odbert is moving his chefs-choice, multi-course concept to Tin City in Paso from his refurbished garage space in Arroyo Grande, California. Be sure to call ahead and reserve a spot beforehand, along with mentioning any dietary restrictions, this revolutionary restaurant only holds seats for 12 people.
Fish Gaucho
A lively cantina featuring California Mexican food and the tequila-lovers paradise, Fish Gaucho is guaranteed fun for the night. This lively establishment features fresh and healthy ingredients including Mexican classics such as mole enchiladas, a plethora of seafood dishes including a "raw bar," and Oakwood charbroiled meats. Pair your meal with one of Fish Gaucho's tantalizing margaritas or hand-crafted cocktails garnished with fresh, premium ingredients. A Late-Night Happy Hour every day of the week makes it easy to dine in after touring the town's spirits.
9. Discover the next big thing in California Wine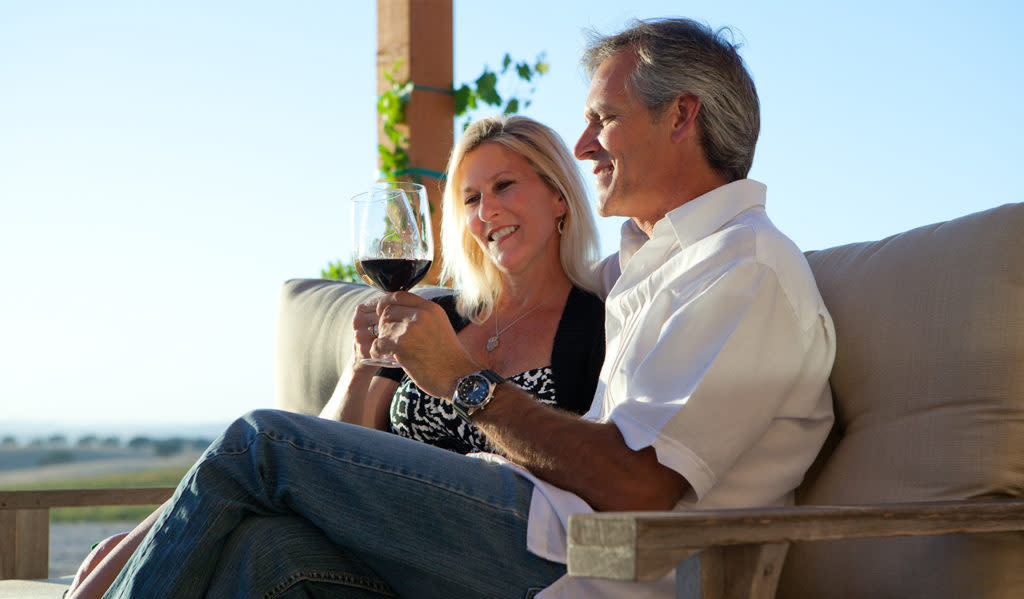 Housed in an industrial park, this evolving makers-market is unlike any other experience in California's wine country. Filled with friends, adventurers, and aficionados who come together to partake in craft wine, beer and spirits, Tin City thrives with the passion of young artisans. Sit at the bar and the odds are the person pouring your drink is the visionary behind the drink. Nowhere else can you experience such a diverse, intimate and soulful community.
Taste some of Paso Robles' best wines produced by cutting-edge winemakers in this walkable enclave. Of the nearly 20 small-production wineries in Tin City, included are the award-winning mavericks ONX, Levo, Desparada, Field Recordings, Brian Benson Cellars and Giornata.
Levo, which the winemaker, Bret Urness, will often say reads "love" if you're dyslexic, tells a love story through his winemaking. After receiving a pile of rejection letters from all of California universities offering Enology and Viticulture, winemaker and owner decided to wave goodbye to academia and pursue his passion here in Paso.
Get inspired by the passion of husband and wife team at Giornata Wines. The couple produce Italian wine, and even spent their honeymoon visiting top producers at their estates in Italy. While husband, Brian Terrizzi is Giornata's winemaker, Stephanie Terrizzi is an amazing vineyard manager. Stephanie recently planted Giornata's estate vineyard and is also an owner and viticulturist for Broadside.
Explore cutting-edge wines and mind-blowing tastes with ONX Wines. Known for their incomparable Rosé, ONX presents exceptionally balanced and complex wines. A reverence for time-honored winemaking tradition and a penchant for adventure collide at ONX, resulting in exciting wines that are as pleasing to the palate as they are intriguing to the intellect. Winemaker Brian Brown is known to push the envelope, and his wines are sure to make a lasting impression with you and your partner.
If you're looking to expand your horizons beyond wine, kick back with Tin City Cider for some of the best ciders in California. Tin City Cider is a collaboration between winemakers Curt Schalchlin and Andrew Jones. Together, they produce a carefully crafted cider made with the best California apples.
Finish your tour of Tin City with a much-deserved treat at Negranti Creamery. Famous among the local crowds, Negranti Creamery is a family-owned and operated creamery crafting sheep's milk ice cream in Paso Robles, CA. Negranti prides themselves on using only the best, most fresh, and real ingredients. With sixteen flavors to choose from their ice cream is also lactose intolerant friendly, less than 8% fat and rich in vitamins and protein. The sweet notes of sheep milk blended with fresh ingredients makes Negranti Creamery ice cream the perfect treat.
10. Wine taste your way to the coast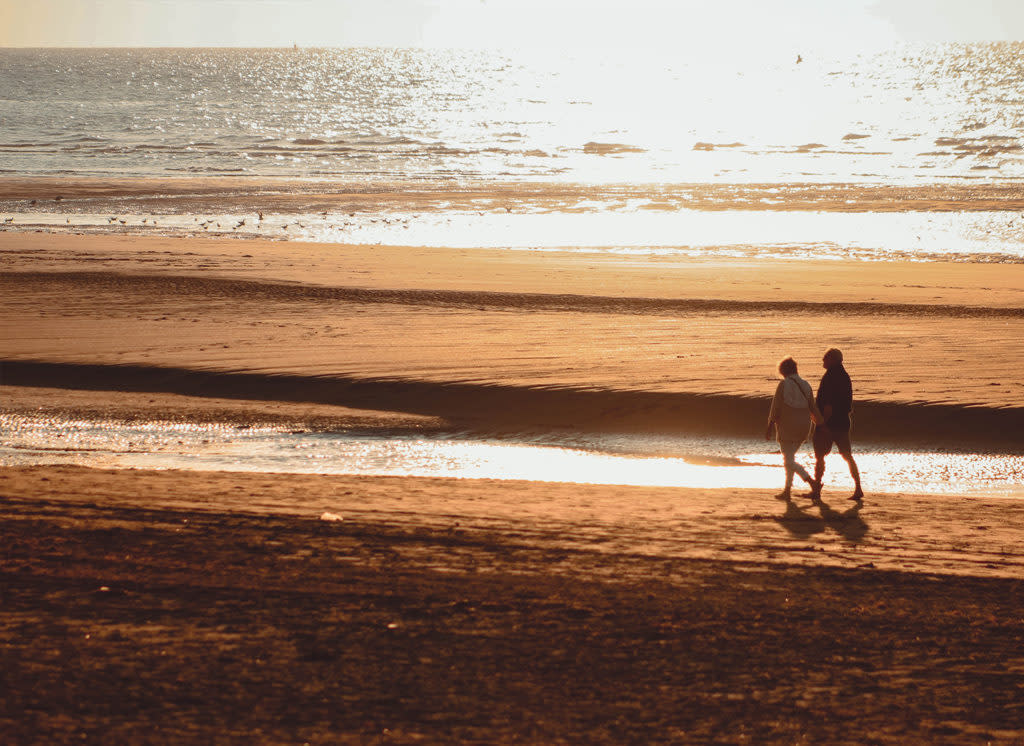 Take off for a sunny beach day with your loved one or explore the romance of the 1920s with Hearst Castle. Paso Robles sits on the Santa Lucia Coastal Range, just a 35-minute drive from the historic coastal town, Cayucos. Located on the colorful Estero Bay, relax on Cayucos' serene beaches, stroll the pier and take in the thick sea air. If you're looking for more adventure, hunt for the murals sprinkled throughout the small town, search for tidepools filled with aquatic life and hike the coastal cliffs for an unmatched view.
Head a few minutes north to explore San Simeon's range of activities. Pull right off of Highway. 1 to view friendly Elephant Seals basking in the sun. Look out for zebras along your drive, belonging to the ranch of Hearst Castle. Hearst Castle was once the private residence and entertainment hub of newspaper publisher and magnate William Randolph Hearst, designed by Julia Morgan, California's first female architect. The complex is an extravagant temple now showcased within one of California's most visited state parks. It is an eye-popping spectacular with 165 rooms, filled with impressive collections of artwork and antiques, 127 acres of terraced gardens, fountains, and pools, with wraparound views of the sunny and rugged Central Coast. Now open for public tours, it is easy to spend the day getting lost on this unbelievable property.
Take Route 46 on your way back to Paso Robles for an evening of wine tasting. Head to Epoch, atop York Mountain, for stories and unobstructed views. Head back towards Paso and turn left into Booker to see a historic and biodynamically managed vineyard and then to Castoro Cellars for a game of disc golf through its vineyard.
Delight in world-class beers, exceptional wines, and farm-fresh culinary creations exclusive to Paso.
Read More
Treat yourself to the seemingly endless outdoor activities, exciting shopping experiences, and interesting local attractions that make Paso so unique.
Read More