Harvest Fun In Paso
Cooler weather, shorter days and grape stomps.
Make way for cooler weather, shorter days and grape stomps – it's officially fall in Paso Robles. Here's your ultimate guide to all the cultural and delicious discoveries that await you around every corner (and wine barrel).
Harvest Wine Weekend, October 18 – 20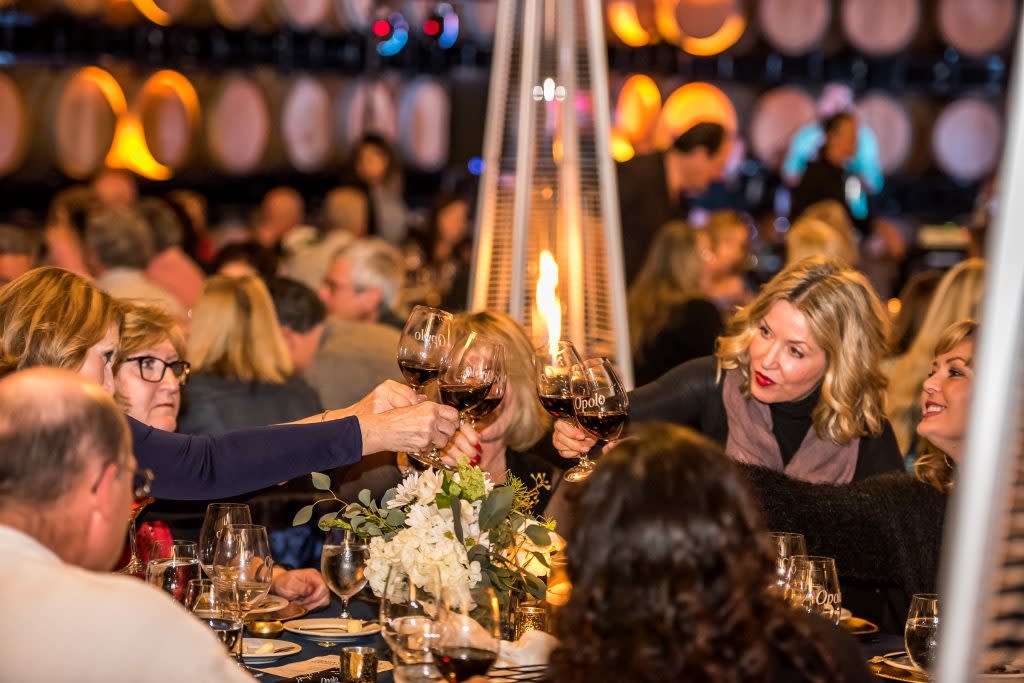 Dinner at Opolo Winery
Welcome to the wine world's favorite holiday – filled with live music, ceremonial grape stomps, barrel tastings, wine pairings and gourmet street food. Much like pumpkin picking, corn mazes and hayrides, this signature fall event is something you will not want to miss.
This special time of the year marks the end of the laborious grape-growing season and the beginning of 2019's vintage. Feel the excitement in the air as you join winemakers with red-stained hands and tired eyes as they celebrate, literally, the fruits of their labor.
Held over the weekend of October 18-20, nearly each of the 250-plus wineries in Paso Robles will host their own special events in the spirit of Harvest. Discover award-winning wines, exceptional restaurants, and more than 140 harvest activities. Yes, we said 140! From gourmet, intimate winemaker dinners to corn hole tournaments, there are scores of ways to join in on the celebration during this glorious time. For a list of happenings, visit the Paso Robles Wine Country Alliance.
Halloween in Wine Country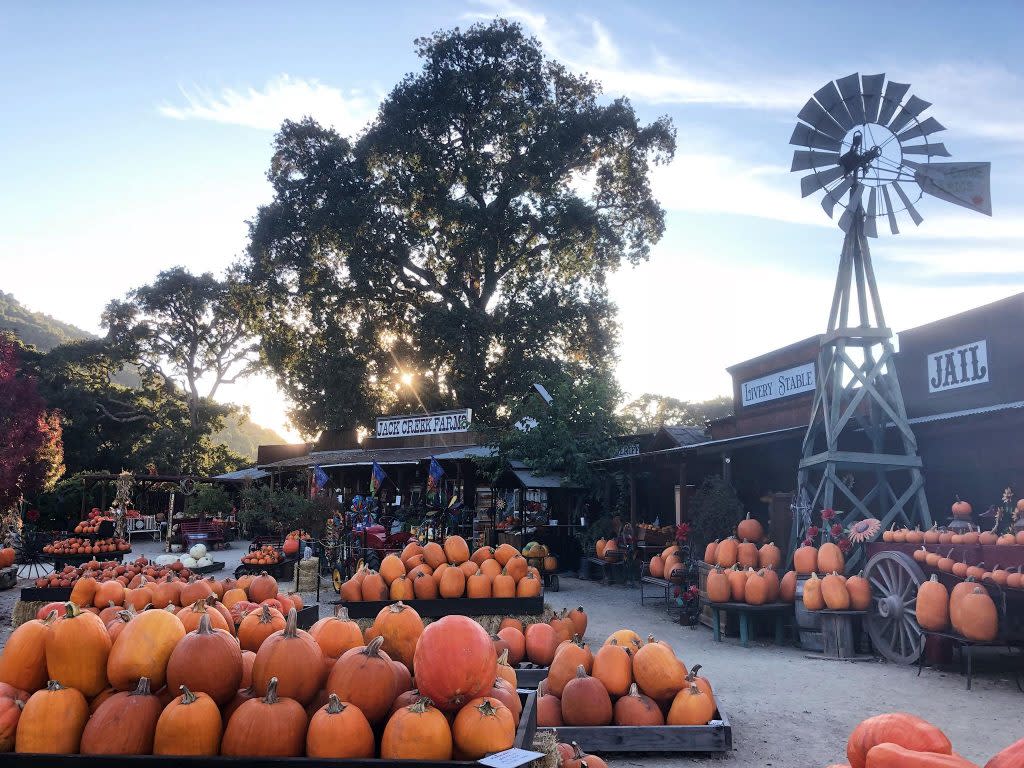 Pumpkins at Jack Creek Farms
Get into the Halloween spirit with an assortment of activities to choose from that the whole family can enjoy.
Go Local
River K Pumpkin Patch is a locals' favorite and has all you need to celebrate the season with a corn maze, pumpkin picking, hayrides and more. With more than 39 years under their belt, the supply family fun here is bountiful.
Attend Art Ghoul
Bring the kids to Downtown Paso Robles and get creative with Studios on the Park for a kids Halloween-themed painting on October 17. Parents are encouraged to hang back afterward for their own seasonal activities with a fall Pumpkins and Flowers paint class.
Trick-or-Treat Downtown
On Halloween night trick-or-treat amongst the local merchants in Downtown Paso Robles as the streets are pedestrian-only during the evening. Take a photo with the Downtown Witches, enjoy a barbeque dinner in the City Park, vote on your favorite scarecrow and sit back for one of the multiple shows happening throughout the night.
Drink In the Halloween Spirit
Parents can head to Eberle Winery for an exhilarating trip through the Haunted Caves from October 25-27. Enjoy a glass of wine and walk the 16,000 square feet of caves filled with surprises and scares around every corner.
Join Tooth & Nail for an adults-only Halloween party at the Castle on October 25. Dress in your best costume attire for a chance to win a prize, get your Monster Mash on and enjoy delicious bites and wine.
Experience A Paso Tradition: Pioneer Day, October 12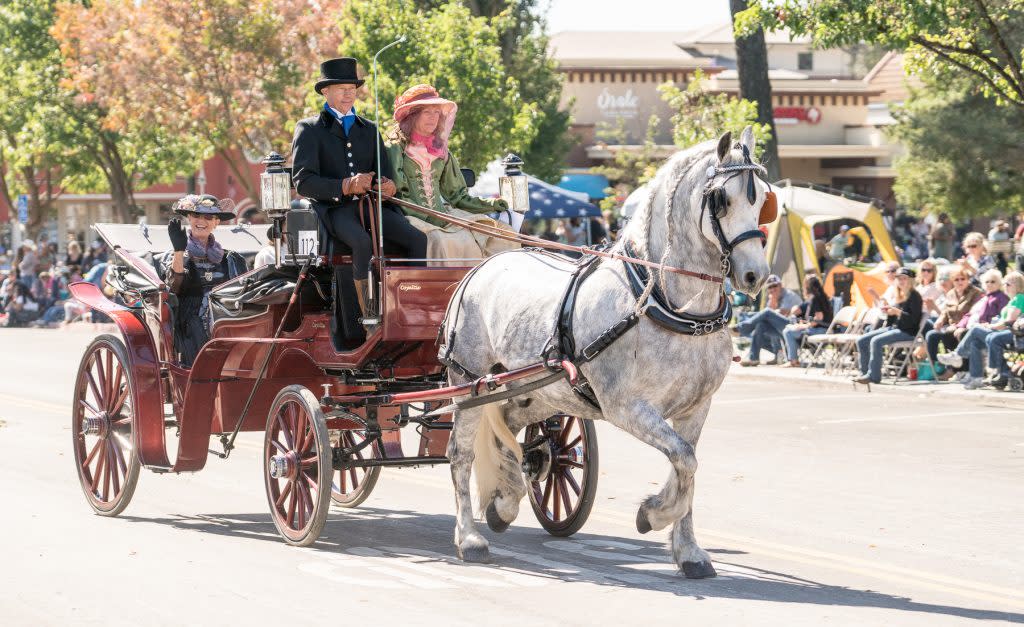 A Horse Drawn Carriage on Pioneer Day
Celebrate the Paso way and join the locals for a festive day of uniquely-Paso events. Pioneer Day boasts a parade of antique tractors, horse-drawn wagons, marching bands, mounted equestrian groups, dancers, floats, fire engines, vintage cars and, a grand feast and party in Downtown Park.
First held in 1931, Pioneer Day was established as a way to commemorate community friendship and the heritage of Paso Robles, with a "Thank You" to all of the people who support local businesses throughout the year. As tradition has it, the entire day's activities are free, being entirely funded by the local business owners and dedicated citizens. Their motto for the day: Leave your pocketbook at home.
The catch? Bring your own dish and utensil from home in order to enjoy a serving of the legendary Pioneer Day beans. Paso Robles takes their beans very seriously, with the esteemed Official Stirrers working the vats for hours. The Stirrer holds a hefty responsibility, following the traditional recipe to ensure the best quality product – and for a good reason, these are not something you want to miss.
Stroll Through The Field of Light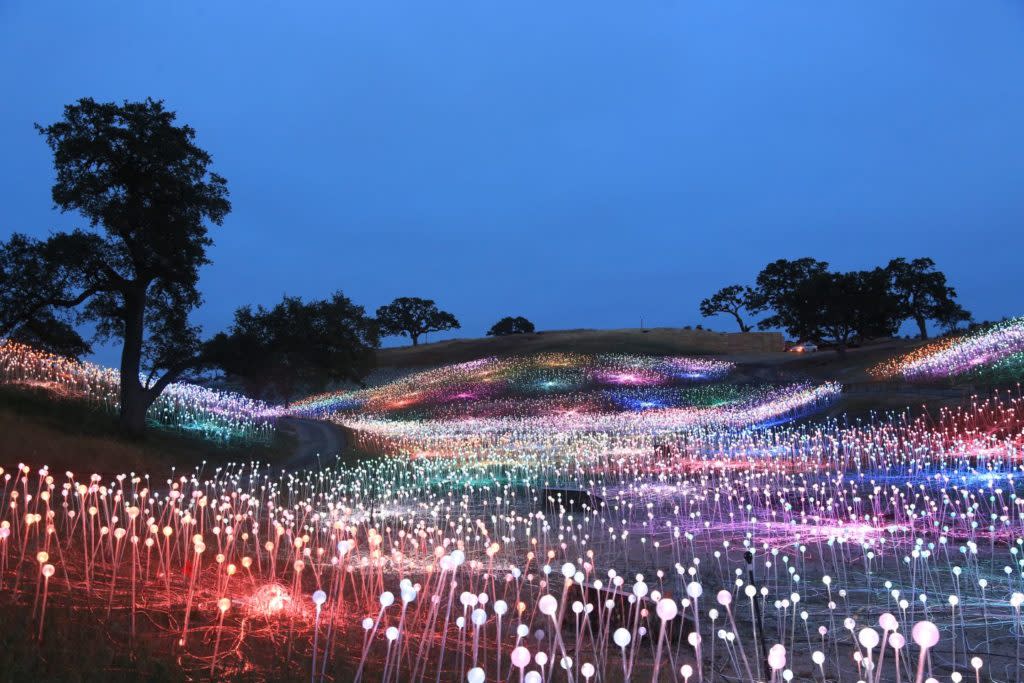 The Field of Light at Sensorio Under the Moon
Fall is the perfect opportunity to visit The Field of Light at Sensorio. Created by acclaimed British artist, Bruce Munro, The Field of Light at Sensorio is the perfect nighttime spectacular with nearly 60,000 bright, morphing lights spread across 15 rolling acres. The massive installation is comprised of stemmed glass spheres lit by fiber optic, solar-powered cables, which honor and highlight the natural topography of the land.
And now that the seasons are changing so are Sensorio's hours. Say goodbye to waiting until 9pm to watch the magic unfold; you will now be able to see the lights changing as the sun sets at 630pm. Walk through the rolling hills of light with a glass of wine or beer in hand and enjoy live music any night of the week.
Don't take our word for it: both the New York Times and the Los Angeles Times recently called Sensorio experience a must-visit.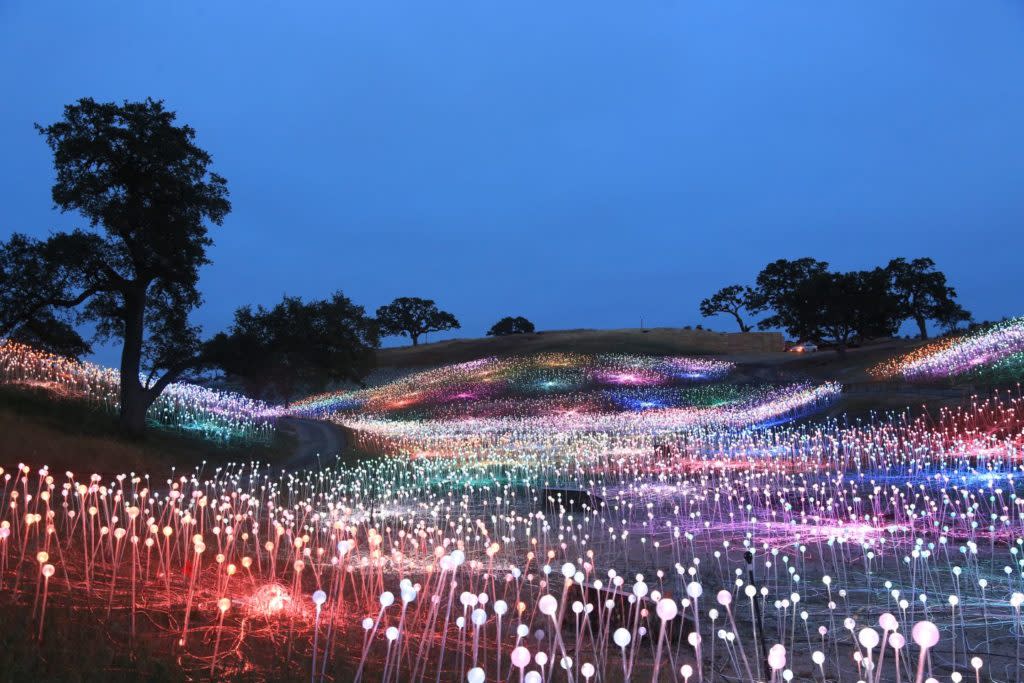 "Field of Light" featured in both the New York Times and Los Angeles Times as a must-visit in Paso.
Paderewski Festival, October 31 – November 3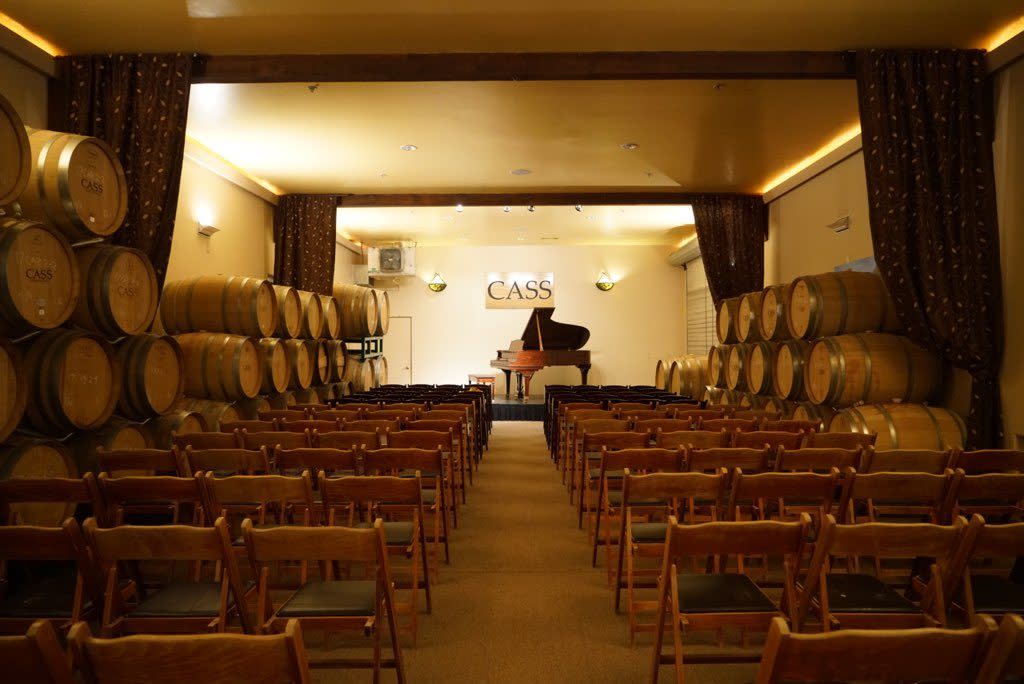 A Stage Set in the Tasting Room
With its pristine rolling hills, windy two-lane roads, vineyards and proximity to the sea, Paso Robles has long been an inspiration for artists. In the 1920s, world-famous composer and pianist Ignacy Paderewski lived, composed and even grew grapes in Paso Robles, which now hosts the world-famous Paderewski Music Festival in honor and celebration of his legacy.
Every November this four-day music festival features concerts filled with world-class talent, exhibits, lectures, masterclasses and film screenings. Attend a Halloween-themed film music program on October 31, help support the Youth Piano Competition, and explore the Polish heritage Paderewski brought to Paso Robles, to name a few.
Combine this with concerts held in tasting rooms, wine tastings and tours of local vineyards, and you have a full four days packed with fun activities honoring the Paderewski's legacy and Paso Robles' rich heritage.
Indulge in the Bounties of the Season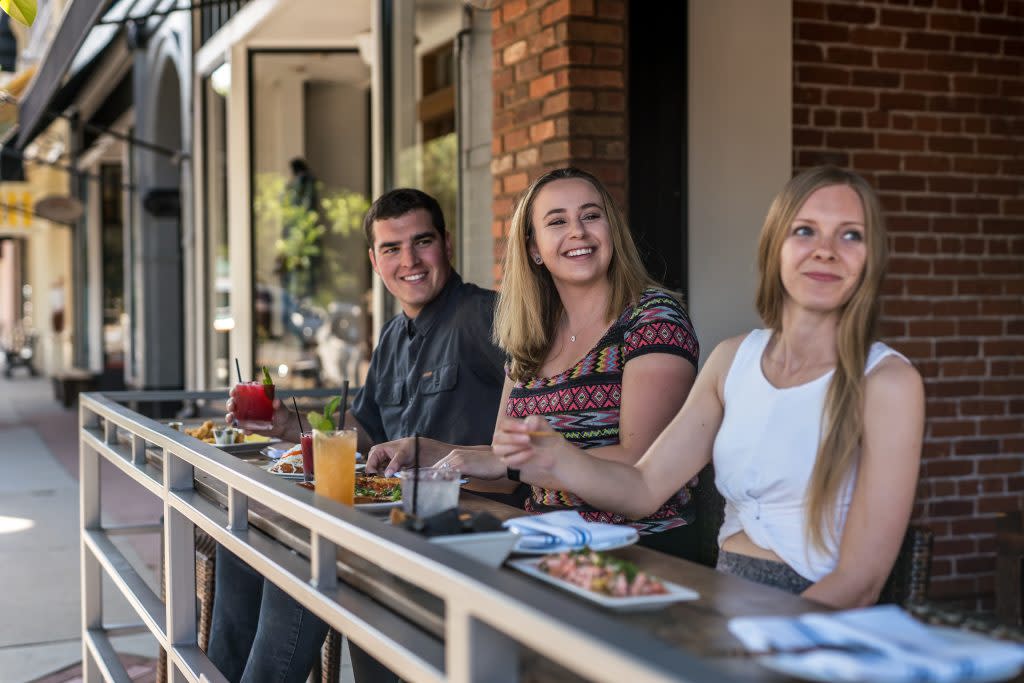 Dine Overlooking the Park at La Cosecha
This fall treat yourself to the region's freshest fare with a trip to one of Paso Robles award-winning eateries.
Il Cortile is a fine dining Italian restaurant with seasonal menus, homemade pastas, top-quality meats, local produce and award-winning wine lists. Il Cortile has won Wine Spectator's Restaurant Award of Excellence six years in a row.
Pulling inspiration from the cuisine of Spain and South America, La Cosecha celebrates Latin flavors. Their seasonal menus offer fresh ingredients and a focus on culture-specific dishes; alongside a craft cocktail menu featuring locally sourced artisanal spirits and an award-winning wine menu. La Cosecha has won Wine Spectator's Restaurant Award of Excellence for the last four years.
For the ultimate California food and wine experience, head to The Restaurant at JUSTIN. This restaurant offers seasonally inspired menus, an intimate farm-to-table experience, and thoughtful wine pairings. Not to mention the unbeatable vineyard views.
Taking home the win for Best Winery Restaurant in America is Paso Robles' own Niner Wine Estates. Niner Wine Estate's Restaurant features what the culinary team likes to refer to as garden-to-table meals, with ingredients sourced directly from the Niner property, and otherwise sourced locally. Find fresh produce from the Chef's garden, Estate olive oil and locally roasted coffee, aged in Niner wine barrels.
Following closely behind Niner Wine Estates is Cass Café at Cass Winery. Cass Café offers a casual setting and the menu features salads, sandwiches and small bites as well as locally made gelato and house made desserts.
Explore California's Great Impressionists, October 3 – November 17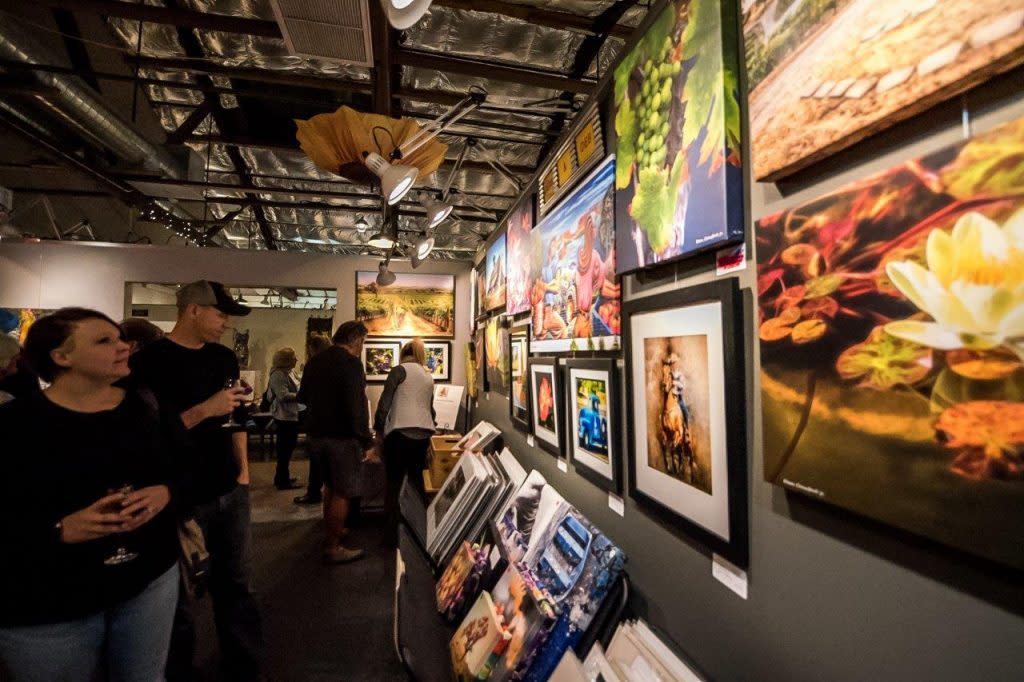 Art After Dark at Studios on the Park
Studios on the Park presents California Impressionists: The Masters & The Greats They Inspire. In this exclusive and exceptional exhibition, more than 40 of the nation's premier painters pay homage to their historical counterparts with new paintings inspired by masterworks from artists such as Maurice Braun, Selden Gile, Edgar Payne, Granville Redmond, Marion Wachtel and others. For more information and events surrounding this much-anticipated exhibit, please visit studiosonthepark.org.