Wine Country is a Biker's Paradise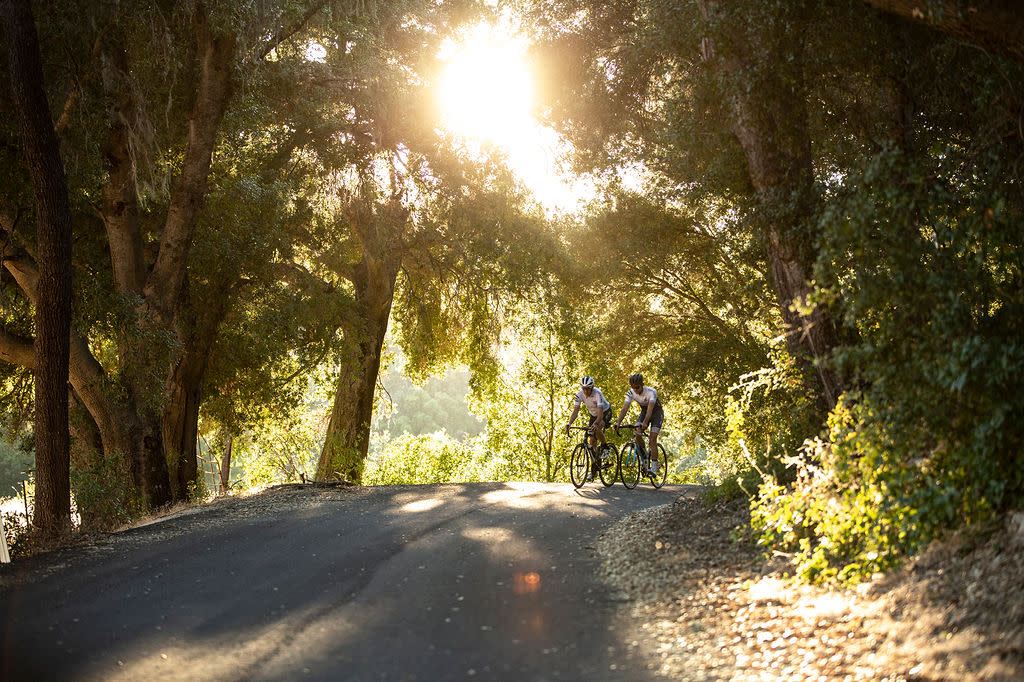 It's a loosely guarded secret that Paso Robles Wine Country is a dreamy destination for those who enjoy traveling with their bikes. Most tourists arrive here with romantic visions of sipping award-winning wines, enjoying delicious local foods, and simply relaxing in wine country style. Paso has all that in abundance, of course! But, if pedaling fancy bikes in beautiful places is your thing, then this spot on California's Central Coast is a world-class destination to which the rest of the cycling world is only just waking up. 
The entire Paso wine region covers 614,000 acres, and much of it can be explored year-round by bike. Vineyard-clad hills, moody oak forests, and rangelands filled with grazing livestock create the feeling you're in a far off picturesque Tuscan landscape. What's surprising is how physically pristine many of the roads are. Ribbons of fresh, smooth tarmac snake and wind through the undulating landscape. For the slightly more adventurous rider, it's remarkably easy to build a course that effortlessly goes back and forth between dirt and asphalt–much of it rideable on either a road or gravel bike. 
Cycling Community
​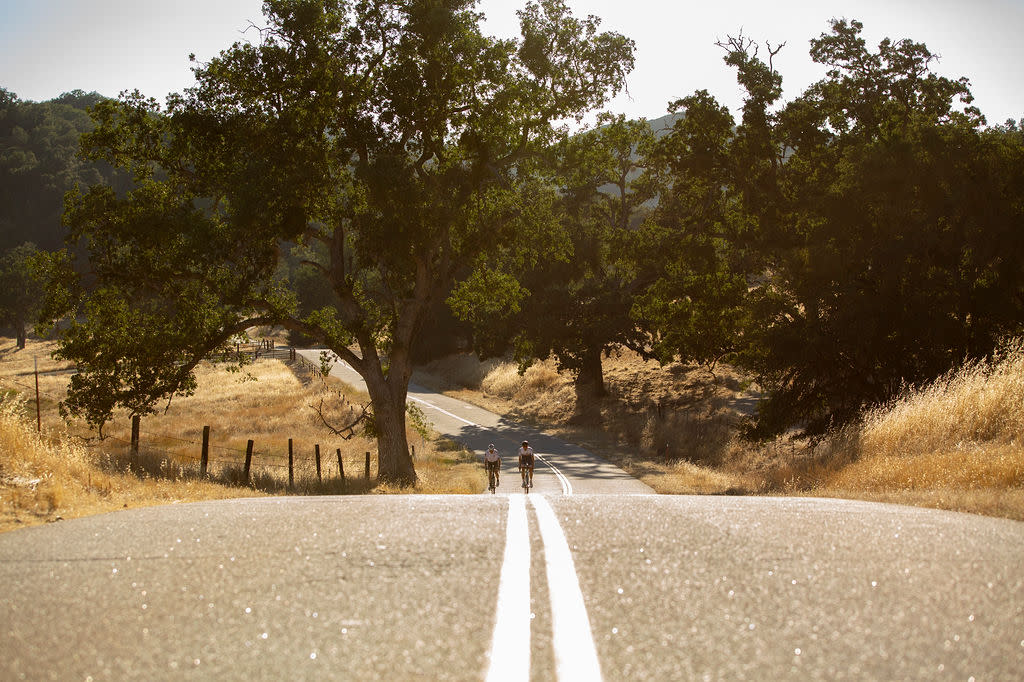 Paso is an all-arounder's paradise. For those riders who come alive on endless rolling hills, this place has got 'em. These rollers pack a punch, though, often pitching up to 12% or higher. Paso riding does lack the iconic climbs of other California wine regions–like Sonoma and Santa Ynez Valley–that are home to well-known pros and regularly draw pro training camps. There are long climbs here, but they are tucked away, and don't share the epic reputations of Gibralter, Figueroa, or King Ridge. Being 3.5 hours from either Los Angeles or San Francisco, however, gives this area other distinct advantages. Even on busy tourist weekends, the riding here is Q-U-I-E-T. It's not uncommon to see only 15 cars over a five-hour ride. 
Ponder that for a moment. There are very few marquee destinations in the world where you can ride your bike without feeling under assault by traffic. To think that such a place exists in car-obsessed California is hard to fathom.  
There is a small and growing community of dedicated cyclists here, which means you can find routes and support. If you need some gear or a bit of mechanical help with your bike, visit K-Man Cycles. It has locations in Paso Robles and nearby Atascadero. If you're looking for a group ride, K-Man is the place to ask. Atascadero and Paso are also home to the annual Bovine Classic Gravel Ride. Dubbed "the Gucci of gravel events," the Bovine hosts gravel enthusiasts from around the country and world. Check out the Bovine Classic's website for course details and ride inspiration. 
Getting Around on Two Wheels
​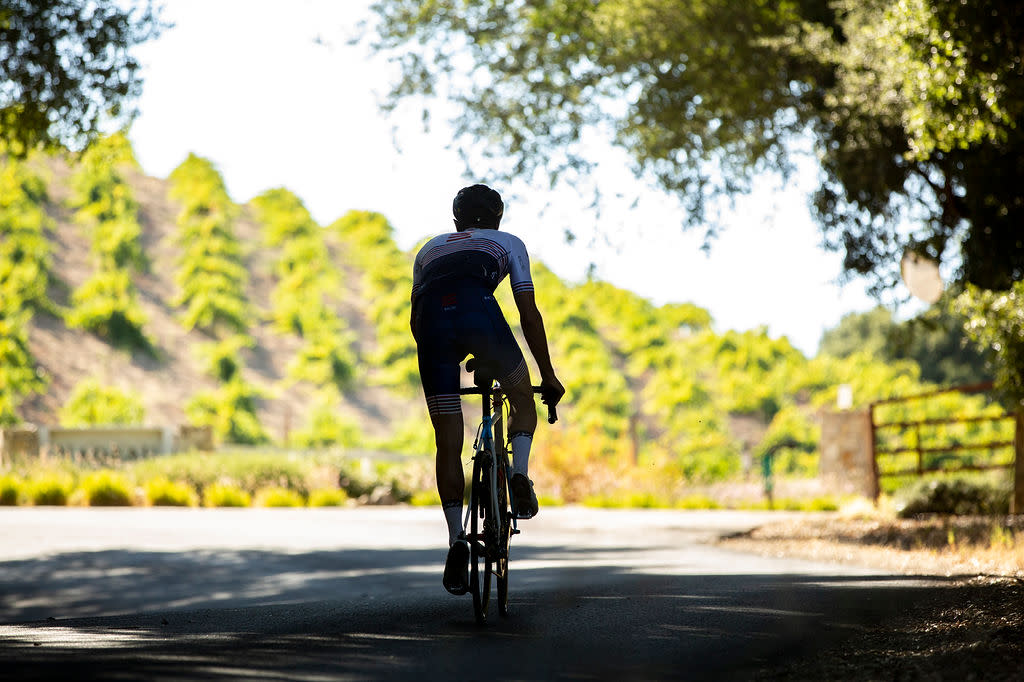 Knowing where to point your bike can be a little tricky. The former Amgen Tour of California has passed through here a few times, but local awareness about the deep quality of our riding is really just now starting to bloom. Start with Strava, of course, to see who's riding where. Here are a couple insider tips on areas to explore from downtown Paso Robles. Peachy Canyon, which heads into west Paso, is a remarkable road for its climbs and descents, and twists and turns through thick oak forests. This is a pure joy-inducing rollercoaster of a road, but do ride it only early in the day. To the east, is the beautifully paved Linne Road, which rolls past expansive vineyards. It's worth a stop into the very bike-friendly Cass Wines to fill your water bottle and for a breathtaking view of the valley behind. Riding northeast from downtown will take you through the San Miguel and Estrella districts, which feels like pedaling into an Impressionist painting. To fully appreciate the scale of where you are, be sure you take in the panoramic vista of the entire Paso region to the south. 
It's only a matter of time before those pros of Sonoma and Santa Ynez discover what's available in Paso Robles. Echelon Pro Cycling Tours, InGamba tours, and other pro team training camps have begun to recognize what Paso offers in the quality of its riding, its food, and its après-bike support services. Bring your bike to discover for yourself why this is a perfect destination for some very pro ride-eat-recover-repeat fun. 
Explore Paso Robles by Bike