September 1 marks the start of California Wine Month AND the 2022 Harvest season. With over 300 wineries in Paso Robles, we'll be celebrating our favorite thing (🍷) all month long. Get ready for grape stomps, barrel tastings, winemaker dinners, vineyard tours, food & wine pairings, live music and more… 
Outdoor Wine Adventures 
Experience the Paso Robles wine country lifestyle in an intimate and personalized way, unique to our bucolic community. Paso Robles is the halfway point between San Francisco and Los Angeles as well the entrance from the San Joaquin Valley to the coastline. A true crossroads where the north meets south and east meets west.
Paso Robles boasts unique outdoor wine experiences that can't be found anywhere else. Plan your excursions now!
Third Wheel Sidecar Tours 
Experience a private tour that is as thrilling as it is unique. Third Wheel Sidecar Tours offers private routes navigated by our friendly, knowledgeable, and dapper private chauffeurs. There's no other tour experience as thrilling as Sidecar Tours! Hit the vineyards for your next date!
Halter Ranch Defender Tour
Explore the open spaces of Halter Ranch in a classic Land Rover Defender. Immerse yourself in the rich history of the Ranch, learn about our organic farming and viticulture practices, and encounter the extraordinary biodiversity across our 2,700-acre wild estate.
Each stop will feature a wine and cheese pairing amidst breathtaking scenery. Get a glimpse of our nature-to-fork practices at work in Le Jardin du Chef. Relax dockside at our 5-acre pond. Drink in the picture-perfect Valley View. Experience the quiet sublimity of Lion's Ridge, the highest elevation point. Savor the iconic Ancestor wine, our Bordeaux blend, under the spiritual heart of the ranch - the 700-year- old Ancestor Tree, the largest Coast Live Oak on record.
Central Coast Trailrides Vineyard Horseback Ride
Experience the Central Coast on horseback! Central Coast Trailrides offers horse rides on some of the most scenic areas of the California Central Coast. 
With a gorgeous vineyard, oaks, and water reservoir views, Cass Winery offers a beautiful ride location for any rider. The 40-minute vineyard experience winds through the vines catering to all guests. Cass Winery Tasting Room has an excellent selection of food and wine available before or after your ride.
Zip & Sip with Margarita Adventures
There's a reason why they call Margarita Adventures the biggest thrill in wine country! Indeed, the Margarita Adventures zipline tour is an experience like no other. Margarita Adventures' six ziplines span more than 7,500 combined feet, starting with a 2,800-foot tandem-line thrill ride and finishing with an 1,800-foot journey over Pinot Noir vines.
As a guest of Margarita Adventures, you are entitled to special after-tour benefits at our affiliated Ancient Peaks Winery, which is located right across the street from our tour office. Ancient Peaks wines have earned high praise from the Wine Spectator, Wine Enthusiast, Sunset Magazine and many others, and are renowned for offering excellent character at an approachable price.
VineCycle E-Bike Tours
Take a ride through the vines at Justin Vineyards in Paso Robles with VineCycle e-Bike Tours. On this 2-hour eBike experience, you'll get to go behind the scenes for a one of a kind experience, including a visit to the Justin Chateau and Barrel Caves followed by a one-hour private tasting. An experience not to miss! 
Food and Wine Experiences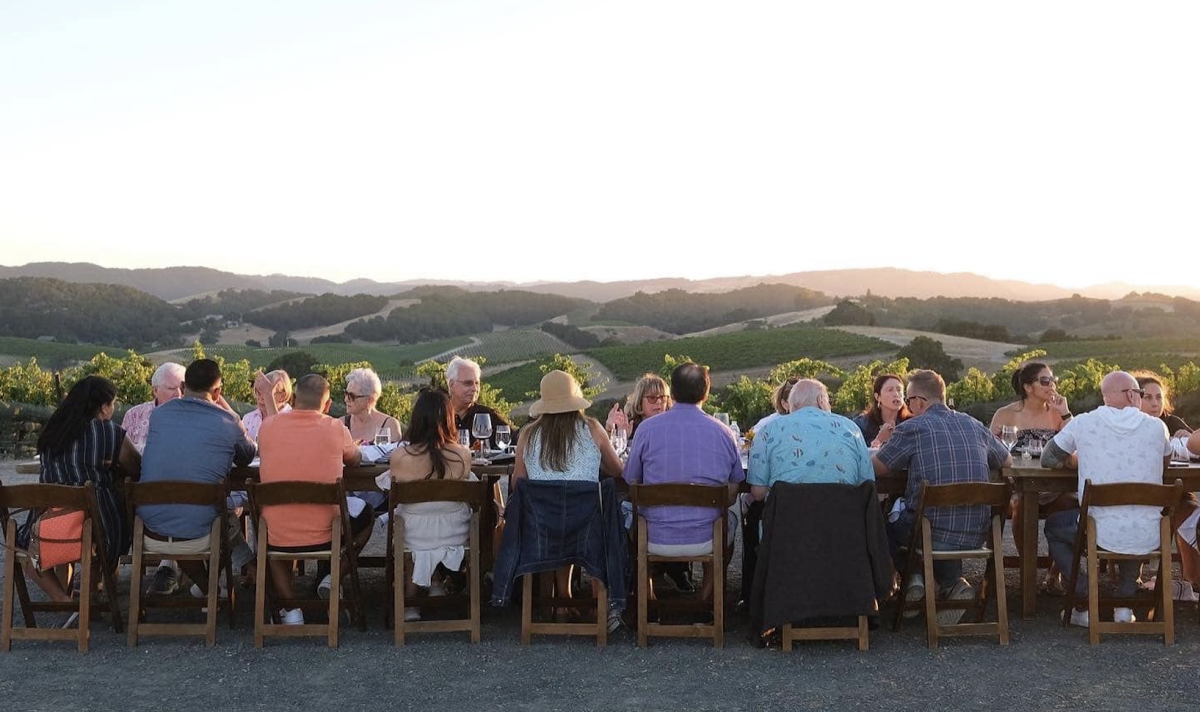 We all love enjoying a nice glass of wine at a beautiful tasting room. Great food makes the experience even better. Here's a list of our top food and wine experiences in Paso Robles. 
Dine on the Vineyard
Cass Cafe's gourmet food menu, prepared by Chef Jacob Lovejoy, allows you to pair your wines with cheeses and other seasonal offerings, which can be enjoyed out on the veranda or in the light and bright Tasting Room itself.
Wine Pairing with a View at Calcareous
Perched atop the property 1,500 feet above the expansive Salinas Valley, Calcareous' tasting room provides an unbelievable setting to experience the beauty of Paso Robles.
A journey to taste here will offer you award-winning wines, breathtaking views, and incredible food to pair it with. 
Low-key Burger Sundays at Lone Madrone
Lone Madrone was founded in 1996 with the goal of producing distinctive wines from vineyards in the rugged limestone hills of Paso Robles. Growing slowly yet steadily since, the focus is largely on dry-farmed and head-trained vineyards, which winemaker Neil Collins believes to be "the purest expression of the unparalleled terroir of west Paso Robles."
After Lone Madrone's inception, they welcomed Chef Jeffrey Scott to provide tasty bites for guests on the weekends. His "Burger Sundays" are known throughout the county and have people traveling near and far to enjoy his delicious fare. Chef Jeff will be joining Lone Madrone at Kitchen Forty-Six, serving delicious food on Saturdays and Sundays from 11 - 3 pm.
Pizza Pairing Perfection at Tin City
Lebber's Pizza is a Wood Fired Neapolitan pop-up located at Hubba Wines in Tin City. From the cheese to the dough, everything is handmade and absolutely delicious. Enjoy it with a glass of Hubba's Chenin Blanc on music Fridays. 
Tasting Flights at Niner 
Niner offers seated tasting flights that explore their portfolio of estate-grown wines and tailor their wine lists to fit the season. They believe that the most memorable experiences happen at the intersection of fantastic food and wine and the Niner Chefs offer a fresh, creative and seasonal lunch menu to complement their estate-grown wines.
Wine Country Stays

With so much to see and do in Paso Robles, you might want to stay a while, especially as lodging options abound for every taste and budget.
Visitors can truly escape to the wine country where the views are as luxurious as the accommodations. Those who prefer a little more action can stay downtown within easy walking distance of restaurants, cafés, shops and City Park. Whatever kind of escape you seek, you can bet that Paso Robles has just the right place to lay your head.
Stay on the Vineyard 
High atop the hills of Paso Robles, in the Estrella AVA District of the Central Coast wine region, lays The Gables at the Rockin' K. The Rockin' K welcomes you in with such luxurious attention to detail you may never want to leave! The flow-through floor plan creates space for entertaining both formally and informally, with the gourmet kitchen a focal point for gathering. Enjoy outdoor patio living at its best--the dining room doors open to an outdoor wood burning pizza oven and dining areas overlooking the infinity pool. Explore all Vacation Rentals
Allegretto Vineyard Resort
Allegretto Vineyard Resort is a AAA Four-Diamond resort situated in the heart of Paso Robles wine country and was recently ranked the #6 Resort in Northern California by Conde Nast.  Offering guests exceptional spaces, experiences, services and amenities along the path of their life's journey, the Allegretto Resort is inspired by wine country and European hospitality, evoking an Italian estate surrounded by 20 acres of vineyards and fruit-bearing orchards. The resort is a world unto itself with well-appointed guestrooms and suites, locally sourced cuisine, a wine tasting room pouring the resort's own private wine label, full-service boutique spa, saltwater pool with cabanas and seasonal poolside bar, manicured gardens, French-inspired Abbey, meditative sonic labyrinth, globally-inspired art, and a 12,000 sq. ft. piazza that evokes the luxury and beauty of the good life.
Winery Themed Spa Rooms 
Indulge in the spirit of wine country from the comfort of your winery-themed room at the Paso Robles Inn. These 18 deluxe spa rooms have been outfitted with artwork, decor, and exclusive amenities curated by local wineries that the Paso Robles Inn has had the unique opportunity to partner with. Soak up the best of Paso Robles in your very own spa tub, located on the private balcony or patio that extends off the bedroom which features a fireplace and your choice of one King or two Queen beds.
Moët & Chandon Vending Machine 
Every day spent in Paso Robles wine country is something worth celebrating. And that's exactly why you should start your stay at The Piccolo with chilled champagne split straight from the Central Coast's only Moët & Chandon Champagne Vending Machine.
Home to 360 bottles, each holding.1875 liters of Brut or Rosé champagne, this size bottle is officially known as The Piccolo, making it the perfect way to welcome you to this wine country hotel! Not to mention, it's totally Instagram-worthy.
View Our Favorite Wine Country Memories Below